An Android VPN is arguably the most important offering in any of the best VPN providers' arsenal. With a staggering 3 billion active Android devices spread across the globe, it's the most-used operating system today – and keeping yours protected from online threats is more important than ever.
From evading government censorship and staying safe on insecure public Wi-Fi to accessing geo-blocked content on streaming sites like Netflix and BBC iPlayer, a VPN for Android is a versatile tool almost anyone will benefit from. However, picking the right one can be tricky.
How we've chosen the best Android VPNs
If you head over to the Play Store and search for 'VPN', you'll probably see a few names you recognize, but you'll also be bombarded by countless free VPN services promising the world. Should you download them, though, you'll likely get a poor experience at best, and be handing over your personal data to an unknown person at worst.
We know picking an Android VPN is difficult, so we've tested and reviewed a ton of providers, large and small, to determine if they're worth your time and money.
Our top pick is ExpressVPN – it's quite simply the best provider we've tested – but we've also pulled together four more for all needs and budgets. We're confident that any provider on this page will keep your Android device protected and deliver excellent connection speeds – and they'll even make your streaming subscriptions go further.
The best Android VPNs today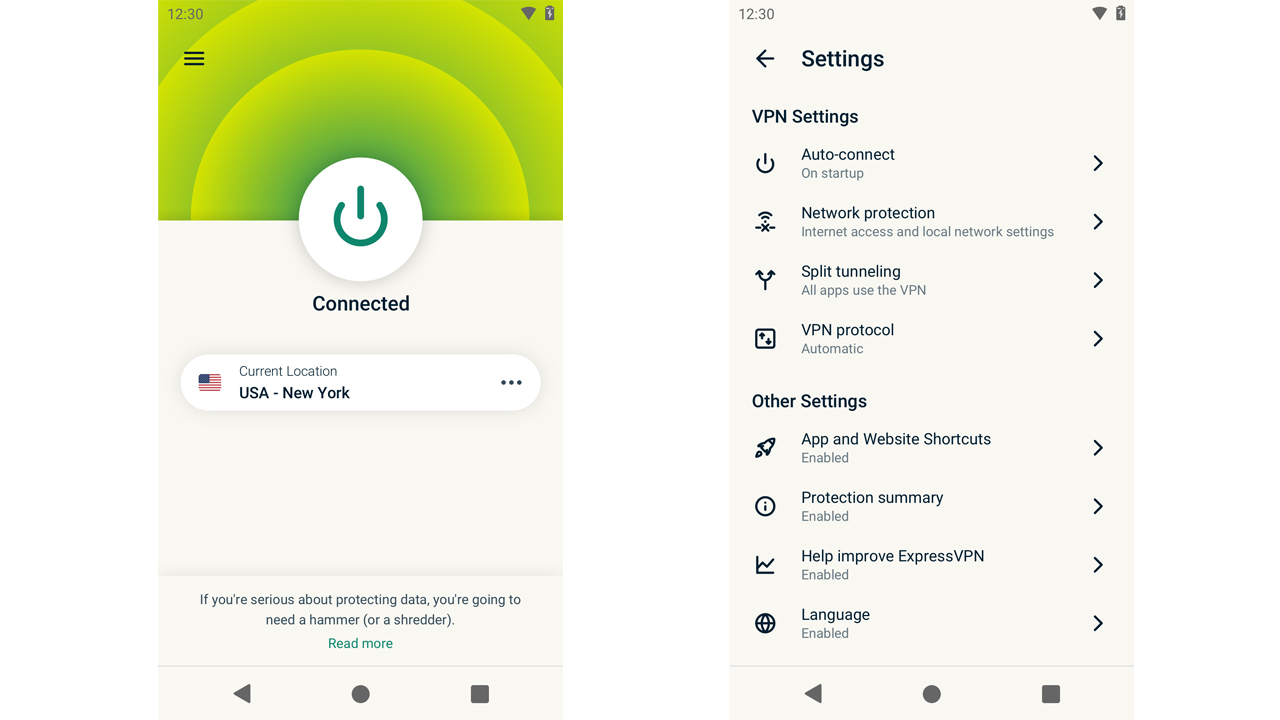 Topping our list of the best Android VPNs is ExpressVPN, and it's here because no matter what you ask of it, you'll get results. With over 3,000 servers in 94 countries worldwide there's a huge spread of locations to choose from, and its simple, intuitive and powerful Android app will have you up and running in no time.
Upon first installation you'll be faced with a large, inviting on/off button, and below it you'll see your Smart Location, typically the fastest server in your country. Tap the button, and in a matter of seconds you'll be connected. For many this is all you'll need to do – simply set it and forget it.
When we dug into the Settings menu, though, we found that despite Express's simple appearance there's a ton of power under the hood. With AES-256 encryption as standard alongside the open-source Lightway protocol, split tunneling, a kill switch and 100% RAM-only servers, you can be sure your data won't be compromised.
That's all backed up by frequent app updates, and an independently audited logging policy which states no identifiable data is kept about you or your connections – so even if ExpressVPN is somehow compelled to hand over logs, there'll be nothing to see.
It's not all about privacy, though. Express is our highest-rated VPN when it comes to streaming, too, so wherever you are in the world you'll be able to watch content you pay for. And if you're worried about buffering, don't be – in our tests for our full ExpressVPN review, the provider delivered excellent speeds of over 600Mbps.
Although the five-device limit isn't the most generous, it should be enough to cover all your mobile devices plus your desktop computer and smart TV to boot – but if you've got tons of devices, a provider that offers unlimited connections like Surfshark may appeal. 
If you have any issues, the class-leading online support and live chat will help you out in minutes should you need it, and if you're not sure, it's worth making the most of Express's risk-free 30-day money-back guarantee. You can use the service as much as you like for a month, and if it doesn't live up to your expectations you can claim your money back. Simple.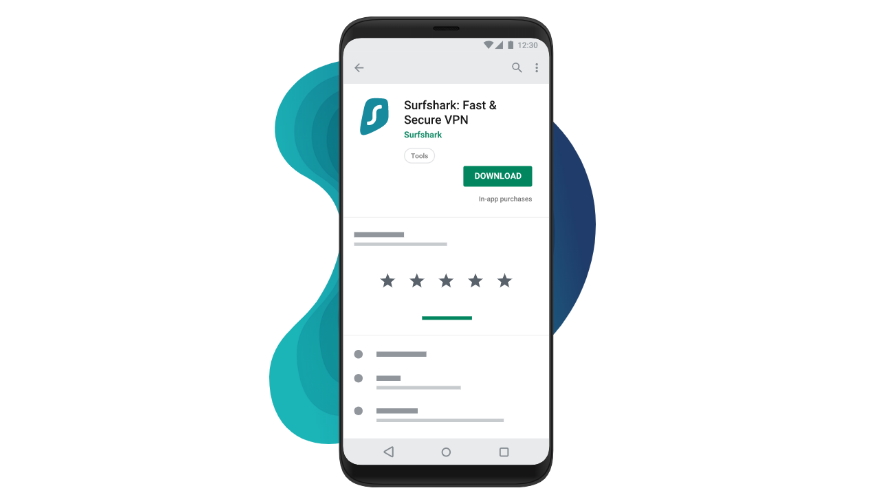 For those looking for a cheaper alternative to ExpressVPN, Surfshark offers a seriously powerful VPN for Android at a very compelling price. You'll have access to 3,200 servers in 65 countries, and while the spread isn't as great as some other providers, for most it should be adequate.
While some providers dump every feature under the sun into their Windows VPN app yet neglect mobile offerings, we found Surfshark's Android app to be fully featured – and even offers a couple of features not seen on any other platforms. 
You'll get a kill switch, split tunneling, AES-256 encryption, a range of static IPs and a Multi-Hop feature. However, something unique is its GPS location spoofer. As the only VPN we know to offer this, it's perfect if you want to trick games like Pokemon GO into thinking you're overseas. Auto-connect on untrusted networks is also a nice addition.
Surfshark's streaming performance is also excellent, and while in the past we've seen some inconsistencies, our latest Surfshark review testing showed it's currently able to unblock just about every site we can think of – all at great speed, thanks to the VPN's WireGuard protocol integration.
The standout feature, though, is the unlimited connections policy. If you're a Marques Brownlee character with a drawer full of phones, you'll be able to install Surfshark on any and all of them and still be able to cover any laptops, desktops and routers without hassle. 
There are a couple of downsides. In our stress-testing we found that Surfshark's kill switch could fail (although we stayed protected), and if you want to use OpenVPN – necessary for using Camouflage mode – speeds were significantly slower than rivals.
However, when you consider how much cheaper Surfshark is than ExpressVPN – or just about any other VPN for that matter – it's an excellent Android VPN that we're more than happy to recommend. 
Sign up now on the Surfshark website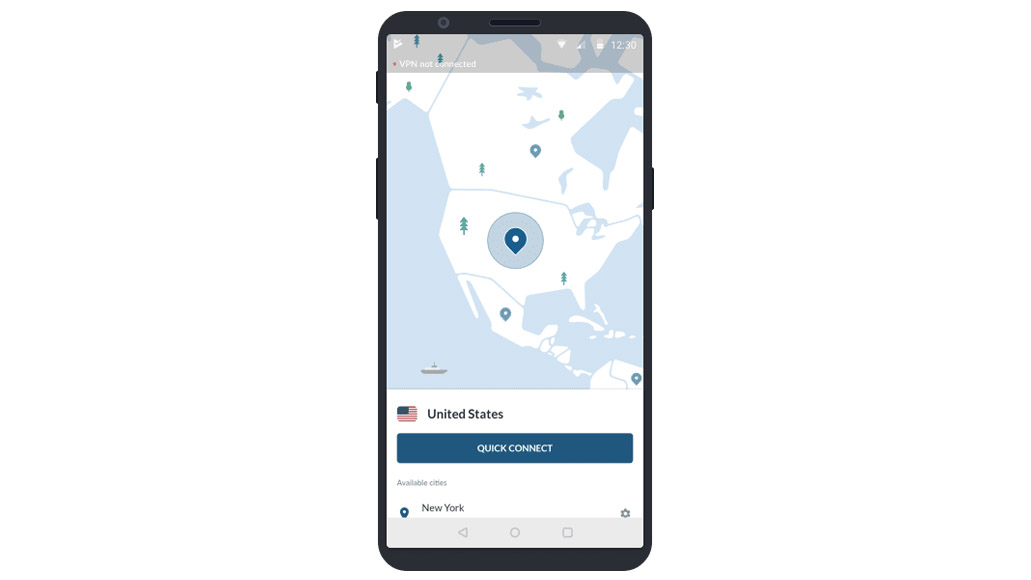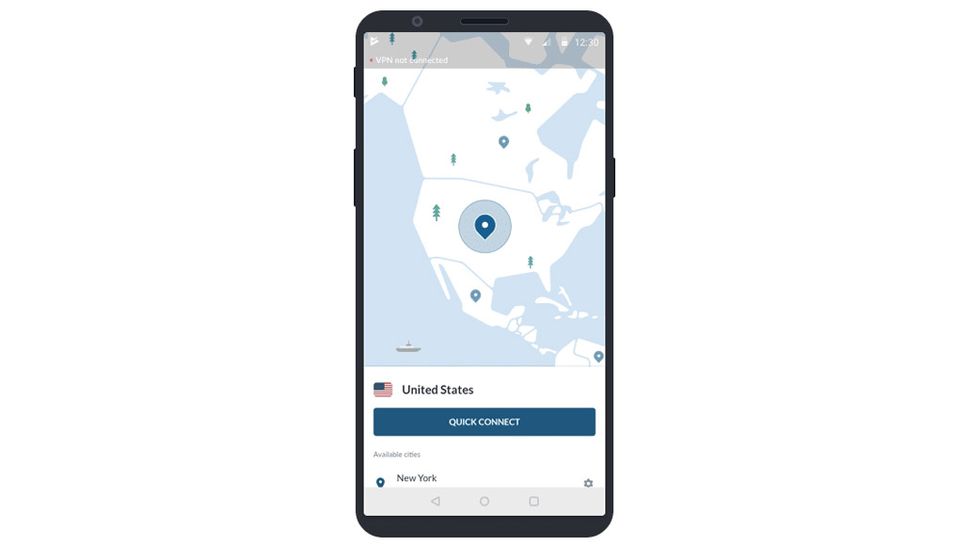 Rounding off the top 3 is NordVPN, and in terms of price it holds the middle ground between ExpressVPN and Surfshark. With over 5,500 servers in 60 countries, you'll have plenty of servers to choose from, and with an excellent 4.4/5 rating in the Play Store, users appear to like it just as much as our #1 pick.
Nord's Android app has a lot to offer, and just like the two above, it doesn't skimp on features when compared to its desktop brethren. You'll have the standard AES-256 encryption alongside split tunneling, a kill switch (that, admittedly, we found to be a bit too hidden away in the settings), and Double VPN – plus Nord specialties like Onion over VPN.
You'll also get Nord's CyberSec malware and phishing protection too, and the fact it has recently been certified by a second independent audit to be truly zero-logging will be a big tick if privacy is a top priority.
However, in our NordVPN review we did find the layout of the app slightly less intuitive than some other providers thanks to the map interface. While on larger screens it can be pleasant to use, on smaller touchscreens (including its iPhone VPN sibling) we'd much rather just have a well-ordered list of servers to begin with.
That's a minor gripe though, and streaming fanatics will be thrilled to hear that NordVPN is one of the best Netflix VPN services on the market, unblocking a wide range of libraries. The speeds the NordLynx protocol can deliver are excellent, too – topping out at a massive 760Mbps, it delivers marginally faster peak speeds than ExpressVPN.
Nord also offers a 30-day money-back guarantee, and with fair pricing across the board, it's a good middle-ground choice as an Android VPN.
Sign up now on the NordVPN website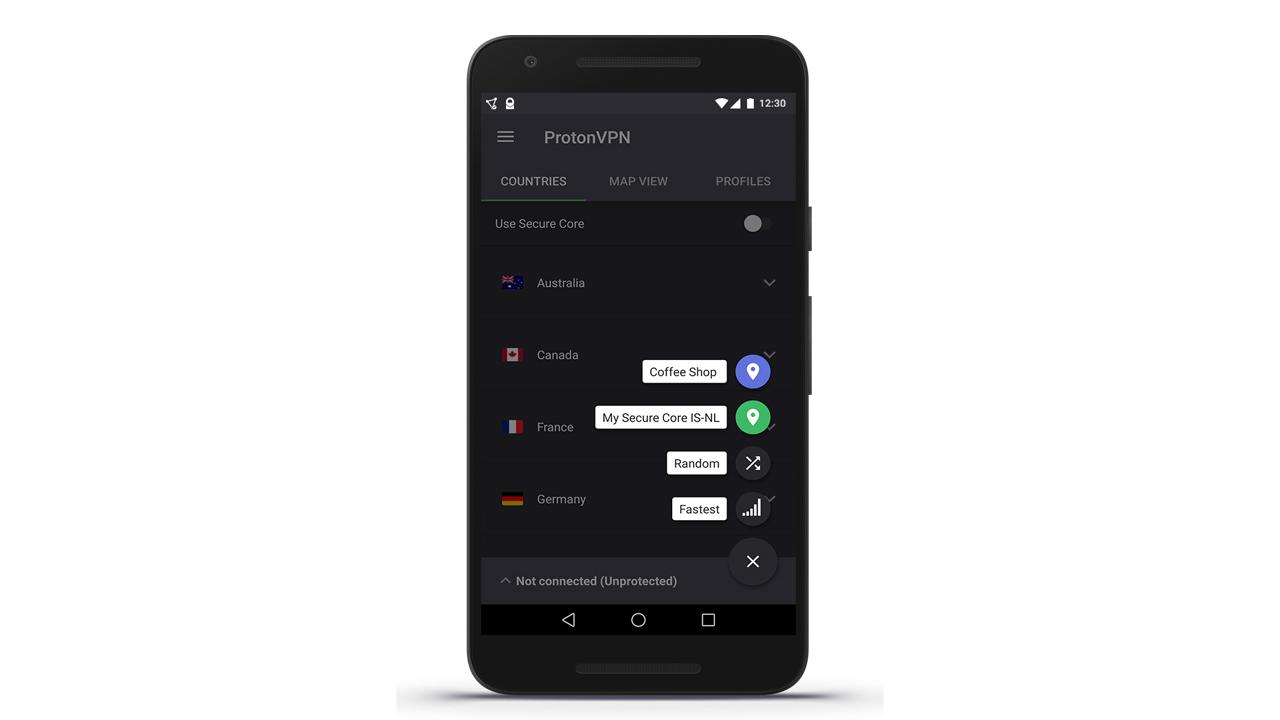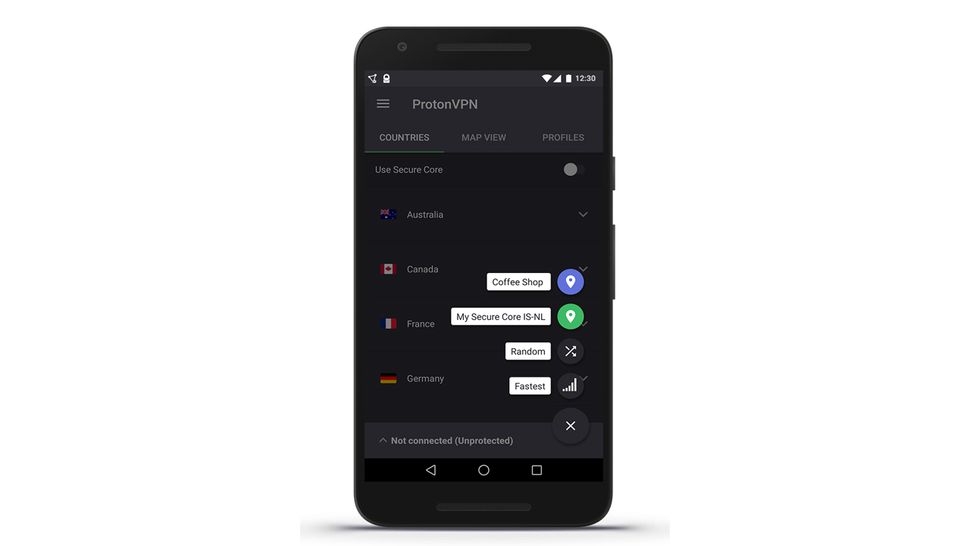 While the VPNs above have long been in the limelight, only recently has ProtonVPN developed into a world-class VPN – but in our in-depth ProtonVPN review we found that in the last couple of years the security-obsessed Swiss provider has well and truly earned its place amongst the big guns.
ProtonVPN offers 1,700+ servers across 63 countries, which in our experience is more than enough to ensure speedy connections in every location. All of these servers are owned by Proton too, which keeps any user traffic out of third-party hands.
We discovered that the Android VPN app is much like the desktop version – plenty of server info, a map interface that's a little better than Nord's, and the ability to activate split tunneling, a kill switch, and more. It's even got a landscape mode, which might prove useful to… someone.
Streaming is one of the most popular VPN uses, it was great to see during our testing that Proton can access multiple Netflix libraries, BBC iPlayer, Disney+, Amazon Prime Video and more. Its excellent connections speeds mean you won't be waiting around for your streams to load, and its OpenVPN speeds are some of the very fastest from any provider.
However, for the ProtonVPN Plus plan – the only plan that can unblock streaming sites – you'll be paying the same as a regular ExpressVPN subscription. While some may prefer Proton's techy interface, for most we expect our #1 pick will offer better value for money.
Overall though, ProtonVPN is well worth considering.
Sign up now on the ProtonVPN website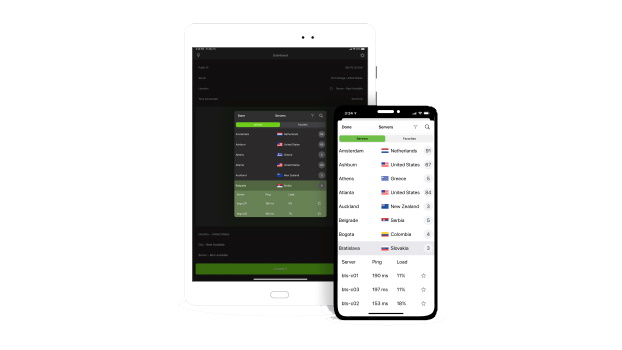 Rounding off our Android VPN recommendations is CyberGhost, and the Romanian provider is a great cheap VPN that covers all the bases. 
In our CyberGhost review we found that while its apps across the board are impressive, the Android app is a real standout. Along with standard features like AES-256 encryption and the choice between OpenVPN and WireGuard, you'll also be able to autoconnect on insecure Wi-Fi, choose which apps route through the VPN with split tunneling, and even activate a random port feature which could help sidestep VPN blocking.
The built-in content blocker is a minor bonus – although we think dedicated apps are more effective – and domain fronting is another useful trick to avoid VPN blocking. With all of that, then, it's unusual that CyberGhost has chosen not to include a kill switch, and while you can get around this by using Android's own kill switch, it's a workaround we'd prefer not to have to do.
CyberGhost is well known as a streaming VPN, and in our testing it was able to unblock every site we tried. Combined with a huge 7,800 servers and excellent speeds on most of them, it shouldn't be hard to find a location that suits you.
It's worth noting, however, that CyberGhost is yet to undergo an independent security audit – now that most top providers have done so, those that haven't are beginning to look a little dated.
Considering the price and performance of CyberGhost, and the power of its VPN for Android, it's definitely worth considering – especially if you'll make use of its unusual features.
Sign up now on the CyberGhost website


Android VPN FAQ
Do I need an Android VPN?
If you ever connect to public Wi-Fi networks, and Android VPN is a must. 
While many are protected with passwords and encryption, there are still plenty around that can leave you open to attacks from other users that are connected. An Android VPN's encryption protects you and your data from any potential hackers, and for just that we'd say the small monthly fee is worth it.
However, one of the biggest reasons users sign up to use their VPN for streaming. If you're abroad, it's likely you won't be able to access the shows you watch at home without a VPN – even if you've paid the subscription. 
This is because online TV services geo-block their libraries for licencing reasons (Netflix and iPlayer, to mention a couple). Using a VPN can make your device appear to be in a country of your choice, and you'll therefore be able to access the same media anyone else in that country can.
Are Android VPNs legal?
VPNs have developed a somewhat tarnished reputation due to their links with hackers, pirates and other online criminals. However, in most countries it's 100% legal to have a VPN on any and all of your devices – and the vast majority of users remain entirely above board as well.
Some countries have banned VPNs entirely – Belarus, China, and Iran to mention a few. VPNs are still widely used in these locations, and while we don't recommend breaking the law in any circumstance, if you do choose to use a VPN in these countries, make sure you choose a secure provider that offers obfuscated servers.
What else can Android VPNs do?
Whilst you're on your phone, you probably won't be making full use of your Android VPN – just staying safe online and perhaps the odd bit of overseas Netflix – but thankfully every one on this list allows you to use your subscription on multiple devices. 
That means you'll be able to install your VPN on your PC or Mac, and often on your smart TV, games console or router as well. There, you can make the most of the power VPNs can offer.
Staying safe by using a torrenting VPN is one of the major benefits, as P2P sharing is an activity that poses a real risk to those who engage in it without protection. 
Another reason is to avoid any restrictions on your internet service – especially useful for students, those in rented accommodation or those at work – and means you can surf the web without anyone blocking what you want to look at.
How do you set up an Android VPN?
Installing a VPN on Android is as easy as installing any other app.
Firstly, you'll need to download the app from either the Play Store or directly from the provider's website. From there you can install the app as usual, and once the app has opened you'll be asked to sign in to your account.
Once you've signed in, your device will ask for your permission to set up a VPN connection. This will appear no matter what Android VPN you've signed up for. After you've allowed those permissions, your VPN is set up and ready to go.
All the VPNs on this page have excellent support networks, so if you do run into any problems they'll always be happy to help.
Is an Android VPN safe?
If you choose one of the five Android VPNs on this list, you can be sure that they are a reputable, secure provider. Heading to the provider websites through the links on this page will ensure you're in the right place, or you could search for them on the Play Store.
However, a VPN doesn't give you absolute immunity – if you enter details on a bogus site or download malware, your VPN won't be able to protect you. You still have to be savvy online, but if you're smart, a VPN will boost your protection to the next level, and stop your data from leaking when it's not your fault.


(Visited 41 times, 1 visits today)