iPad Pro 12.9 M2 launched. If you're going to spend over $1,000 to buy this tablet, you'll want to protect it. Here are the best iPad Pro cases.
In late 2022, Apple launched the M2-powered iPad Pro in 11-inch and 12.9-inch sizes. This time around, the company hasn't changed much, aside from bumping the slide from the M1 to the M2 and introducing the Apple Pencil hover feature. Other than those modifications, this tablet pretty much retains all the technical specifications of its predecessor. This means that the dimensions are identical, so cases designed for the 2021 model will work perfectly on the 2022 variant, and vice versa. And given its high price tag, you should really invest in a case. Otherwise, one drop could cost you hundreds of dollars in repair. To simplify the process for you, we've handpicked some of the best 12.9-inch iPad Pro cases available right now.
Best iPad Pro M1 and M2 12.9-inch cases
Ztotop iPad Pro Case 12.9 inch (2022)

If you're looking for a multi-purpose option, this case offers full protection, kickstand placement, pockets, leather construction, four different colors to choose from, and more. It's professional-looking and affordable, too.

Fintie iPad Pro 12.9-inch Case (2022)

If you're looking for something cosmic, shiny, and vibrant, this case offers 18 different stylish patterns and colors that add personality to your dull iPad Pro. It includes a kickstand mode, Apple Pencil 2 holder, auto wake/sleep screen support, and more.

Bam Bino iPad Pro Case 12.9-inch (2022)

Many people would argue that giving a young child the best Apple tablet is a mistake. However, if you insist on doing so anyway, this case offers a shock-resistant construction to keep your iPad Pro safe from potential damage. It also features a grip, Apple Pencil 2 holder, shoulder strap, kickstand mode, and more.

Magic Keyboard for the 2021 12.9-inch iPad Pro

Apple iPad Pro 12.9-inch (2021) Magic Keyboard

The Apple Magic Keyboard is specifically designed to fit the 12.9-inch iPad Pro. It offers a flexible keyboard, protection, kickstand mode, and a USB Type-C port.

ProCase Smart Cover

ProCase Smart iPad Pro 12.9-inch (2021)

The ProCase Smart Cover for iPad Pro 12.9 features a translucent back cover and a magnetic Smart Cover to protect your tablet. The Smart Cover can also double as a stand so you can enjoy videos hands-free. It comes in four color options.

Logitech Slim Folio

Logitech Slim Folio iPad Pro 12.9-inch (2021) Keyboard Case

Logitech introduces a slim and lightweight keyboard case that still offers great protection and ease of use. The convenient option for charging and storing your Apple Pencil makes this case a great choice for those on the go.

Torro tablet case

Torro Leather iPad Pro 12.9-Inch (2021) Case

If you want a leather case for your iPad Pro, this case from Torro is an excellent choice. It is made of genuine leather and covers the entire device. The case can also act as a kickstand.

Spigen Rugged Shield

Spigen Rugged Armor iPad Pro Case 12.9-Inch (2021)

Sleek design with carbon fiber detailing and shock-absorbent overlays, Spigen Rugged Armor is ready to take on life's everyday challenges.

Ringke Fusion Plus

Ringke Fusion iPad Pro 12.9-Inch Case (2021)

The Ringke Fusion Plus case comes with a Double Air Pocket frame that promises to provide twice the protection compared to regular cases. It's made of TPU, and includes an Apple Pencil holder. Moreover, there are holes in the lanyard to hold hand or neck straps.
Personally, if I had to pick one of those 12.9-inch iPad Pro cases, I'd pick the Apple Magic Keyboard. It's minimalistic, offering a trackpad, keyboard, and a USB Type-C port. I spend several hours typing each day, and my iPad remains on my desk at all times. So this case would make more sense in my particular situation.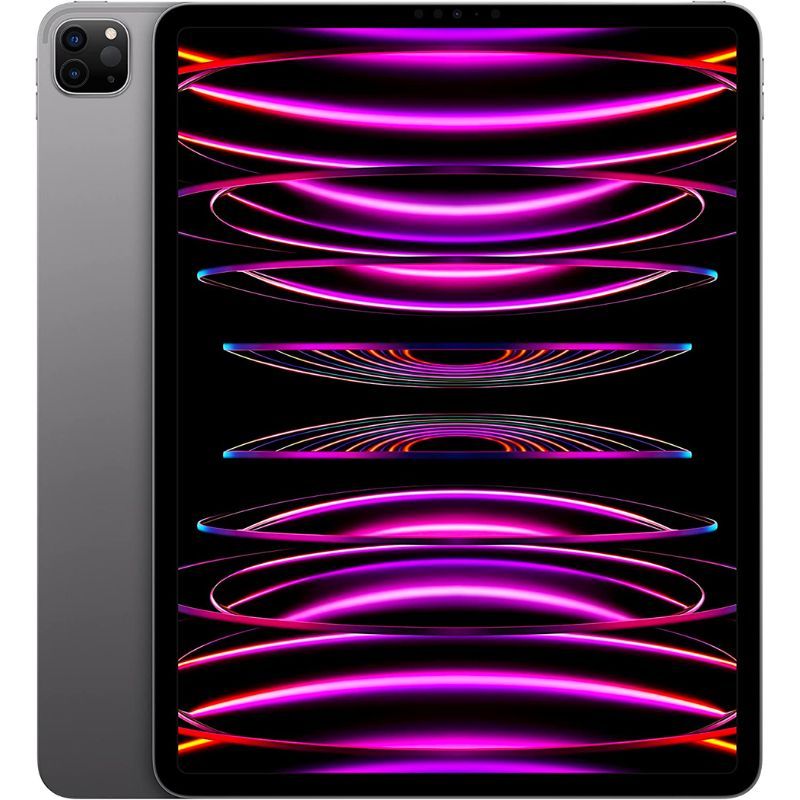 Apple iPad Pro 12.9-inch (2022)
The 2022 M2-powered iPad Pro not only has the most powerful built-in chip in a tablet, it also has a gorgeous, bright, and bold Mini LED panel.
Which case are you planning to get for the new iPad Pro 12.9? Let us know in the comments section below.
(Visited 34 times, 1 visits today)