The new USB-C docking station provides you with HDMI, USB-C charging, and USB-A ports, and also doubles as a stand with multiple viewing angles.
Plugable has launched a docking station that can help improve the way you use your favorite tablet at work, school or play. The new product, the USB-C Stand Dock (UDS-7IN1), doubles as a stand but also turns any tablet with a USB-C connection into a complete workstation by adding a slew of ports to your device. It's Plugable's first docking station designed just for tablets and phones.
At $69, and available with a $20 off coupon, this dock is a great companion for your Galaxy S22, as well as an iPad Pro, or even a Microsoft Surface Pro 9. With a single USB-C connection, you'll get eight different ports with the dock. The mix includes two USB 3.0 ports (speeds up to 5Gbps), SD and microSD ports, an audio I/O jack, and an HDMI port that supports an external display up to 4K 30Hz. You can also charge up to 91W for your connected tablet, which helps reduce the number of cables you need to use.
Other than adding these ports to your favorite device, the carrying part of the dock feels pretty solid. It's made of aluminum but is still lightweight to carry around and fold down to toss in a bag. For added protection, the portion of the base that holds your tablet has padded grips. It is also strong enough to hold the 12.9 inch iPad Pro without it falling while touching the screen. Plugable mentioned in a press release that this is because the stand hinge has two hinge points.
To properly enjoy this mount, you will have to make sure that your device supports DisplayPort Alt-Mode. Most tablets should be fine, and this seems like a great way to enjoy Stage Manager in iPadOS or Samsung DeX with a second screen. You can find more docking stations like these in our USB-C docking station guide, but keep in mind that the new Plugable USB-C Stand Dock is one of the more unique ones since it also doubles as a stand.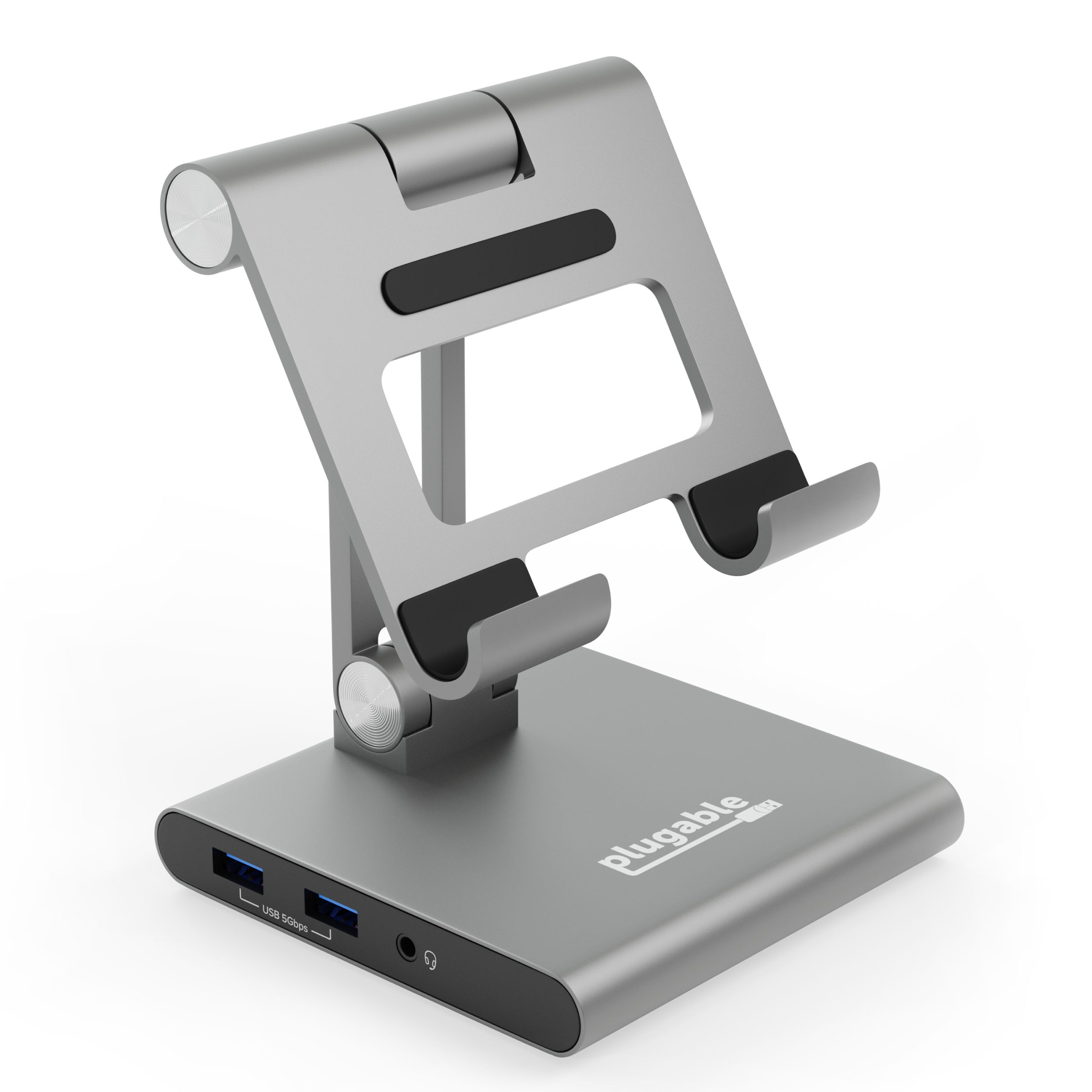 Pluggable USB-C docking station
Plugable USB-C Stand Dock can turn your favorite tablet into a full workstation as it not only adds additional ports, but also elevates your device to a comfortable viewing angle.
(Visited 5 times, 1 visits today)