As an audio editor, I am honored to spend parts of my work day listening to music. Part of my job is to evaluate and give my opinion on the audio performance of all kinds of products from the best cheap speakers, to the best soundbars, and everything in between.
In general, I love listening to music of all genres and discovering new and up-and-coming artists. But lately, I've been in a bit of a nostalgia thanks to the introduction of a new music app that turns back time. And I'm not alone.
From vinyl to wired headphones and foldable phones, vintage technology and a passion for vintage things are very much in trend right now. One of the catalysts for Generation Z music fans to get into retro music was the song "Dreams" by Fleetwood Mac, which had come to life after a TikToker skated that synced to the song while drinking blueberry juice. Then, the 1977 track returned to the music charts worldwide in 2020, reaching No. 12 on the Billboard Hot 100.
Kate Bush's Running Up That Hill was another, revived for a whole new audience after appearing on the fourth season of the Stranger Things TV show last year. Some 37 years after its original release, the track has re-entered music charts around the world, charting at number one on both the Billboard Global 200 and UK charts.
Rewind: The app that lets you go back to any year in music
rewind (iOS (Opens in a new tab)And android (Opens in a new tab)) is not a new music streaming service, but a music app that enables music lovers to explore tracks from decades past. It now integrates with Tidal, where you can listen to an entire track or add it to playlists. I'm told Rewind will integrate with other music streaming services in the future.
Rewind is free to download on iOS and Android devices, and seems to be becoming increasingly attractive to music fans curious about the songs and artists that have defined popular music over the five decades that spanned from 1960 to 2010.
It's really easy to use, though sometimes I had to restart the app to get back to the home screen. Just select a year, and Rewind gives you a 30-second preview of songs from that year, complete with video or track/album artwork. It also caters to the trends that defined the era with a selection of albums as well as mixtapes that link to playlists of the era.
However, it's not just the songs that drive nostalgia. There's a news section highlighting musical happenings and moments from the specific year such as the first issue of Rolling Stone magazine, the emergence of Janis Joplin as the new rock icon, and Aretha Franklin's breakthrough album "Respect," all from 1967. Vintage photos and advertisements match the times and add a feel. Also authentic.
I love the way it's thought out and the extra era-defining touches, but for me it's all about the music and discovering the songs and artists that were around in whatever year you were traveling. In fact, I've been surprised at how many songs I've discovered (again) that I once loved but forgot about thanks to being overlooked for whatever reason by the streaming algorithms.
Returns: How the application started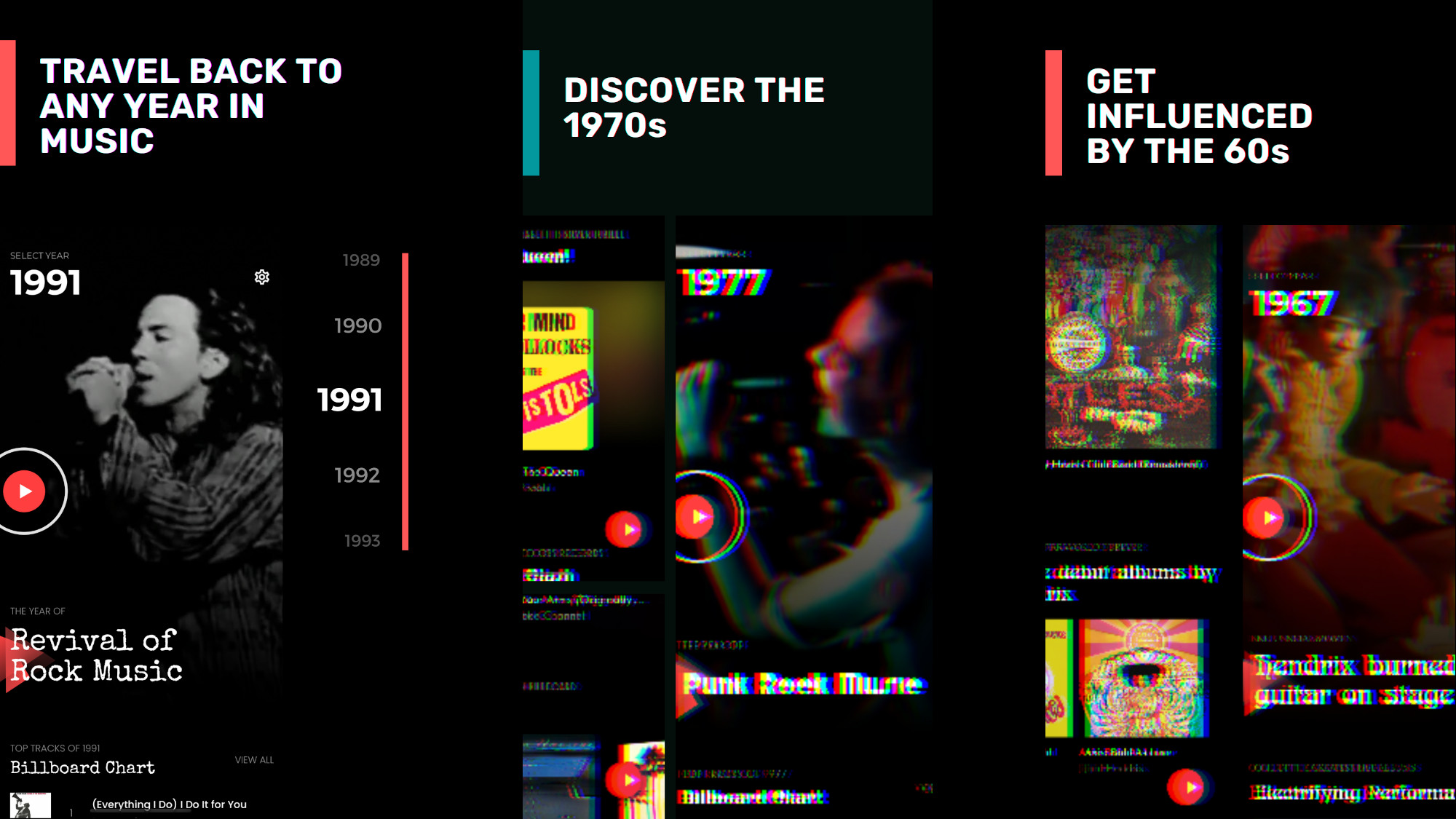 Rewind started as a side project for application engineer Ziad Al-Halabi at the helm of the day-to-day work at Tidal, so Tidal is the first music streaming service to integrate. Rewind was developed in response to the growing number of young music fans who discovered music from decades past through the soundtracks of popular TV shows, and/or were blown up on TikTok.
"I've always been interested in how music changes over time," says the creator of Rewind. "Rewind is a capsule of all the music, artists and major events in one place."
"The app offers a new way to discover new old music that is based on historical eras with a bit of nostalgia. Rewind is perfect for those with taste and fans looking to discover new music from the good old days," Al-Halabi continues.
Rewind: My new favorite way to explore old music
I'm subscribed to a lot of streaming services, including most of the ones in our best music streaming services guide, as well as one or two others we haven't covered yet in Tom's guide. Each has its own discovery mode and algorithm that aims to feed me music that I like. But despite its novelty, the music that is presented often doesn't quite hit the mark.
Although I'm not a TikTok user, I enjoyed watching "Stranger Things" and the season it includes that Kate Bush song, and I appreciate how this kind of performance and interaction on social media can influence listening habits and expose music fans of all ages to music that has long been unheard or forgotten.
I find it interesting that a developer working for a music streaming giant has identified the need for an easy-to-use music app that enables users to connect and explore music in a more intuitive and engaging way. Rewind is a satisfying and interesting music discovery app to use. It's a great way to turn back the clock on the music that influenced generations of artists and music lovers that still shapes our music choices today. I advise you to try it.
(Visited 5 times, 1 visits today)