Microsoft has announced a new version of its AI-powered Bing search engine, courtesy of OpenAI, the developers of ChatGPT. The new version of Bing focuses on natural language and a conversational user interface that makes searching easier. This announcement comes in the context of an event announced by Microsoft yesterday, which is taking place at the company's headquarters in Redmond.
According to Microsoft, the new version of Bing uses a next-generation language model that is much more powerful than ChatGPT, and is particularly optimized for search. Not only that, but Microsoft is collaborating with OpenAI on a proprietary set of capabilities and technologies for how Bing communicates and the language model. Called Prometheus, these technologies allow Microsoft to leverage its proprietary understanding of web search to refine and improve the results that come from these natural language queries.
Microsoft showed some examples of this new Bing by doing some searching; For example, asking Bing to compare the most influential Mexican artists and their paintings. In this case, Bing will create a panel about these artists and their popular works, and group them all together in a card on the right side of the search results. This can result in results being served more quickly so that users immediately get the information they need without having to tailor their search to the way search engines usually work. Designed for natural language and complex queries, the new Bing search bar supports up to 1,000 characters, so you can search for exactly what you want to know.
You can also use the new chat interface in this new Bing, where instead of just seeing a typical search results page, you have a chat UI, similar to a messaging app. You can ask Bing a question, or ask for help planning a trip, for example, and Bing will return a complete itinerary that you might want to take on that trip. You can then also ask Bing to create an itinerary that you can share with your family, and Bing will return a more readable list of places to visit.
However, the usefulness of this language model is not limited to the Bing search engine. Microsoft integrates this intelligence into the Edge browser. With the new Bing sidebar on the right side of Edge, you can take advantage of these smarts while browsing the web. For example, if you're reading a financial report from a company, you can ask Bing to highlight highlights from that report, which will give you information about operating profit, among other things. You can then ask Bing to compare that to another company's financial results, and the search engine will display that without you having to search for it. You can even ask Bing to present the information in a table to make comparison easier, and it will do exactly that.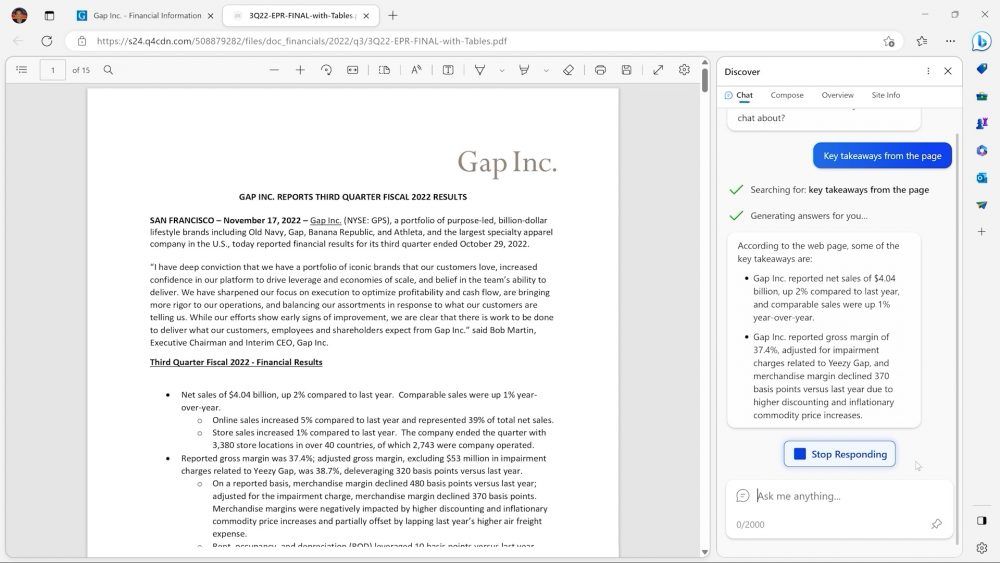 With this integration, there is also a compose tab in Bing, which can help you write a post or text for social media. Using the panel, you can ask Bing to type text in the tone and formatting you want, as well as the target length, and Bing will display that text for you. You can then make edits as needed to create a custom post that's still unique to you.
Of course, Microsoft is also doubling down on its commitment to responsible AI. The company says it has security models in place for nearly all of its AI applications, and that applies to the new Bing experience as well. For example, a language model can understand when someone is planning illegal activity and act to defend against it.
The new Bing experience is live on the web and in Edge starting today, but it's in limited preview at the moment. You may need to wait a while before you can see it.
---
source: Microsoft
(Visited 4 times, 1 visits today)