It looks like we've just seen some of the best OLED TVs we've yet to see in the form of the LG C2 OLED and LG G2 OLED thanks to LG OLED Evo technology but LG Display, the company that makes the panels inside those TVs, isn't ready to rest on its laurels.
In 2023, the display manufacturer is working hard to develop the next generation of OLED TV technology, a technology that will be brighter than previous versions through the use of Micro Lens Arrays (MLA). These microscopic lenses act as light boosters and can intensify brightness – with early estimates putting the percentage increase at 60% brighter than this year's best OLED TVs.
LG Display calls the technology META — a relatively confusing name since there's such a famous tech company with that name — but one that LG Display believes will perfectly represent the changes it's making to its OLED panels.
I got a chance to see some of these META panels in a closed demo at CES 2023, and while they had some sticking points, they seemed like the future of OLED TVs is much brighter. And that, I think, is something everyone should be excited about.
Micro Lens Array: What is it and how do you make OLED better?
Since their inception, OLED TVs have had the same strengths and weaknesses. They've always delivered exceptional contrast, being able to produce some of the best black levels of any kind of display technology, but they can't be as bright as an LED-LCD TV.
It is this last fact that has helped QLED TVs thrive in the past few years. They're significantly brighter, and people who have a lot of ambient light in their living rooms need a way to compensate for that with brighter TVs.
The way META OLED panels work will change this paradigm.
Adding a Micro Lens Array will result in brighter pixels — and there will be a lot more of these lenses per pixel: on a 77-inch 4K TV, for example, there will be 5,117 lenses per pixel. LG expects total peak brightness to be somewhere around 2,100 nits in a 3% window, which is close to twice the brightness we saw in second-generation LG OLED Evo panels.
Helping pixels reach their optimal brightness is a new lighting algorithm that "accurately analyzes brightness information and makes adjustments in each scene so that OLEDs can accurately express peak brightness even when areas of peak brightness in an image increase."
The META Booster algorithm works in conjunction with the new Micro Lens Array technology to create the brightest picture we've yet seen from an OLED panel.
So what's the downside here?
The big downside is that LG Display won't use META technology in all the panels it makes — in fact, only its 55-inch, 65-inch, and 77-inch 4K TVs will be produced with META technology. If you want, say, a brighter 42-inch or 48-inch OLED TV, you're out of luck. Whatever TV you buy, the older OLED technology will be used.
Not only is this a disappointment for people who want smaller sizes, but it can make things confusing for reviewers, too. When we go to review the following OLED TVs with META technology, we'll have to be very careful to point out that not every model in the range will have the same performance. The result is reading more subtleties when buying a TV.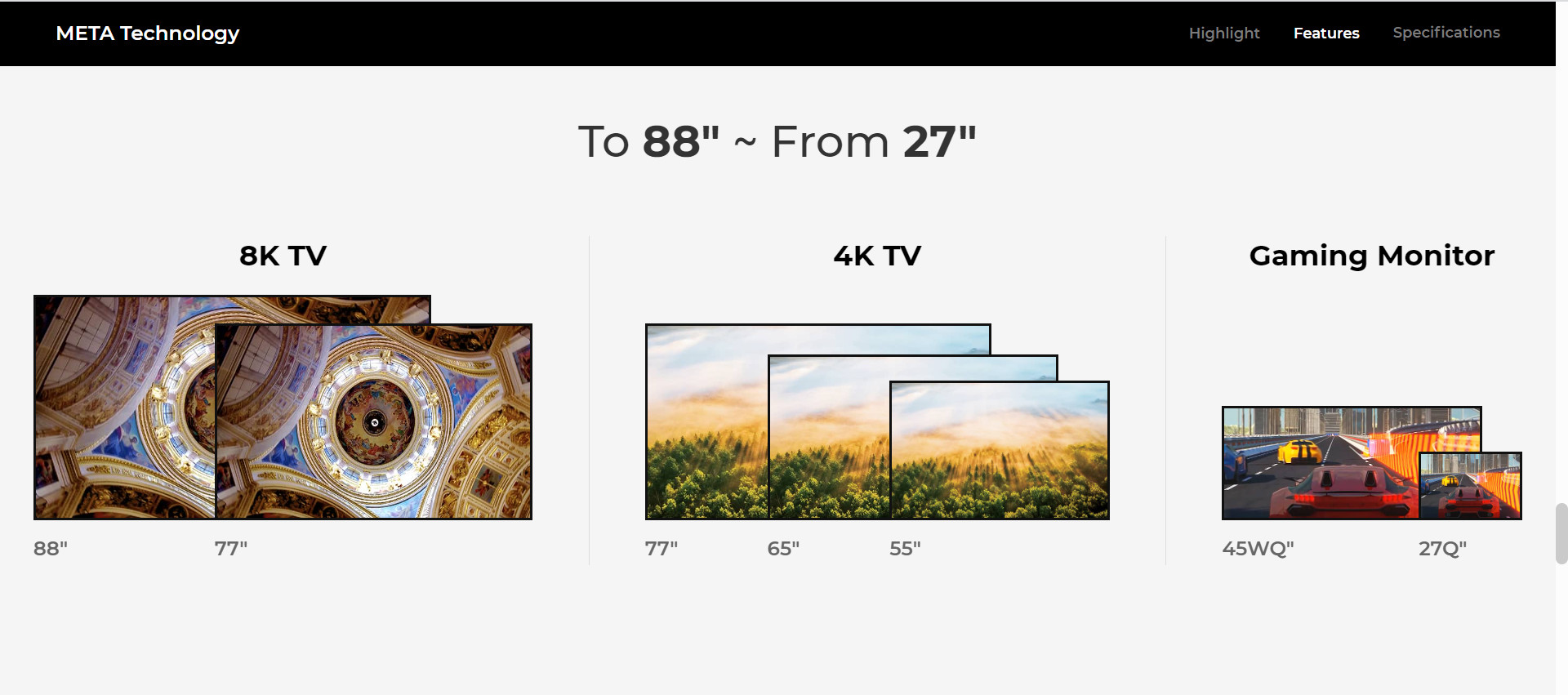 Another potential downside here is cost – Micro Lens Array OLED panels will likely cost more to produce and therefore more expensive to purchase. What will likely happen, in my opinion, is that TV makers like LG Electronics and Sony will only implement third-generation OLED panels in their most expensive models. In this way, consumers will expect a higher price and will not be shocked by it.
Having seen them for a while I can attest that the META OLED panels offer a brighter picture, although it's still not quite on par with the Samsung Neo QLED TVs I saw earlier in the day. I suspect QLED TVs will eventually still be the brighter of the two types of TV — however, now you may not have to completely ignore OLED when shopping for a space with plenty of ambient light.
Of course, LG Display isn't the only one in the line of producing brighter, more colorful OLED panels in 2023 and will have to watch out for Samsung Display's new QD-OLED panels that will appear in the Samsung S95C OLED. We won't be able to do direct comparisons between the two new screens until we get the finished products in our test lab, obviously, but this is definitely the race you want to watch if you're interested in buying a brighter and better OLED TV this year.
(Visited 15 times, 1 visits today)