Samsung dropped three new flagship phones this year at the beginning of February: the Galaxy S23, S23+, and S23 Ultra. The Ultra model is by far the most interesting — with its 200MP camera, S Pen stylus, and long battery life, it's quickly become one of the best phones you can buy. Meanwhile, the standard S23 is a solid smartphone for those who want to save money and don't need a huge screen.
Then there's the middle child, the Galaxy S23+. It's priced at $999 and boasts most of the same specs as the regular S23 (save for the bigger screen and battery). I've been using it for about a week, and there's no question that it's a solid smartphone. It's a pretty complete package and doesn't skimp out in many areas or try to pressure you into buying an S23 Ultra. It's perfect for any fan of Samsung phones looking for an upgrade.
However, it's in a weird spot. Compared to other smartphones at similar price points, the S23+ feels a bit generic. It doesn't have an edge or stand-out feature like the Pixel 7 Pro or OnePlus 11, and it's a hard phone to justify buying in comparison.
So, should you buy it? Is it one of Samsung's best phones, or should you stay away?
About this review: This review was written after a week of testing the Galaxy S23+ provided by Samsung. The company has not seen the contents of this review before publishing.
Samsung Galaxy S23+
The Samsung Galaxy S23+ is the middle child of the Galaxy S23 series, being slightly bigger than the regular model. but featuring many of the same features. The screen and battery are bigger, and it has the same 50MP main camera sensor as the regular S23.
Brand

Samsung

SoC

Snapdragon 8 Gen 2 for Galaxy

Display

6.6-inch Full HD+, Dynamic AMOLED 2X Display, Super Smooth 120Hz refresh rate (48-120Hz), 240Hz touch sampling rate in gaming mode

RAM

8GB

Storage

256GB, 512GB

Battery

4,700mAh

Operating System

Android 13 / One UI 5.1

Camera (Rear, Front)

50MP f/1.8 main, 10MP f/2.4 3x telephoto, 12MP f/2.2 ultra-wide, 12MP f/2.2 selfie

Connectivity

5G, 4G LTE, Wi-Fi 6E, Bluetooth 5.3

Dimensions

6.21 x 3.00 x 0.30 inches

Colors

Phantom Black, Cream, Green, Lavender, Graphite, Lime

Weight

6.91 ounces

Charging

45W wired, 15W wireless, 4.5W reverse wireless

IP Rating

IP68

Price

Starting at $999

Micro SD card support

None

Stylus type

None

Security

Ultrasonic fingerprint reader, face unlock
Pros
Beautiful AMOLED screen
Fast performance
Great battery life
Comfortable to hold and lightweight
Cons
Cameras are good, but behind the competition
Charging speeds could be faster
Samsung's software still isn't ad-free
Not the best value compared to other phones
Samsung Galaxy S23+: Price and availability
There are two storage configurations available
You can get the S23+ in four standard colors and two Samsung-exclusive finishes
It starts at $999
The Galaxy S23+ is now available on Samsung's website, carriers, and other retailers like Amazon and Best Buy. It starts at $999 for 8GB of RAM and 256GB of storage, which is double the base storage of last year's S22+. Like last year, there's no microSD card slot, so you'll have to decide how much storage you'll need at the time of purchase. Fortunately, there's a 512GB model available that should be enough for even hard-core smartphone users.
The S23+ comes in four colors: Phantom Black, Cream, Green, and Lavender. Samsung also offers two additional colors exclusively through its online store: Graphite and Lime.
As with many Samsung phones, you can already score some sweet deals on the device, along with the rest of the S23 family. Samsung is giving you up to $700 if you trade in your current device through its website (assuming you have a Galaxy Z Fold 4) and a $100 credit to spend on accessories.
Design and hardware: Very familiar, still fantastic
The S23+ looks a lot like the S22+
It's a little flatter and resembles the Ultra model more
It's a delight to hold in your hand
The speakers are… fine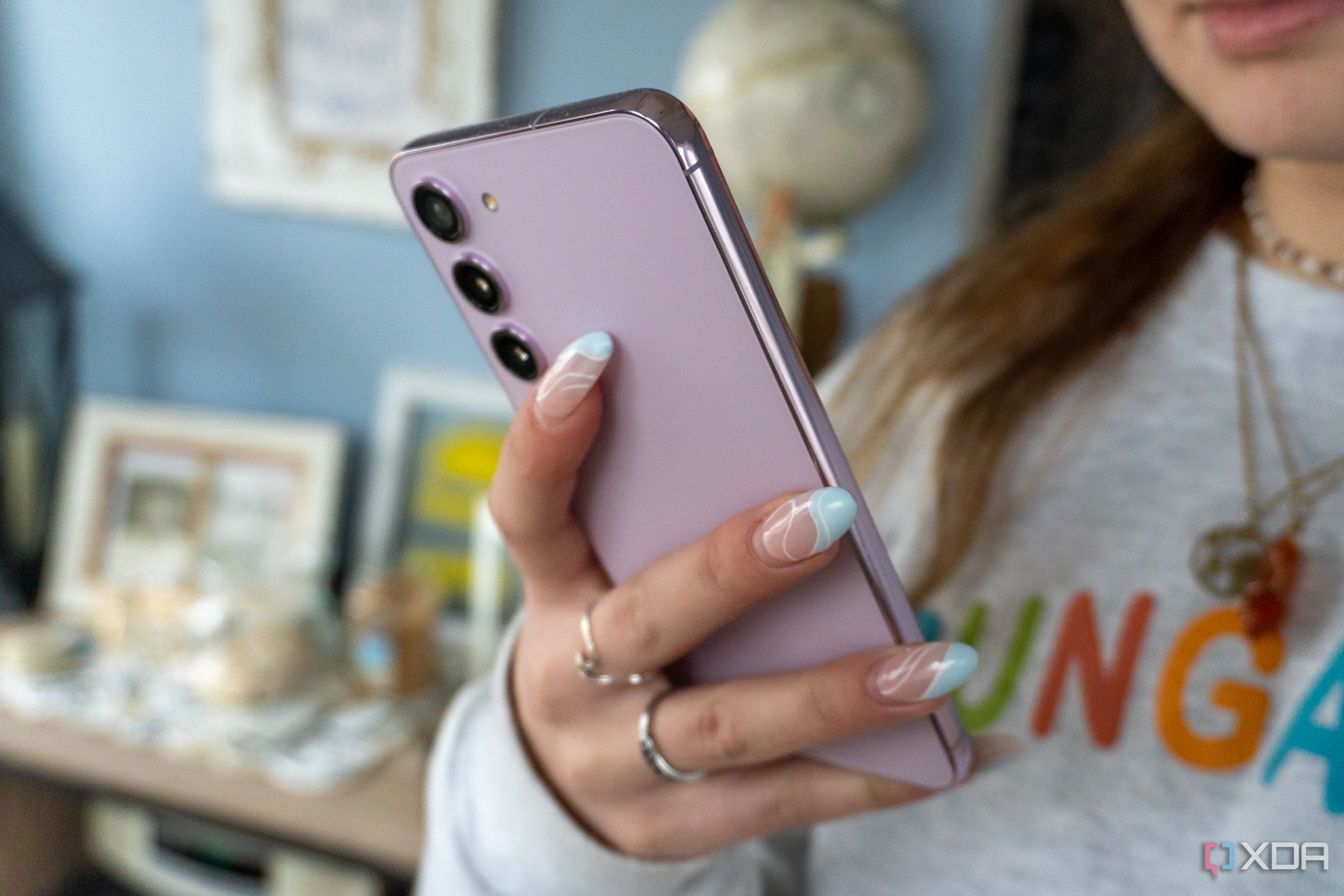 From the second I took the Galaxy S23+ out of its box, I knew I'd enjoy carrying it around. The device is designed to sit naturally in your hand, adapting to the curvature of your palm instead of forcing you to adapt to something wide and rectangular like the S23 Ultra. It's not as comfortable as the smaller S23, but it's close.
The S23+ has a big screen, but it doesn't feel that big when you're holding it. It's shorter and slimmer than the iPhone 14 Plus, and the rounded corners help it feel smaller than it actually is.
The front and back are covered in Corning Gorilla Glass Victus 2, which gives you stronger protection against scratches and cracks than the Victus Plus glass on last year's phones. The side rails are still aluminum and slightly more squared off than in previous years. They're by no means as flat as the iPhone 14 series, but they're in the same ballpark. Samsung is also using more recycled materials for its latest flagships, such as recycled glass and ocean-bound plastics. The packaging is also made of 100% post-consumer recycled paper.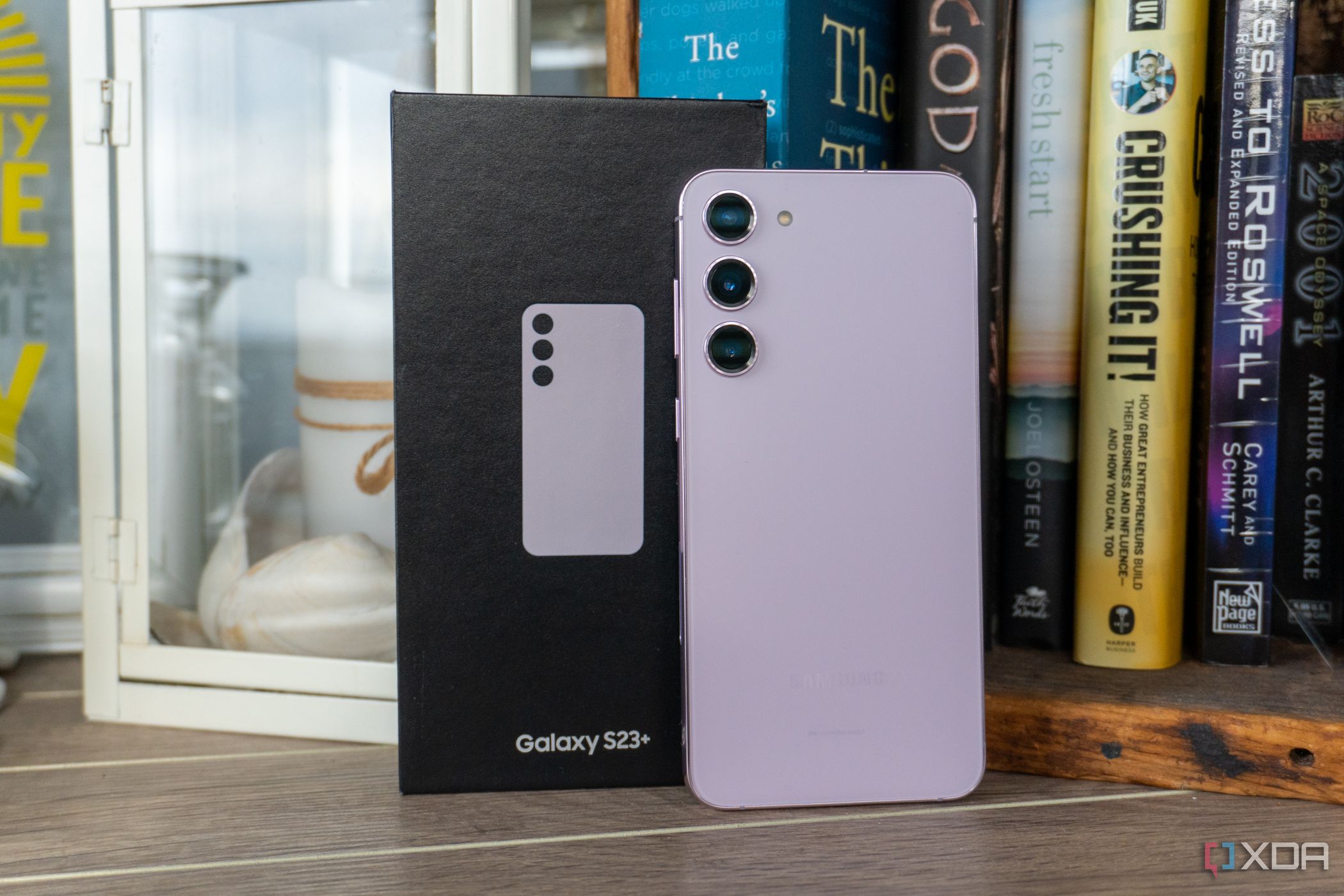 Around the device, you'll find all the usual smartphone suspects like a USB-C port, speakers, microphones, antenna bands, and a SIM tray. That's great news for those who weren't a fan of Apple's switch to eSIM since you can still conveniently swap physical SIM cards in and out at your leisure. I never thought I'd be writing reviews where I have to highlight that as a feature, yet here we are.
On the back, you'll find a triple camera system that no longer has its own housing. Samsung needed a way to switch up the design of the S23 series, and I'm kind of into it. The missing housing means the cameras are floating on the back of the phone, similar to how the cameras look on the S22 Ultra and S23 Ultra. It's a very ordinary design decision, but a good one.
The volume and power buttons are on the right side of the Galaxy S23+, and they've shifted up the phone a bit compared to the S22+. If you have smaller hands, this might make them a bit tougher to reach, but it was never much of an issue for me.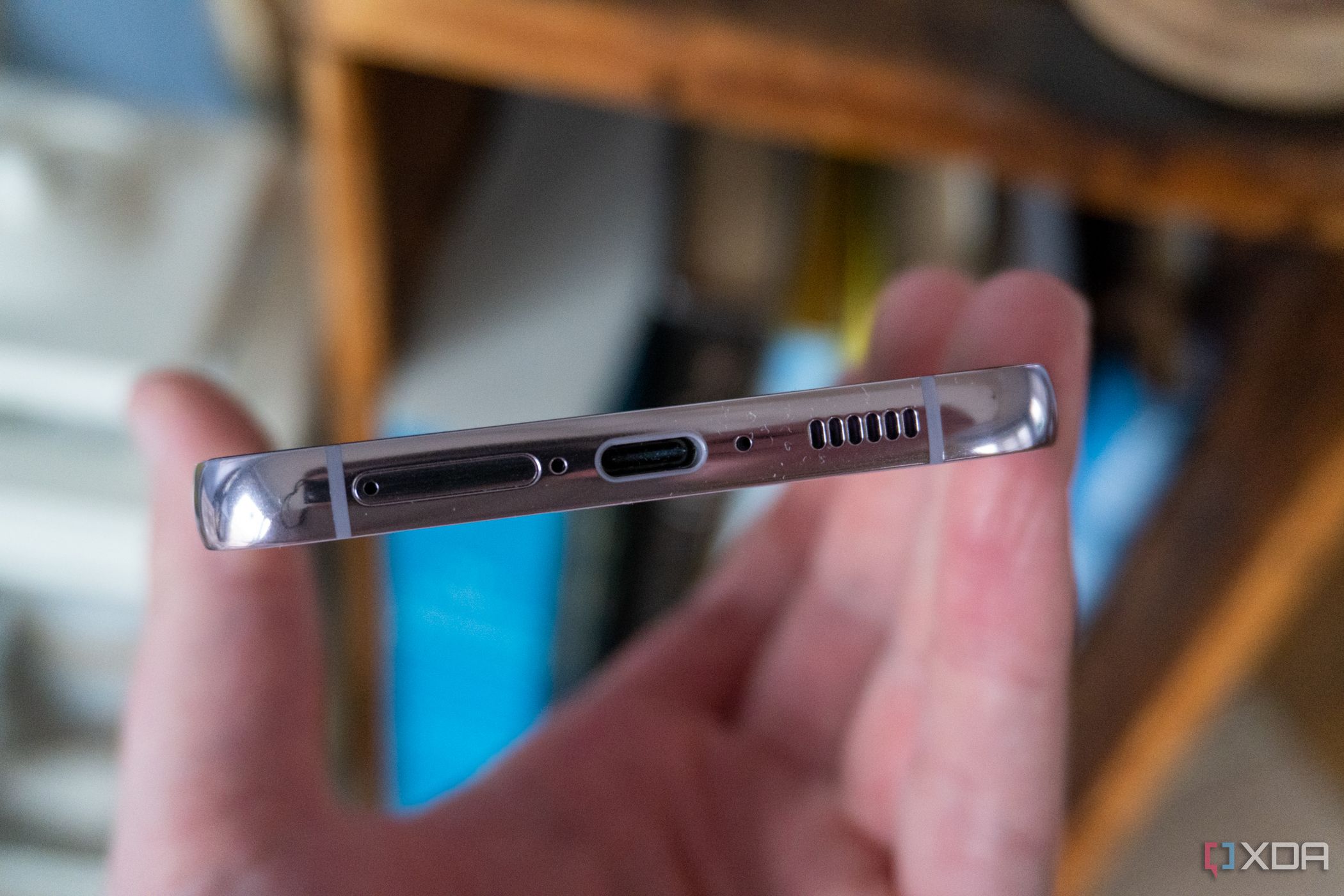 Finally, there are stereo speakers on the S23+, and they sound mostly fine. They manage to get pretty loud and offer good clarity, but there's a sense of hollowness. My benchmark for good smartphone speakers is the iPhone 14 Pro, which continues to be my favorite phone to play audio on. The S23+ can't keep up when it comes to bass and a wide soundstage, but they're certainly good enough for everyday listening. Just don't expect to be blown away.
Display: Samsung remains the king of smartphone screens
The 6.6-inch Dynamic AMOLED 2X panel is gorgeous
In-display fingerprint reader is responsive and reliable
Brightness has been increased to 1,750 nits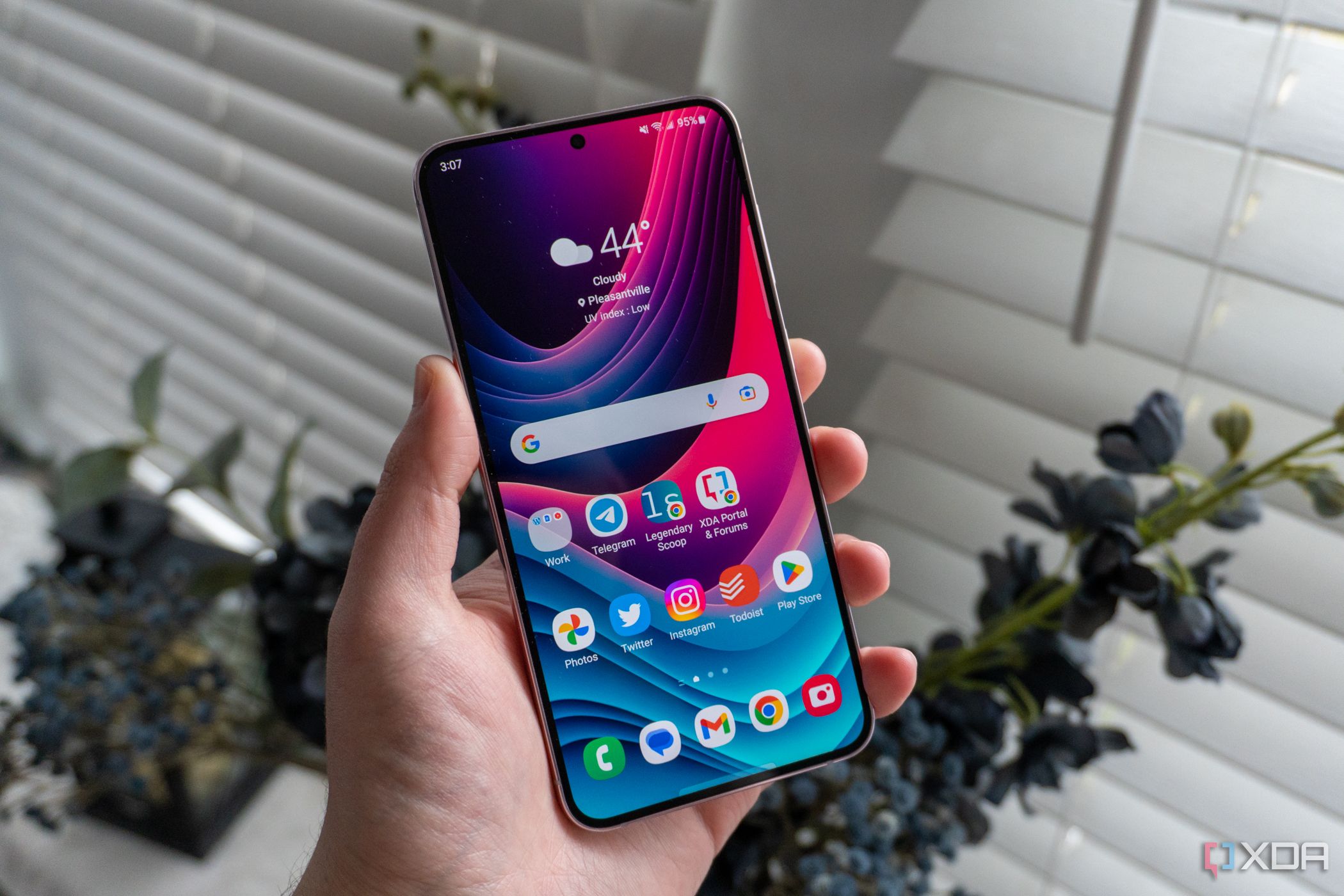 There are no two ways about it: the Galaxy S23+ has an amazing display. It measures 6.6 inches diagonally with a 19.5:9 aspect ratio, and it's simply wonderful to look at. It has Samsung's Dynamic AMOLED 2X panel technology for sharp contrasts and inky blacks, and it's incredibly vibrant while also not oversaturating everything.
The resolution sits at 2340 x 1080, which is plenty sharp for any content you plan on interacting with. The panel also has a 120Hz refresh rate that keeps scrolling and animations looking smooth. It's a variable refresh rate that can slow down to 48Hz when you stop scrolling to save battery.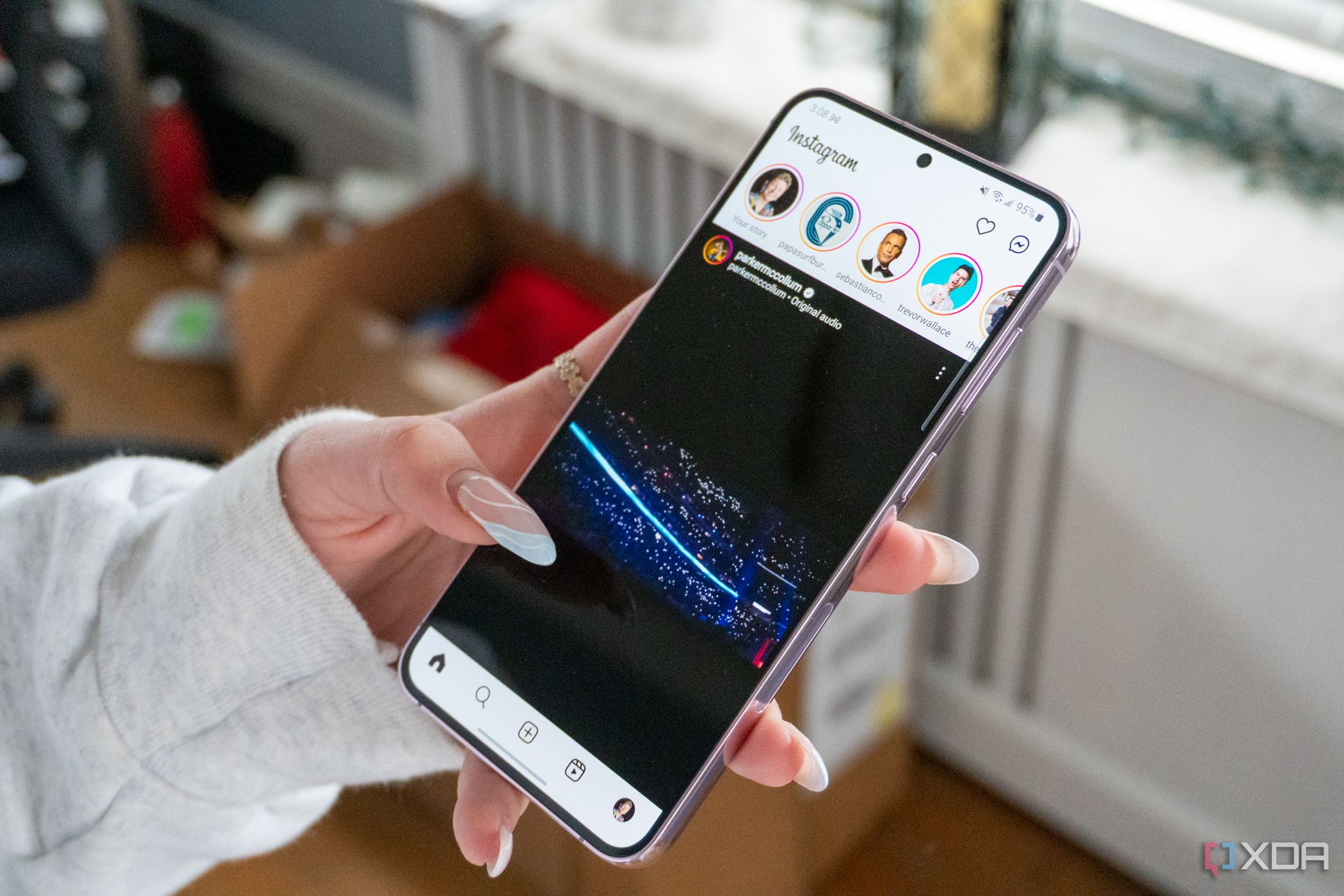 The whole package gets even better when you consider the brightness levels. Samsung increased the peak brightness from 1,300 nits to 1,750 nits, which makes a massive difference. I can see this screen a lot easier in direct sunlight than previous Galaxy phones, and it even remains easy to see even while wearing sunglasses.
Finally, there's an ultrasonic in-display fingerprint scanner for security. I've had zero issues with the sensor during my review period, and it worked every time I placed my thumb on it to unlock it. Samsung continues to impress me with the quality of its fingerprint readers every generation.
Performance: The Snapdragon 8 Gen 2 for Galaxy doesn't disappoint
New processor is incredibly fast
UFS 4.0 storage keeps things running smoothly
It's one of the coolest phones I've tested in a while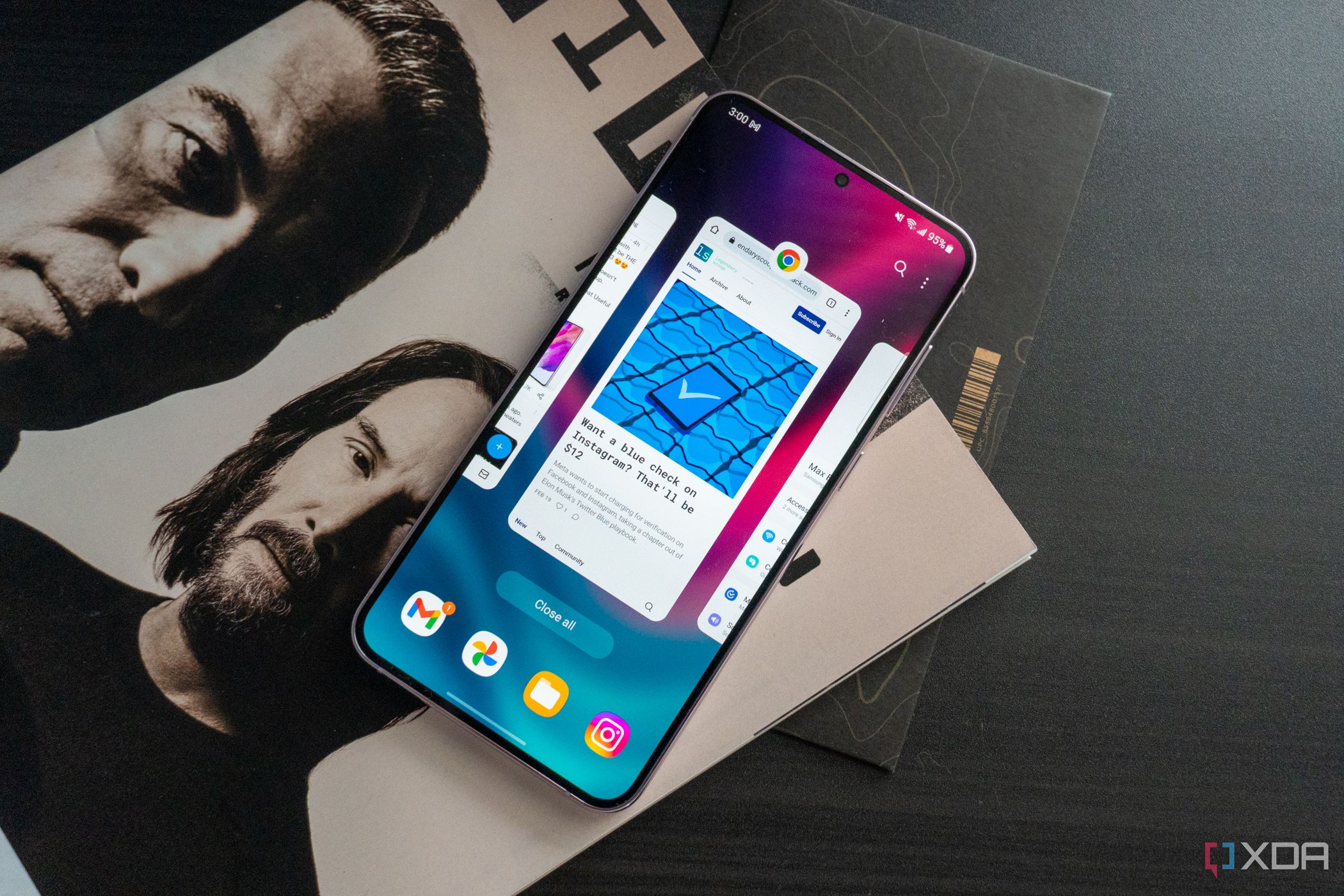 Samsung equips each member of the Galaxy S23 series with the same chipset — the Snapdragon 8 Gen 2 from Qualcomm — but it's a unique slightly overclocked version for a little extra power out of the CPU and GPU. It's also the first CPU that uses Snapdragon's new Cognitive ISP to enhance images while they process. We have a full guide going over everything there is to know about the "Snapdragon 8 Gen 2 for Galaxy" for those curious.
What you need to know is that this chip is very powerful. It's one of the fastest on the smartphone market, second only to the A16 Bionic from Apple. Everything from multitasking to gaming to scrolling through Twitter is a breeze, and it remains one of the most responsive Android phones I've ever tested. That's largely thanks to One UI 5.1 which we'll get to later, but overall, it's incredibly quick and snappy.
| Geekbench 6 | Single-core | Multi-core |
| --- | --- | --- |
| Samsung Galaxy S23+ | 1929 | 5101 |
| Samsung Galaxy S23 Ultra | 1892 | 5262 |
| Apple iPhone 14 Pro Max | 2520 | 6472 |
| OnePlus 11 | 1525 | 5000 |
| Google Pixel 7 Pro | 1422 | 3796 |
I ran benchmarks on Geekbench 6, and the S23+ faired pretty well. As you can see, the Galaxy S23+'s scores are about in line with the S23 Ultra's (although the latter scored a bit higher due to its faster performance). It was able to beat out the Pixel 7 Pro and OnePlus 11. Obviously, Qualcomm's Snapdragon processors still can't touch what Apple silicon is capable of, but it's getting closer and closer every year.
There's 8GB of LPDDR5X RAM paired with the processor and 256GB or 512GB of UFS 4.0 storage. I never found memory to be too much of an issue, but there were a couple of occasions when Spotify would crash in the background if I fired up a few too many heavy apps. Beyond that, everything was silky smooth, and the faster storage helped a lot with that.
The S23+ also stayed nice and cool, all thanks to Samsung's improved vapor chamber cooling system. I never experienced the device getting uncomfortably warm, only moderately so during the initial setup while moving all of my content over. I'm not much of a gamer beyond the occasional Asphalt 9 race and quest for coins in Super Mario Run, so I don't have an extended gameplay experience to speak from. But given how cool the device remained with my usage, I don't think mobile gamers will have to deal with excessive heat, either.
Software: One UI 5.1 offers a more responsive, customizable experience
One UI 5.1 adds some great new features from 5.0
Four years of major upgrades and five years of security patches
Samsung still needs to work on managing ads in its system
Samsung didn't fundamentally change One UI, its skin on top of Android, for the Galaxy S23 series, and it didn't have to. It's already one of the best software experiences on Android, with a wide feature set, countless multitasking utilities, and plenty of customization.
Instead, Samsung just made it a little bit better. The S23+, like the regular S23 and S23 Ultra, ships with One UI 5.1. The updated version is still based on Android 13, but it's a lot more responsive than One UI 5.0. It also has a few new features like a more customizable lock screen, new widgets, direct integration with Expert RAW in the main camera app, and various improvements to the Gallery app.
The best part is its guaranteed update program. Samsung promises four years of major Android upgrades for the entire S23 line and five years' worth of security patches. Over the past few years, the company has gotten faster at shipping updates to its devices, sometimes even beating Google to the punch with monthly security patches. With any S23, you're basically guaranteed a great software experience.
Of course, it's not perfect. Samsung used to have a huge problem with showing ads in its apps, and while it's reduced that amount significantly, it can't seem to resist sending push notifications for games I'll never play in the Galaxy Store. In addition, Samsung's weather app is useful enough, but the company felt the need to jam in the worst feed of news I've ever seen. None of it is relevant to my area, and it feels more like one of those spammy newsfeeds at the end of blog posts than anything.
These aren't dealbreakers, but they're annoying reminders that Samsung still has some work to do to perfect its software. Oh, and for the record, I didn't bother messing with Bixby or DeX, although both are still fully functional on this phone.
Admittedly, I'm still partial to Google's Pixel experience, which comes with silky-smooth animations, little to no bloatware, and helpful AI and machine learning tools like Call Screening and Now Playing. That being said, compared to the world of other heavy Android skins like OxygenOS and EMUI, One UI is far superior. It's a lot faster, it blends into the background better, and it's more pleasing to look at.
Cameras: Flagship-level, but a step behind the best
Triple rear cameras are reliable and fast
Nighttime photography is behind what other phones can pull off
Video quality still can't compete with the iPhone
Expert RAW integration is incredibly convenient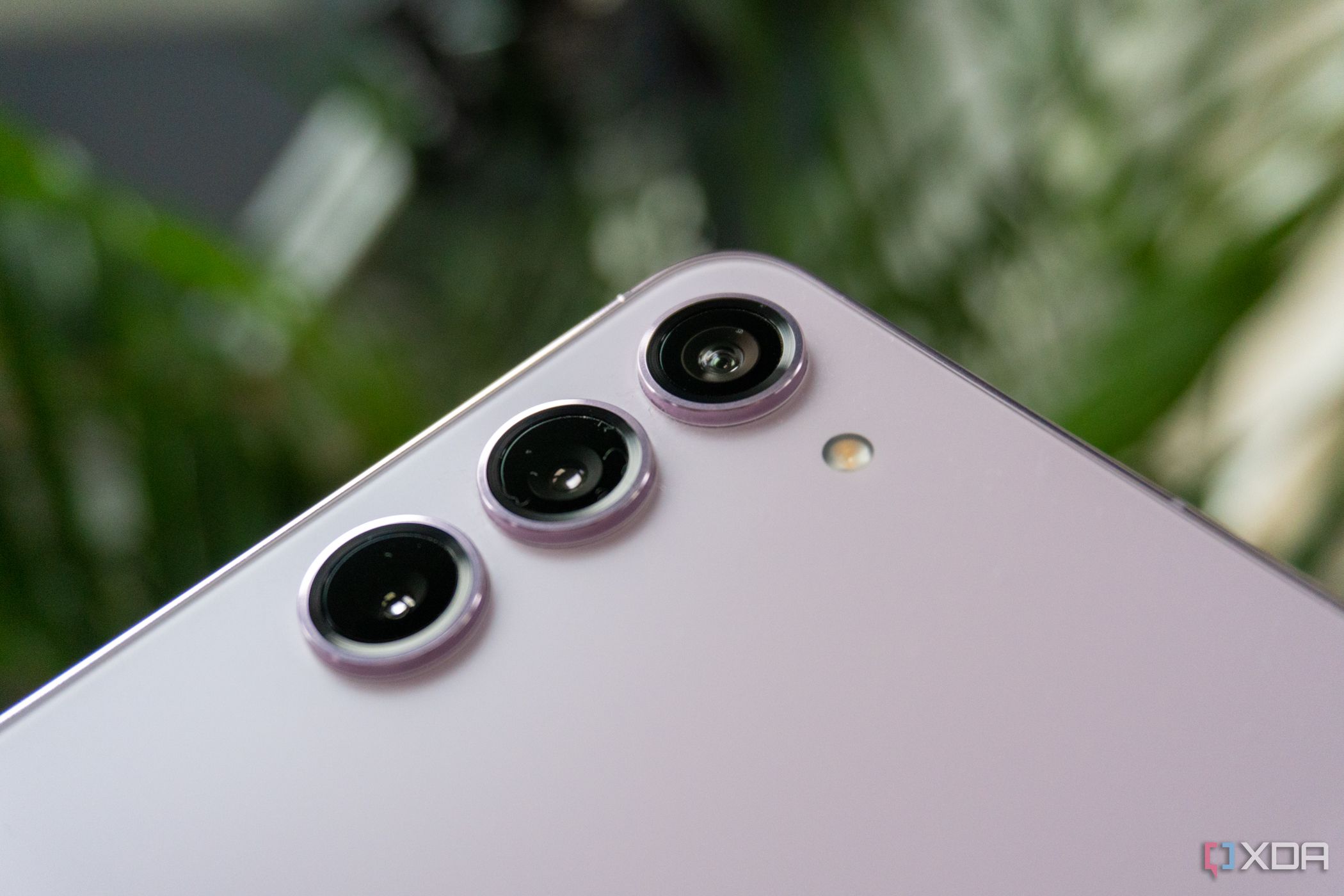 The rear cameras on the Galaxy S23+ are basically identical to the S22+, save for some tweaks to Samsung's processing pipeline. They're far less exciting than the S23 Ultra's 200MP camera and 100x Space Zoom, but they're still solid.
Galaxy S23+ main camera samples:
The main camera is a 50MP sensor with an f/1.8 aperture. From shooting landscapes to portraits, random objects to fellow humans, I was pleased with the capabilities of this sensor. Colors are vibrant and sharp, contrast is well-balanced, and highlights don't get blown out. The same goes for the 12MP f/2.2 ultrawide and 10MP f/2.4 telephoto. Beyond some minor quality differences, you can expect similar results from each camera.
Galaxy S23+ ultra-wide and telephoto camera samples:
Of course, they're far from the most capable shooters on the planet. The 50MP camera is by far the best one on the phone, but it struggles at nighttime. When night mode kicks in, you get a bit of extra detail and exposure from the longer shutter speed, but results still can't keep up with what phones like the Pixel 7 pro and S23 Ultra can capture.
The same goes for the other two cameras. While the ultra-wide lens is nice and wide at 120 degrees, it takes a notable step down in quality when the light gets dimmer, and the slow shutter speed makes capturing good photos at night a real hassle. Meanwhile, the telephoto lens is only equipped with 3x optical zoom and 30x hybrid zoom. The more you zoom, the faster the quality will dissipate, especially at night.
The 12MP selfie camera has an f/2.2 aperture and is perfectly serviceable. It won't blow you away with its resolution or quality, but it's a step up from the old 40MP cameras on the S22 series and gives you a more accurate image.
From left to right: Samsung Galaxy S23+, Google Pixel 7 Pro, Apple iPhone 14 Pro Max:
Compared to other phones, the S23+'s cameras don't really stand out, and the photos feature more saturation and exposure. I prefer how photos are processed on the Pixel 7 Pro, which has a similar camera setup to the S23+ but with a 5x telephoto lens and better processing chops. Pixel photos have a moodier contrast, and nighttime shots are always better balanced. Then, there's the iPhone 14 Pro, which tries to process photos as naturally as possible. The S23+'s photos look a bit artificial, which isn't for everyone.
The video quality is solid. You can shoot up to 8K footage at 30 FPS, but I stuck with 4K at 30 FPS for most of my testing. It's great for taking quick videos of what's happening around you and sharing them on social media, but it's not on the iPhone 14 Pro or Galaxy S23 Ultra's level. It's the same story you've probably heard with previous Samsung phones. There's artifacting around straight edges due to oversharpening, and there's more grain than you'd expect in dimmer situations. I'm also not too fond of how the microphones sound since wind mitigation and stereo recording aren't as good as other phones I've tested.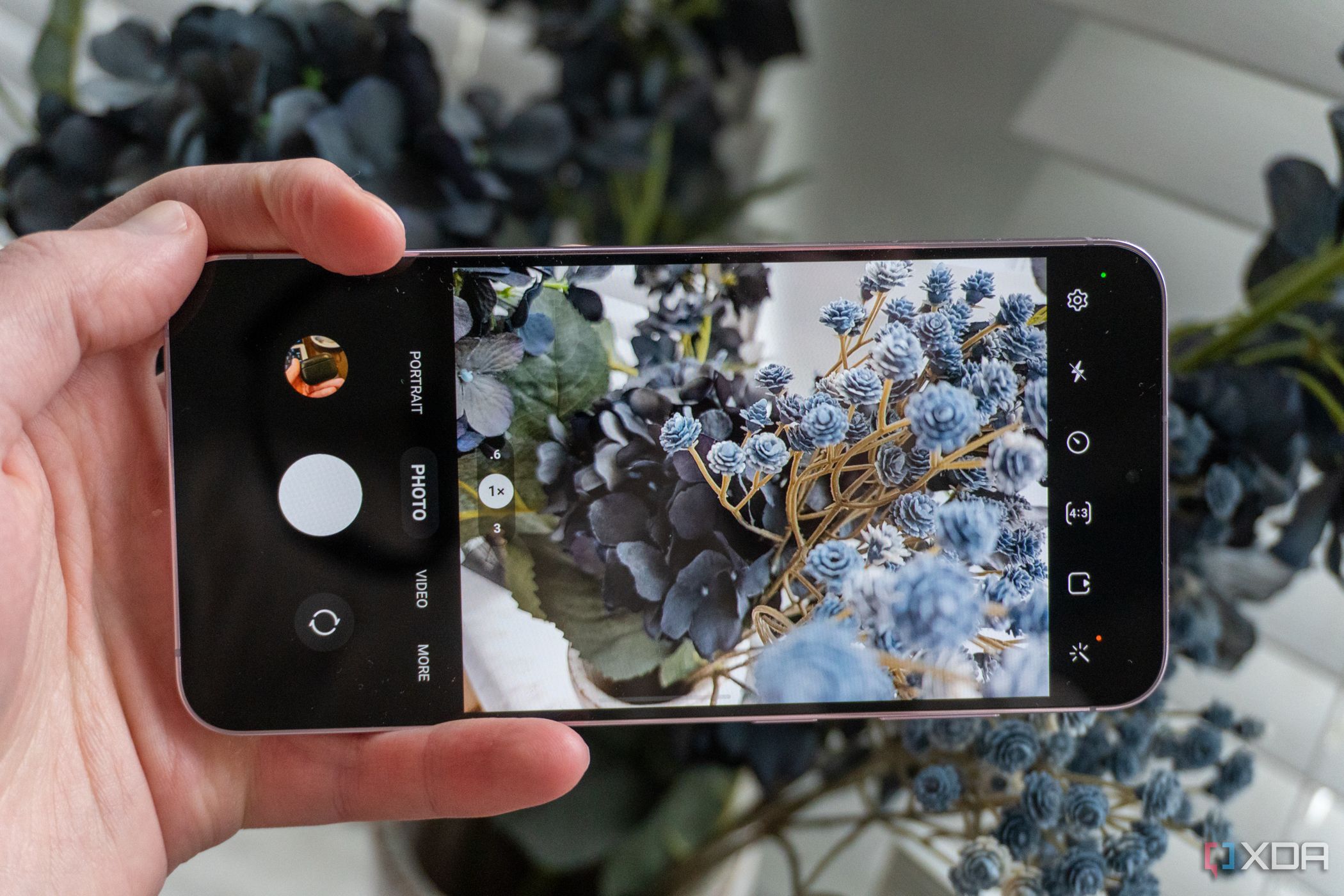 I'll give credit to Samsung for its camera app, which continues to be one of my favorites in the Android world. It's simple to use and always chock-full of features to mess with. I especially like the tight integration with the Expert RAW app (offered separately), which lets you use professional controls and capture the exact image you have in your head. It's then saved as a RAW file, which you can toy with in Adobe Lightroom.
I don't think any casual user will have a problem with the cameras here. I'd be fine with using them as my daily drivers, but there are better sensors on the market with more accurate processing, and the S23+ falls short of that.
Battery life and charging: Multi-day endurance with less than stellar charging speeds
Easy two-day battery life
45W charging is nice but could be faster
Wireless charging and reverse wireless charging included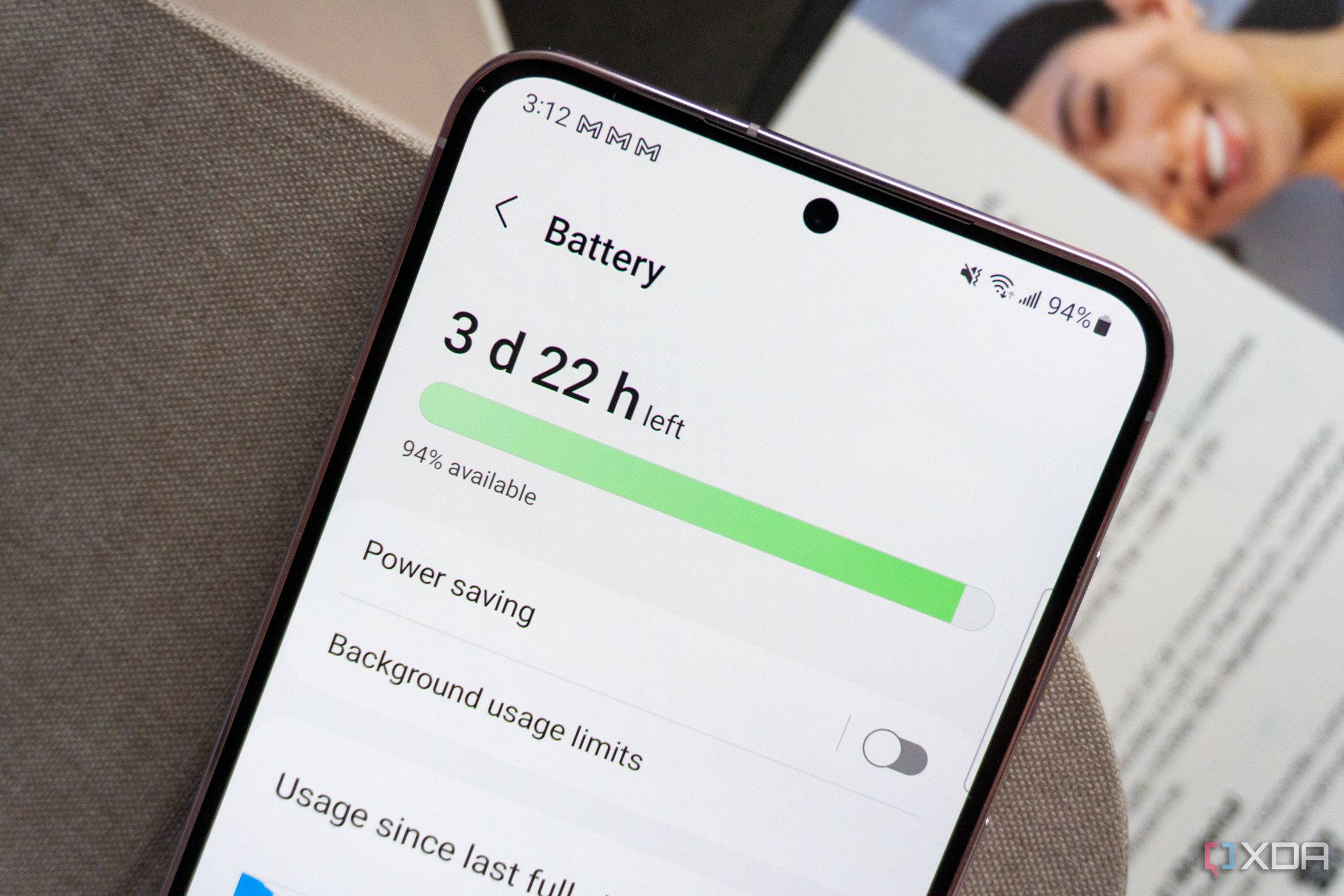 The Snapdragon 8 Gen 2 for Galaxy and Samsung's more efficient version of One UI have led to some serious battery life magic on the S23+. The 4,700mAh cell inside can easily last two full days on a charge. I consistently end days with 55-60% left in the tank after using it to take pictures, send emails, browse social media, and play a ton of music over Bluetooth for 16-17 hours. Mind you, that's with the 120Hz refresh rate enabled (although I did decide to keep the always-on display disabled, so you might experience a bit less battery life if you turn it on). For heavy gamers or serious multitaskers, your usage may vary. Plus, the standby time is incredible; I can leave the phone off its charger all night, and it'll only lose about 5-8% of its charge.
The USB-C port on the bottom includes 45W fast charging support, which lets the S23+ go from zero to 65% in about a half hour. It didn't seem to work that quickly in my testing — it was more like zero to 55% in a half hour. The device also ships with 15W wireless charging and 4.5W reverse wireless charging to juice up things like earbuds on the go. Overall, you're not missing out on anything when it comes time to recharge your phone. (I do wish the fast charging were a bit faster than 45W, though. OnePlus has had it for years, so we know the technology exists.)
Should you buy the Galaxy S23+?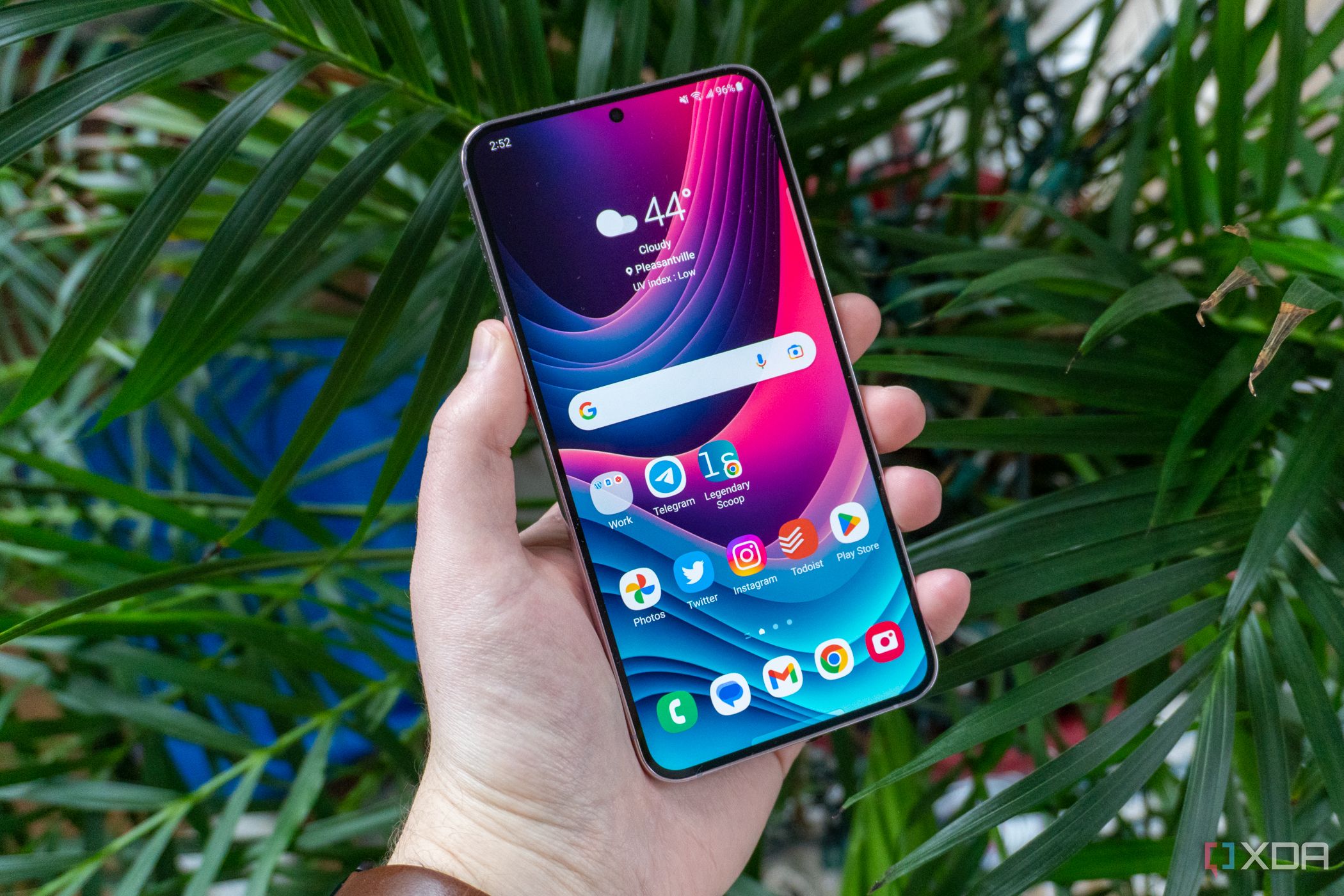 You should buy the Galaxy S23+ if:
You need a solid, reliable smartphone with excellent performance
You want two-day battery life
You like Samsung's One UI software
You shouldn't buy the Galaxy S23+ if:
You need the best cameras you can get
You want blazing-fast charging
You don't want to spend $1,000
There's no question the Galaxy S23+ is an excellent smartphone. With a beautiful display, fast performance, incredibly long battery life, and solid cameras, I don't think anyone would regret dropping $999 on one.
But the S23+ doesn't exist in a vacuum, and plenty of other phones offer very similar experiences for less. The $699 OnePlus 11 and $899 Pixel 7 Pro jump out immediately. The former gets you much faster 80W charging, a sharper display, and similarly great cameras. Meanwhile, the latter has cleaner and smarter software, better cameras (especially at night), and a slightly larger screen.
The S23+ is a bit of an awkward phone in the $800-$1,000 range. It's more of a slot filler in Samsung's lineup rather than a standout hit, and that's OK. It's a great phone; you just need to mind the competition, which can get you a very similar experience for less.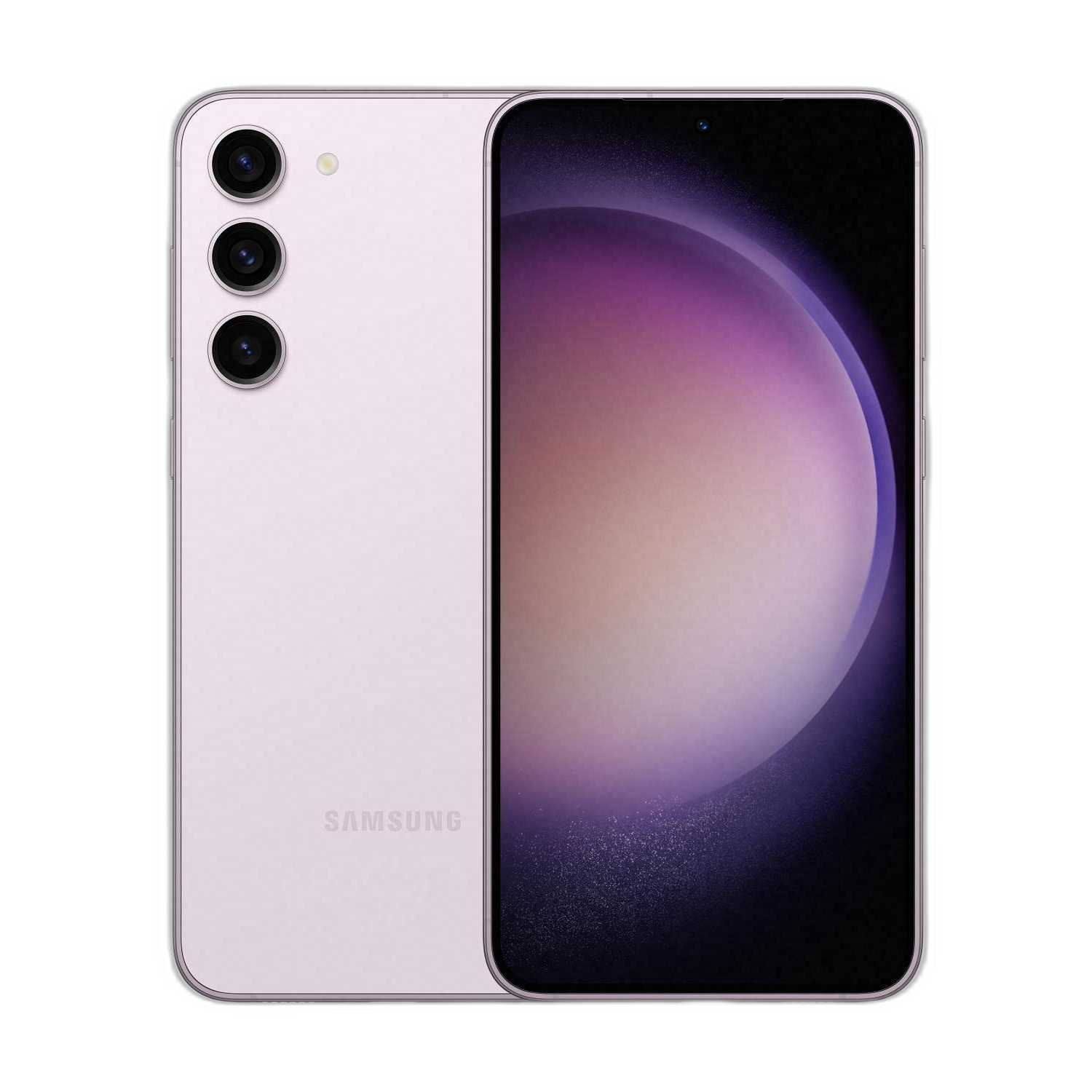 Samsung Galaxy S23+
The Samsung Galaxy S23+ is the middle child of the Galaxy S23 series, being slightly bigger than the regular model. but featuring many of the same features. The screen and battery are bigger, and it has the same 50MP main camera sensor as the regular S23.
Brand

Samsung

SoC

Snapdragon 8 Gen 2 for Galaxy

Display

6.6-inch Full HD+, Dynamic AMOLED 2X Display, Super Smooth 120Hz refresh rate (48-120Hz), 240Hz touch sampling rate in gaming mode

RAM

8GB

Storage

256GB, 512GB

Battery

4,700mAh

Operating System

Android 13 / One UI 5.1

Camera (Rear, Front)

50MP f/1.8 main, 10MP f/2.4 3x telephoto, 12MP f/2.2 ultra-wide, 12MP f/2.2 selfie

Connectivity

5G, 4G LTE, Wi-Fi 6E, Bluetooth 5.3

Dimensions

6.21 x 3.00 x 0.30 inches

Colors

Phantom Black, Cream, Green, Lavender, Graphite, Lime

Weight

6.91 ounces

Charging

45W wired, 15W wireless, 4.5W reverse wireless

IP Rating

IP68

Price

Starting at $999

Micro SD card support

None

Stylus type

None

Security

Ultrasonic fingerprint reader, face unlock
(Visited 16 times, 1 visits today)