These days, connectivity is very important when you want to consider buying a great new laptop. Not only do you need to worry about the specs under the hood of your laptop like CPU, RAM, and storage, but you also need to consider port selection.
One of the new laptops, the Acer Swift 14 (2023), comes with plenty of great ports, including two USB-A ports, an HDMI 2.1 port, and a 3.5mm headphone jack. The good news is that the Acer Swift 14 (2023) also has two USB4 compatible Thunderbolt 4 ports as well if that's something that influences your buying decision.
Why is it great that the Acer Swift 14 (2023) supports Thunderbolt 4?
To be clear, Thunderbolt 4 and USB4 are two different things, but Thunderbolt 4 is compatible with USB4 because they both use the same USB-C connector. Thunderbolt 4 is the best technology you can connect to a certified docking station, display, or external solid-state drive (SSD). Thunderbolt 4 also provides bi-directional bandwidth of 40Gbps, the same as USB4, to help speed up file transfer rates. Another benefit of Thunderbolt 4 is PCIe tunneling support, which lets you connect dedicated external GPUs to your laptop, which is optional over USB4.
With Thunderbolt 4, you can also more easily connect up to two 4K 60Hz displays without docking stations and even an 8K 60Hz display. You're not guaranteed dual-monitor support with USB4 (although it can support a single 8K display at 60Hz) and you have to keep in mind that some USB4 accessories only support 20Gbps link speeds. With USB4, there are a lot more optional capabilities, while Thunderbolt 4 has higher minimum requirements. Below we've suggested some of our favorite Thunderbolt 4 accessories for you, so you can get the best experience with your Acer Swift 14 (2023).
Lenovo ThinkVision P27u-20

Thunderbolt display

This monitor from Lenovo is Thunderbolt 4 certified. With a single Thunderbolt cable, you can connect to this display and make the most of its 3840 x 2160 resolution and color-rated photography.

Thunderbolt 3 SSD

Thunderbolt SSD

This is a Thunderbolt 3 SSD, but it supports lightning-fast data transfer rates of up to 40Gbps, which is great if you want to transfer photos from your laptop to other devices, or if you want to back up your computer. your.

CalDigit TS4 Thunderbolt 4 docking station

Thunderbolt dock full size

This is a Thunderbolt certified docking station from CalDigit. It has a high price tag, but it's a great way to add plenty of ports to your Acer Swift 14 (2023). You get USB-C, USB-A, Ethernet, and even HDMI ports to connect to additional displays.

Gigabyte Aorus Game Box

Embed an eGPU with the GPU

While most other GPU enclosures only come with the enclosure itself, this one combines both the GPU and the enclosure. You get an Nvidia GeForce RTX 3080 GPU in the box, along with the enclosure that houses a 550W PSU.

Lenovo ThinkPad Universal Thunderbolt 4 Dock

Lenovo Thunderbolt dock

Here's another Thunderbolt dock, but this time from Lenovo. You get plenty of USB-A ports on this dock, along with Ethernet.

Anker PowerExpand 5-in-1 Thunderbolt 4 Mini Dock

Mini Thunderbolt dock

This is a compact Thunderbolt docking station for the Acer Swift 14 (2023). It's one of the smallest on the market, but you'll also get fast data transfer speeds and Thunderbolt downstream, too.
Going back to the original question, there are indeed Thunderbolt 4 ports on the Acer Swift 14 (2023). You'll see these ports on the left side of your laptop. If you want to buy the Acer Swift 14 (2023) today, you can check it out through the link below. Keep in mind that the device is not yet on sale and will hit store shelves later in March starting at $1,400. Until that happens, there are several other great Acer laptops with Thunderbolt technology that you might want to consider.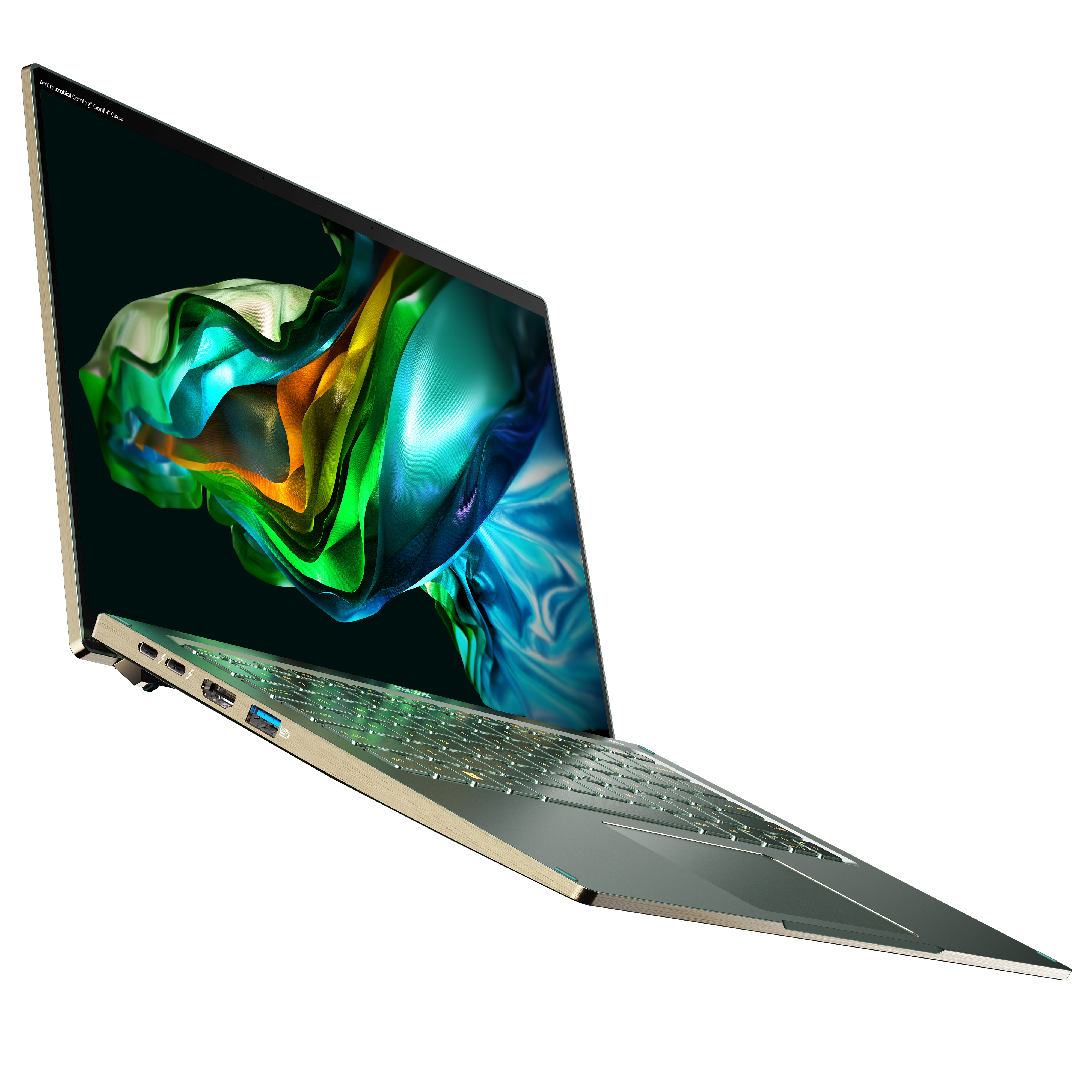 Acer Swift 14
The Acer Swift 14 is a productivity laptop with a beautiful two-tone design and the latest 13th Gen Intel processors. It is a follow up to the Acer Swift 5 and brings some changes like a 1440p webcam.
(Visited 20 times, 1 visits today)