Most of what we do on our computers, be it Windows 11 or another operating system, is browse the web. Checking your social networks, doing research, whatever it is, the browser is the most used application on most computers, so it is important to have a good one. And if you're not sure which option is best for you, this list will help.
Web browsers have become so ubiquitous that at least most of them work, and sometimes they can be good. But some options are still notable for one reason or another. Let's take a look at them.
1
Vivaldi
Right off the bat with my personal browser of choice, Vivaldi is a productivity-focused browser that does a lot of it right. Like most of the browsers on this list, Vivaldi is based on the Chromium project, and as such, it works just as well with any website as Google Chrome, in addition to supporting Chrome extensions. You get all the other basic features here, like syncing your settings, though you'll need to create a Vivaldi account for that. Oddly enough, you are never prompted to sign in, so you have to do it yourself if you want to enable syncing.
What makes it special is everything built on top of that. Vivaldi includes a lot of tools you can use, including an email client, an RSS feed aggregator, a notes app, a translator, a to-do list, and more, all built into a side panel on the left side of the window. You can also add websites here, giving you quick access to social networks or whatever else you might need to work with as necessary. Additionally, it has features like tab stacking and tiling, so you can group tabs together and even see them side by side in the same window.
Vivaldi is also highly customizable. It has themes, just like Chrome, but it also lets you add or remove individual buttons from most toolbars, and even change button icons with custom themes or icons of your choice. There's a lot to dive into here, and it can be confusing at first, but it's a great browser.
2
Google Chrome
Of course, no list of browsers can go without mentioning the most famous browser in the world. Google Chrome has basically become the foundation for most modern browsers, and while this one isn't trying to do anything too crazy in terms of features, it's pretty solid, and has some very welcome capabilities, like history syncing and extensions.
One of Chrome's great features is support for live captions, which means that for any video or audio that's playing in the browser, you can see real-time captions on your screen. It is a very useful feature for those who are hard of hearing, or maybe if you are still learning English. Windows 11 has live captions built in now, but this visual design is arguably a bit cleaner. There is also a media player button in the toolbar that allows you to pause videos or audio from other tabs without having to search for the correct tab.
And of course, Chrome can be greatly improved with an endless library of extensions that add all kinds of capabilities. You can also get themes from the Chrome Web Store to make the browser your own. You really can't go wrong with Chrome, no matter your use case.
3
Microsoft Edge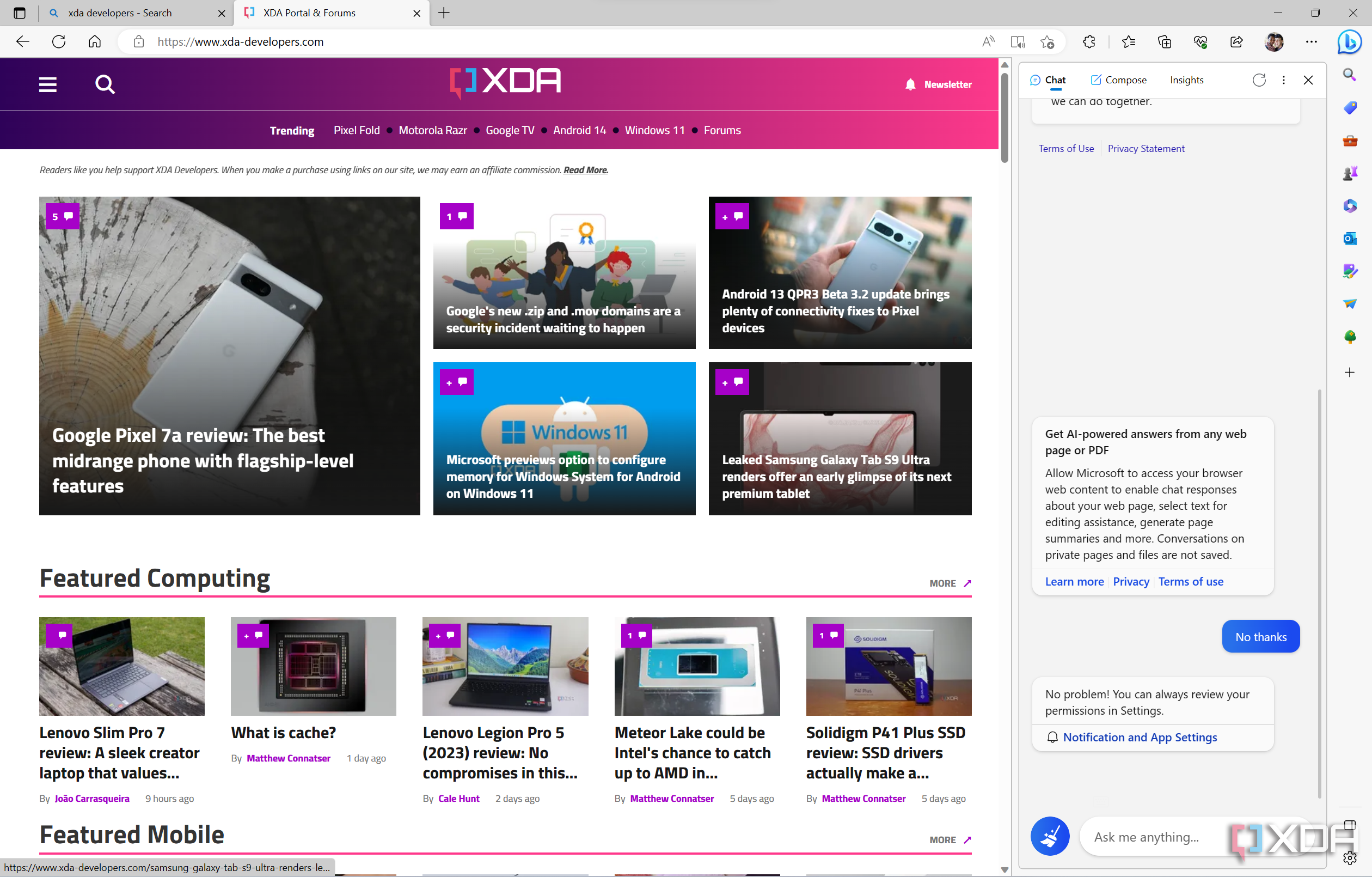 It may be "just" the built-in browser in Windows 10 and 11, but the current version of Microsoft Edge is actually a great browser. It's based on the Chromium engine, so it's another good engine for browsing the web as you might ask for, as well as supporting all the Chrome extensions you could want. It also has the features you'd expect, like history sync and extensions, but now with your Microsoft account instead of Google.
Unlike Chrome, Microsoft Edge has a lot of features superimposed on top of the web browsing experience. For one thing, it's the easiest way to access the new Bing AI chat experience, plus exclusive features like Compose to help you compose emails, social media posts, and more. It also has a few quick access shortcuts built into a sidebar on the right, which give you access to games, tools like a calculator or translator, the ability to send files and notes across devices, and even an AI-powered image creator. This sidebar can also be enabled on the desktop, so you can see it when you close your browser.
Other cool features like Collections let you save pages and items to collections, and you can also follow creators on social media like YouTube to see updates from them in a dedicated section of the browser. Some of these features may be a bit superfluous, but there are plenty of features to help improve your browsing experience here. Edge isn't perfect, but it's still a great browser. It should be installed by default, but if you need it, you can download it below.
4
Mozilla Firefox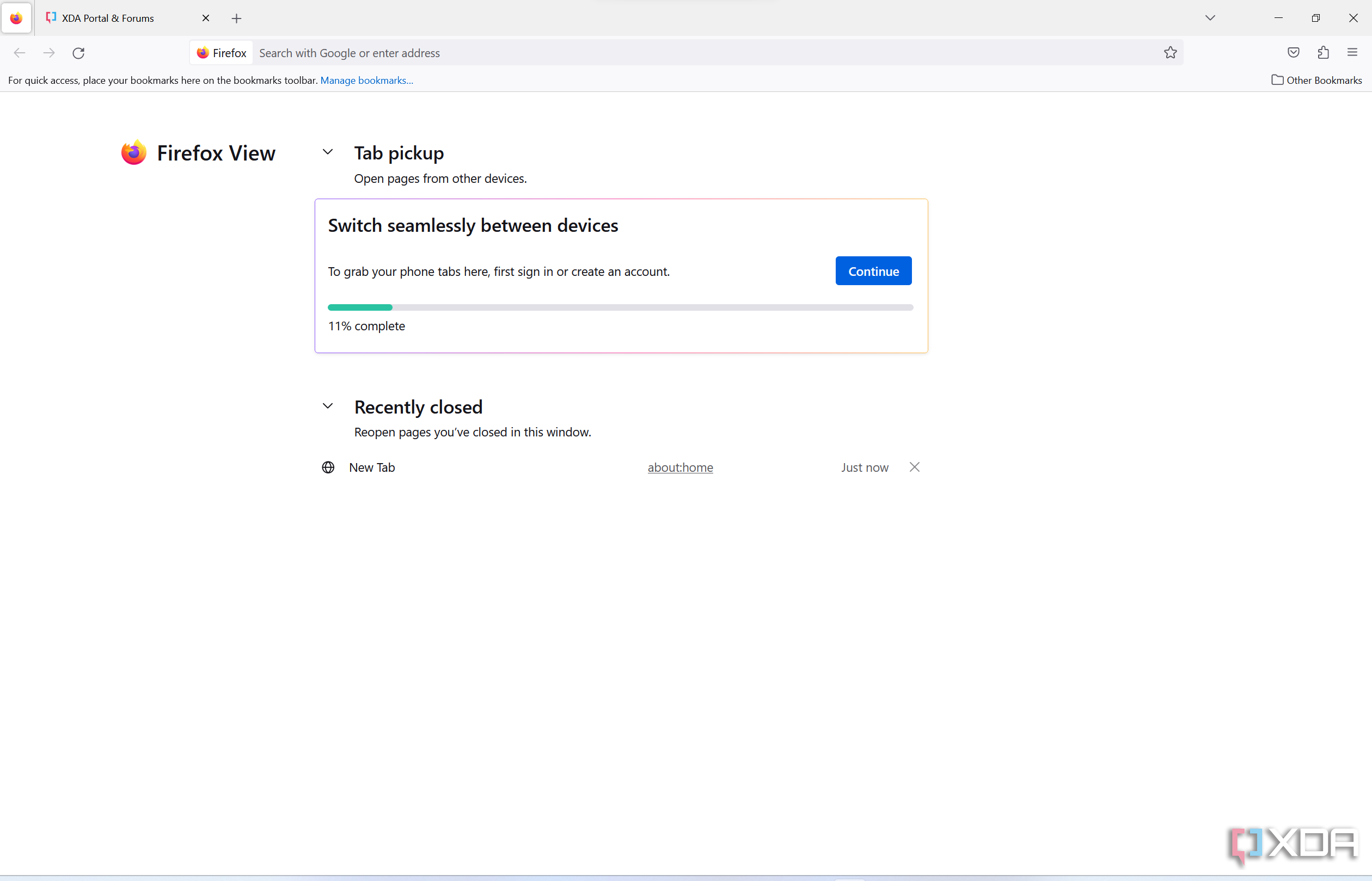 With Google Chrome becoming so massively popular that its Chromium engine is basically the backbone of every modern browser, Mozilla's Firefox is the only option if you want to break away from that monopoly, so to speak. It's a very powerful browser too, despite a lot of work being done from scratch and developed independently of Chromium.
Firefox has all the basic functions you'd expect, and it's still a great choice for browsing the web. It also has its own synchronization feature, so you can access your history and bookmarks. It also supports add-ons and themes from Mozilla's add-ons store. It may not have all the extensions you can get for Chrome, but there are a lot here.
This is another browser that doesn't go crazy in terms of extra features, but it delivers a solid browsing experience and gets the hang of the basics. It also has Pocket integration so you can save articles to read later, and Mozilla is working on a VPN service that's currently only available in a few countries around the world. Privacy and transparency are big focal points for Firefox, and if you don't want your data to be in the hands of big corporations, this is still one of the best options out there.
5
brave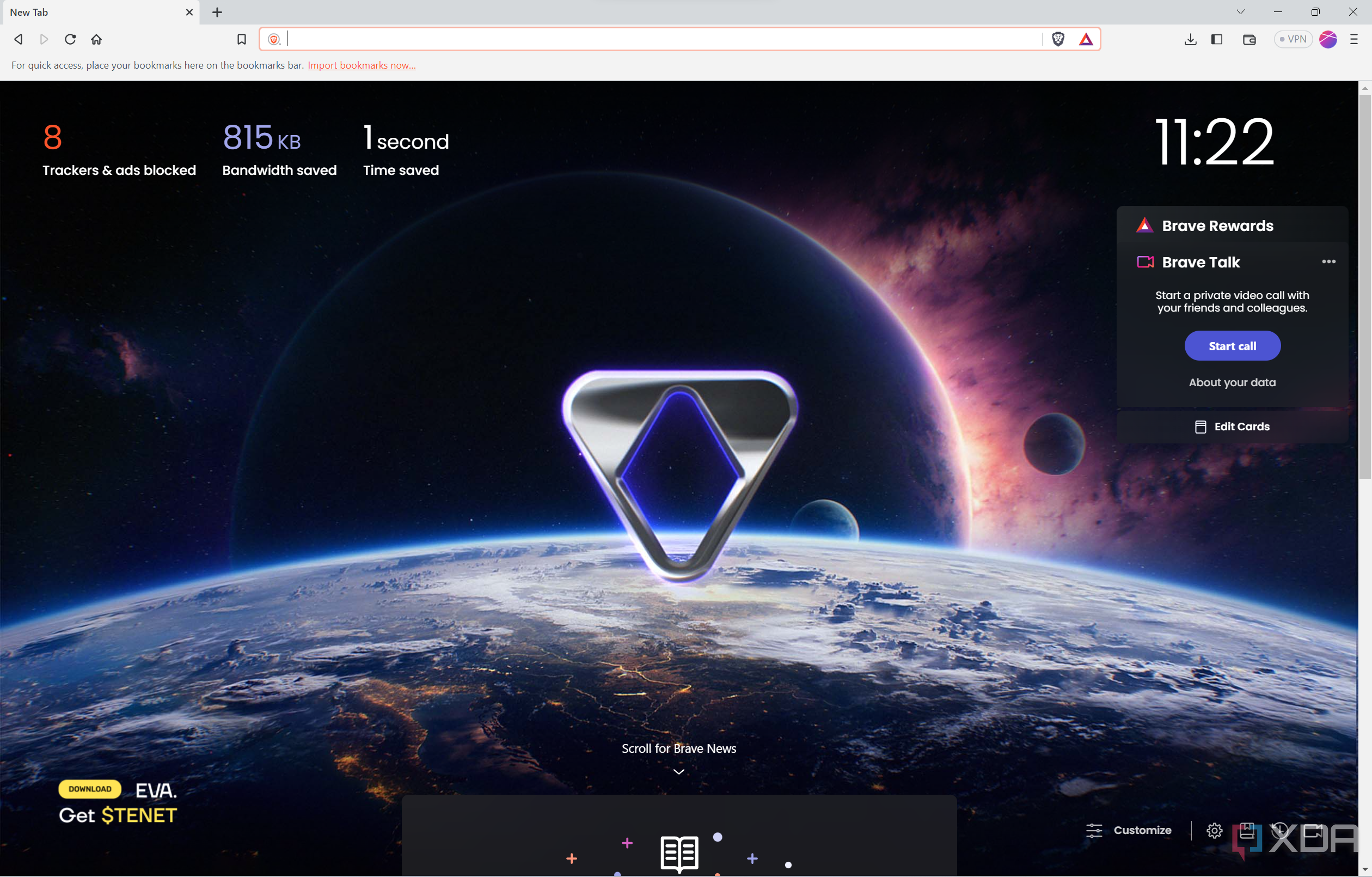 A recent name in the web browser market is Brave, which is a browser based on the Chromium engine but that puts performance and privacy first. As a Chromium-based browser, you can, of course, expect great web browsing performance from it, and support for the extensions you know and love. It also supports syncing your data using a custom sync code instead of a typical account system.
Brave touts up to three times faster performance than Chrome, and includes plenty of privacy-oriented features like blocking intrusive ads, cross-site trackers, and even fingerprinting, a technology that websites use to track visitors based on technical specs from a device, even if profiles are disabled. Correlation and typical tracking devices. Brave also has a built-in VPN, if you're willing to pay for it.
However, it is not just about performance and privacy. Brave offers its own video calling service, promising a private connection, as well as the ability to create playlists of videos and online content (which you can save for offline viewing), and a customizable news feed visible on the homepage. Nothing too crazy, but Brave offers a mix of performance, privacy, and definitely attractive features.
6
Opera GX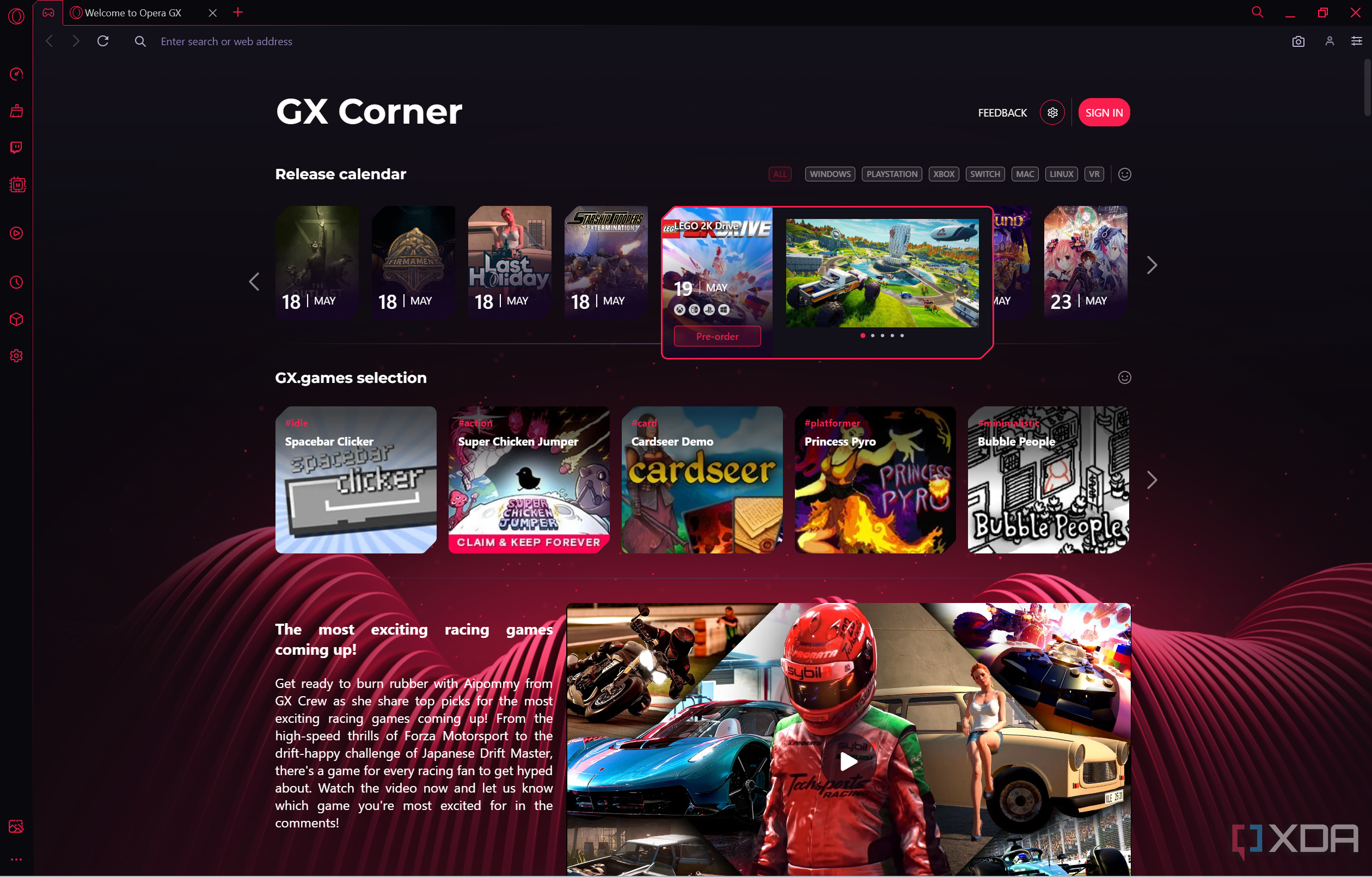 This option is more specialized, but Opera GX is a browser aimed at gamers, specifically, those who like to game while their browser is in the background. Opera GX is designed to be lightweight, and it goes beyond that it gives you the option to limit the resources it can use on your system, such as CPU, RAM, and network usage, so that you can make sure you're still getting the best possible performance out of your games.
While it has a lot of features, some of its usefulness is debatable. One interesting feature is GX Corner, a page with information about what's happening in the gaming world, including upcoming game launches across different platforms, deals on games on different platforms, and game promo clips and news. It also gives you quick access to Twitch and Discord (other messaging services are supported too) from the sidebar, so you can keep up with the communities you're a part of.
There are also more standard features, such as Pinned Panels that allow you to easily combine notes, images, etc., Flow to allow you to send pages across devices, and more. There's even a free VPN built in. While the eye-catching visual design will likely turn many users away, there are a few interesting features here that make this an attractive potential option.
Bottom line: It's great to have a choice
All of these browsers provide a solid foundation in terms of browsing the web, and realistically, you can't go wrong with any of them. It's all about choosing the one that best suits your needs. Personally, Vivaldi is absolutely my favorite, with tons of capabilities and features that speed up my workflow and allow me to get the experience I want. But whatever your preference, there is something here for you.
If you are looking for other applications that may help increase your productivity, check out the best Microsoft Office alternatives. And if you find that even lightweight browsers are running slowly on your computer, maybe it's time to think about buying a new laptop.
(Visited 3 times, 1 visits today)