Computex 2023 is the time that many companies choose to highlight some of their coolest computer products. Gigabyte is one such company, and I was invited to check out some of the things the company has been working on. Most of the latest announcements have focused on components, especially motherboards, but there was a lot I liked about what Gigabyte showed me at the event.
New Gigabyte Z790 Extreme X and Master X motherboards
Right off the bat with the big new announcements, Gigabyte brought two new motherboards to the show as it refreshes its premium Z790 lineup. The new Z790 Extreme X and Master X motherboards are similar to their non-X counterparts in most respects, featuring the same power phase and many of the same features. One major difference is that GIGABYTE uses its own EZ-Latch mechanism to cover over the M.2 SSD slots. Basically, this means that you can remove the entire cover simply by twisting the latch, so you don't even need to use a screwdriver.
The boards already introduced EZ-Latch mechanisms to make it easier to remove the graphics card, and the SSD itself, and those features are still there too. The company has also increased the size of the latches around the PCIe slots, so it's easier to open them manually.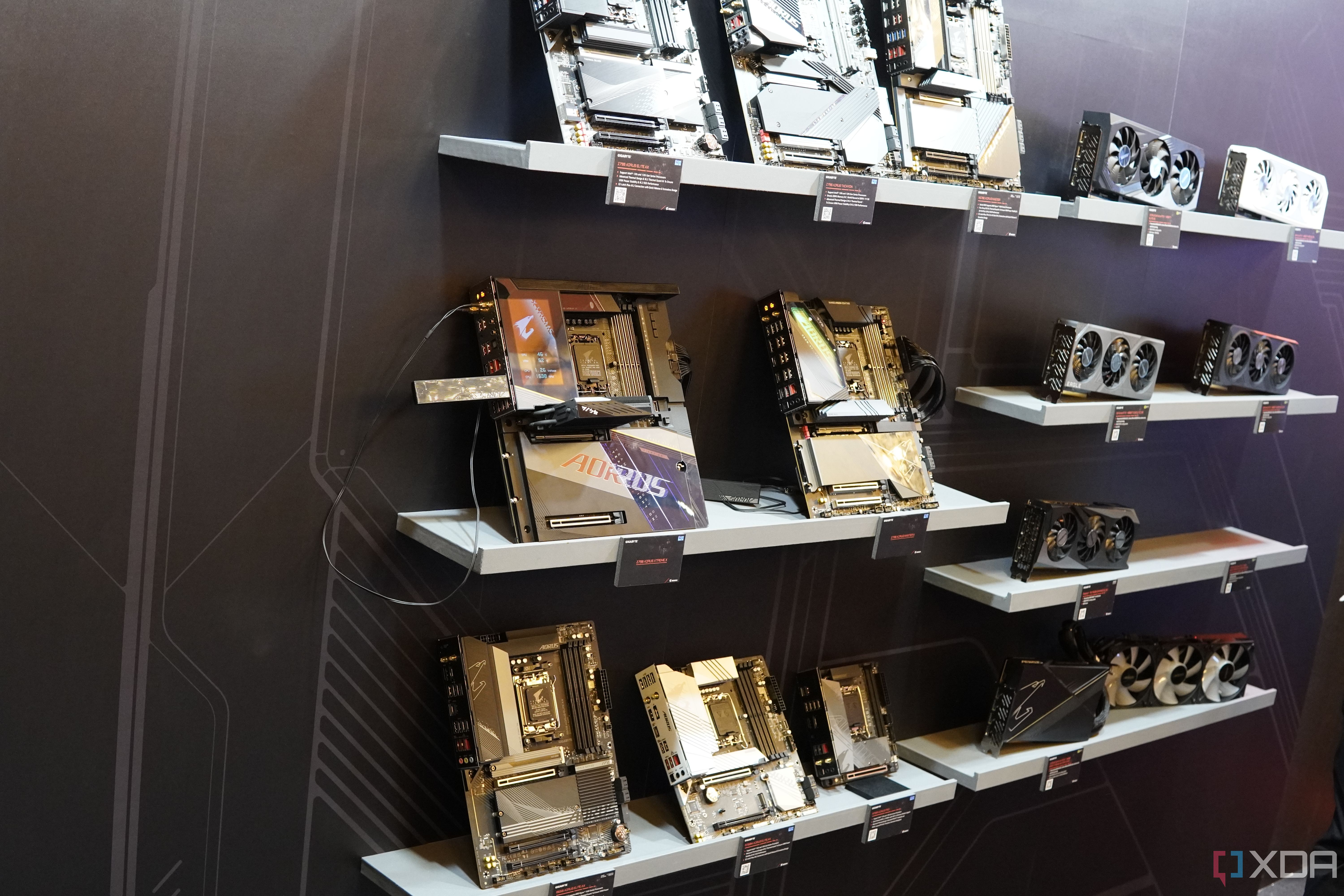 Another big new feature with these boards is support for Wi-Fi 7 instead of Wi-Fi 6E. There aren't really Wi-Fi 7 routers yet, and the standard isn't finalized, but it already promises some big speed improvements, so getting this out of the box is definitely nice. It also comes with a new, larger Wi-Fi antenna.
These boards are not yet available for purchase, and Gigabyte hasn't said when we can expect them. As the name indicates, it was designed for the Z790 platform, so it is intended for 12th and 13th generation Intel Core processors. They also have to support future generations, assuming Intel continues to use the same socket.
Some great desktop products were also featured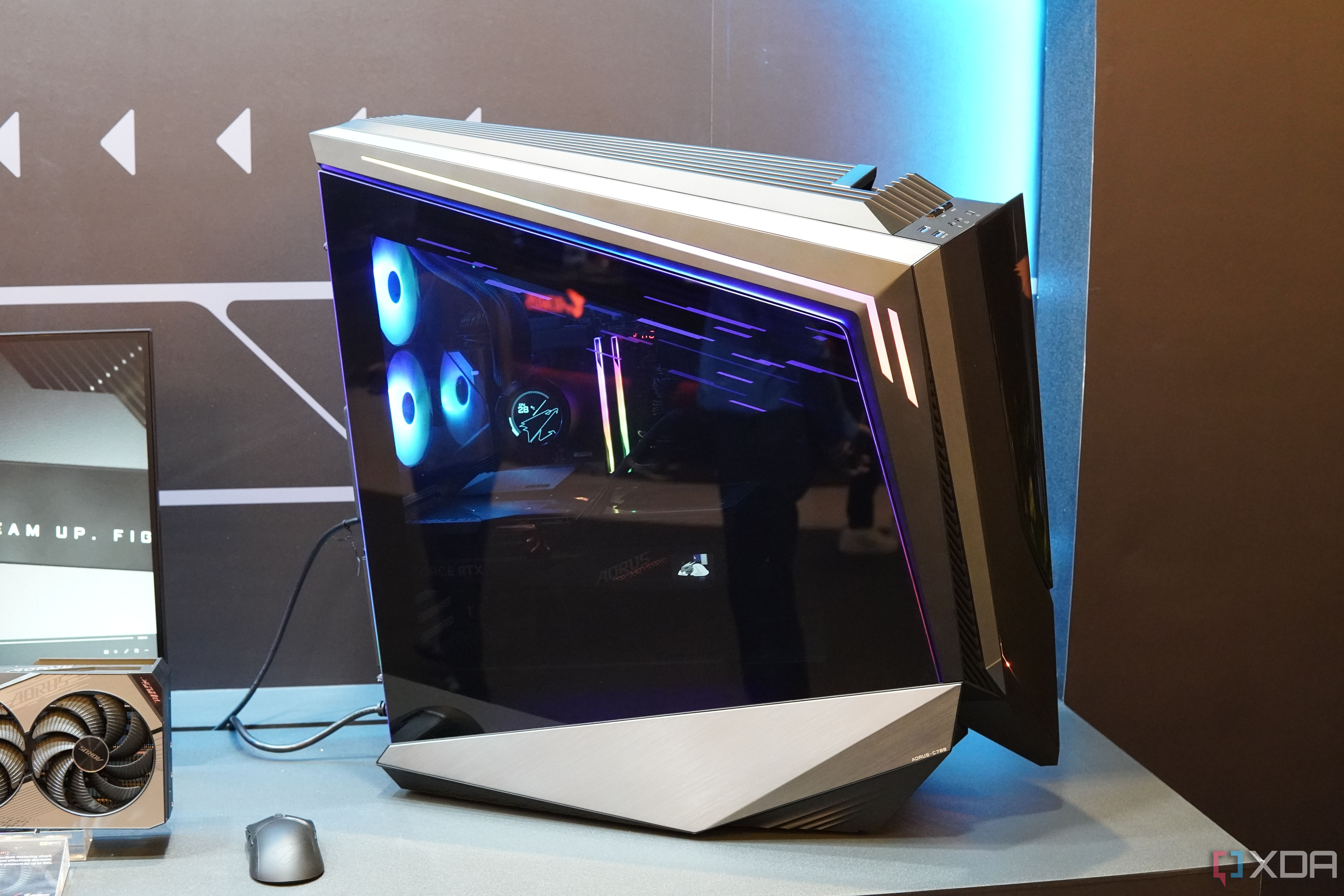 Gigabyte has had a few other desktop products on offer, with one particularly interesting product being this behemoth PC built inside an Aorus C700 case. I was drawn to its sheer size, but there's also a lot of RGB going on in the case itself, including the Aorus logo, the glass panel on the side, and the rear exhaust fans. Obviously, this can fit almost any component you could want, including Gigabyte's own massive RTX 4090, which includes a small screen capable of rendering animations.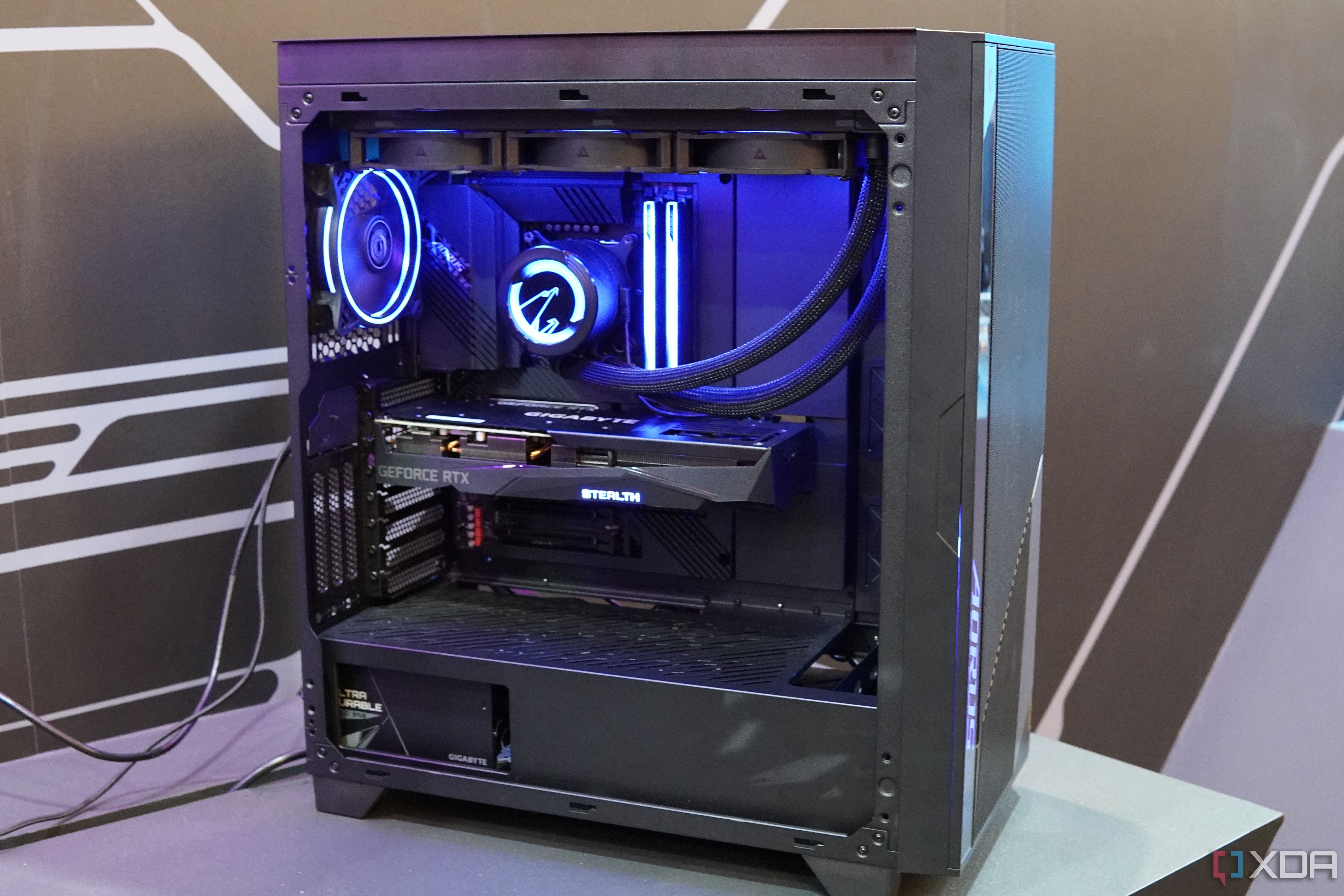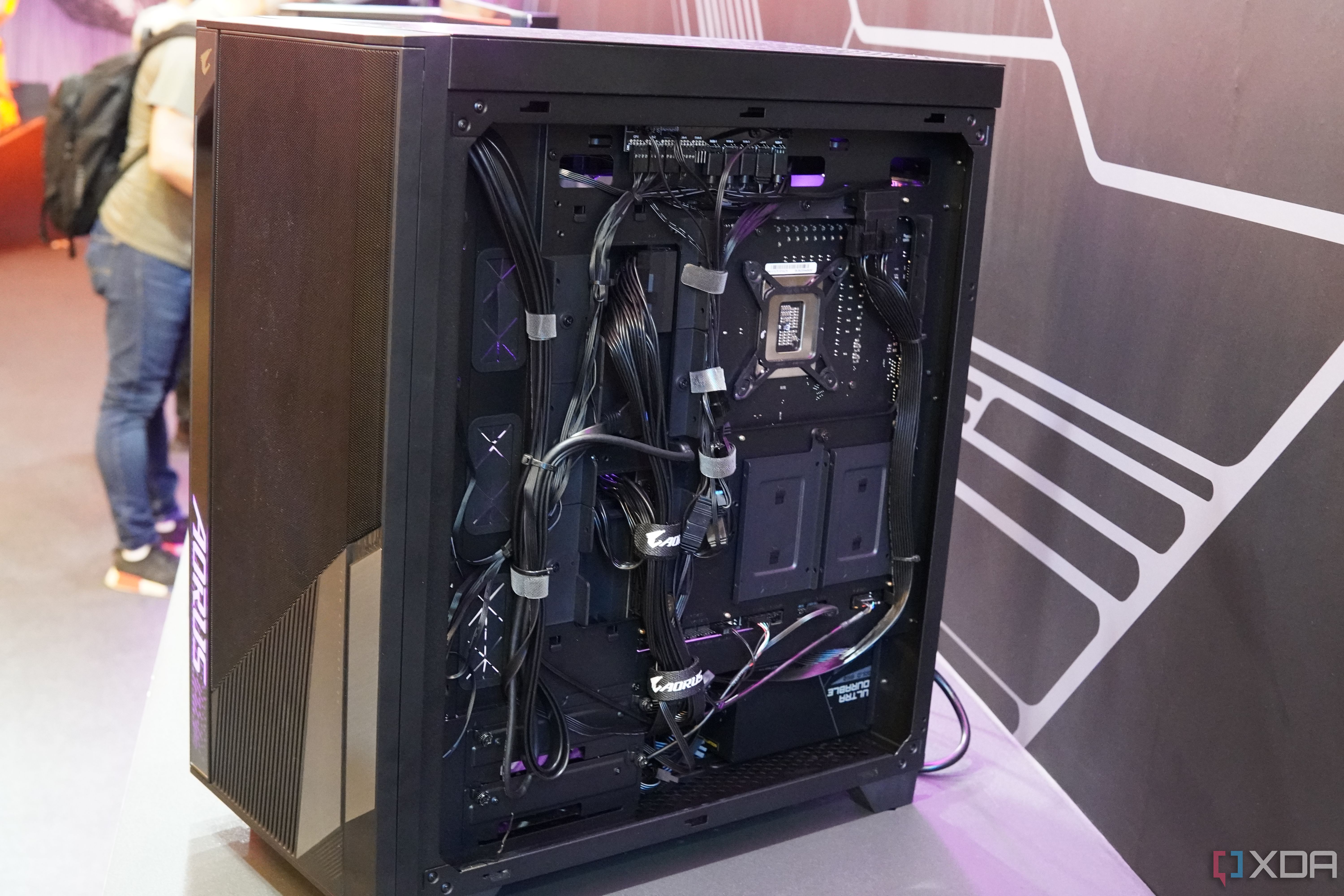 Another great desktop concept was to hide the cables inside the computer by changing the way the motherboard was built. It's not exclusive to Gigabyte, and it seems to be one of the trends at Computex. This is done by placing all the power connectors on the back of the motherboard and even the GPU, so you can't see the cables anywhere on the "front" side of the case, which makes for a pretty clean build. Gigabyte is still trying to figure out if there's a large enough audience for something like this, considering there's a lot of money and time that needs to be put into ensuring a product like this works. Having a clean setup is certainly nice, but if it comes to an increased cost, it can be hard to justify.
Probably one of the coolest designs in the show was this PC that didn't really have a casing on it, but was kind of sealed inside some rings with engravings on them. I asked if I could take her home, but I wasn't very lucky with that.
There weren't any brand new laptops at the show, but I did get a look at the Aorus 17X laptop's cooling system, and it's certainly impressive. The company uses a quad-fan cooling system and a large vapor chamber that covers both the CPU and GPU to help keep temperatures low.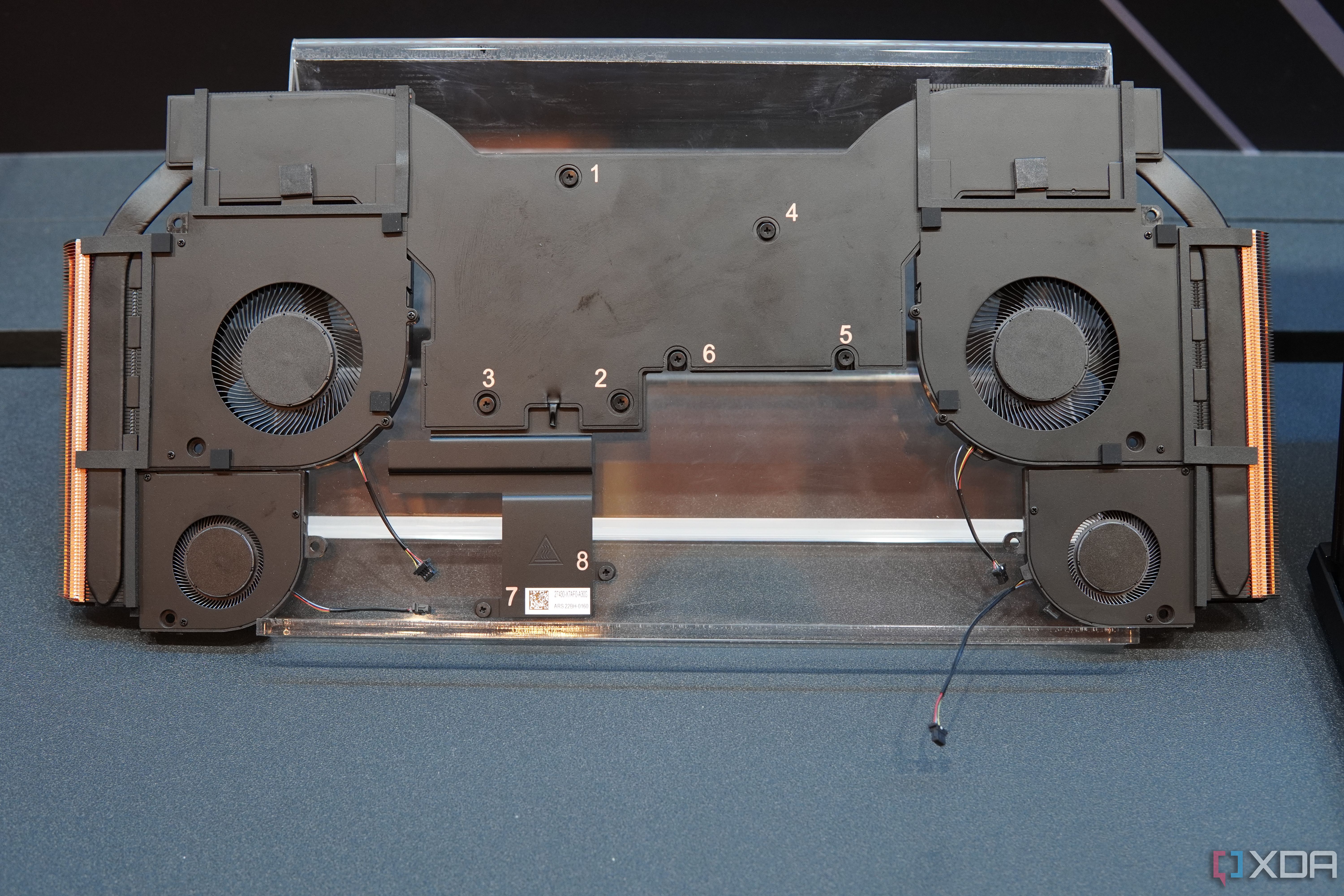 The Gigabyte Aero 16 was also present, and the company has already added more ports to this model than its predecessor. It now has USB Type-A, HDMI, and a microSD card reader built in, so it no longer needs to come with an adapter in the box like it used to.
Gigabyte also sells monitors with mounting arms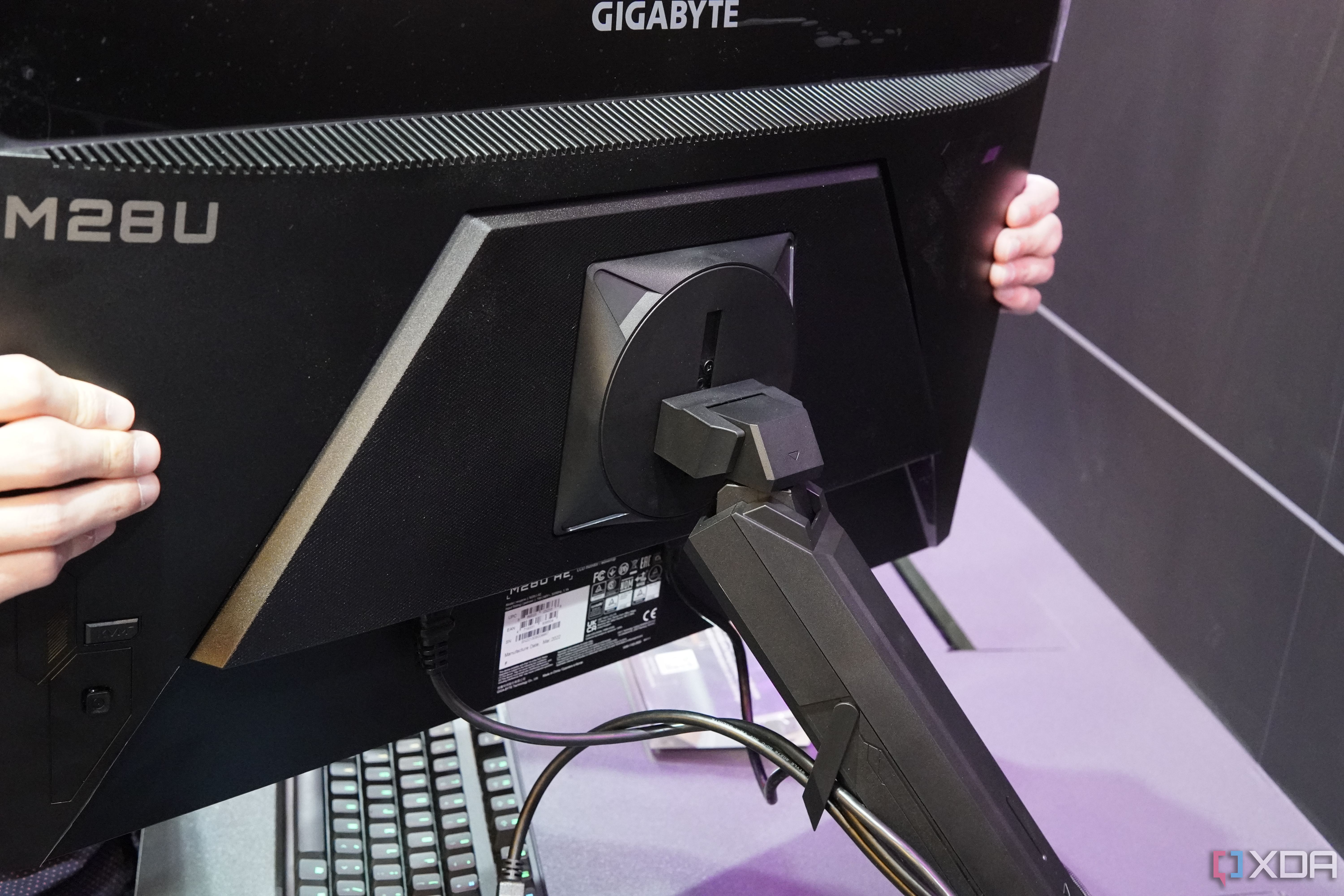 Another thing I found cool is that Gigabyte now sells some of their gaming monitors with a mounting arm instead of the typical stand. Using the mounting arm means you get extra flexibility to move your monitor the way you want it, and I think it's great to have that in the box. It gives you swivel capabilities up to 270 degrees in both directions, plus tilt and pivot adjustments, and of course, height adjustment. Of course, there are downsides, as this adds a bit to the cost, and is more expensive than buying the stabilizer bar separately.
However, I would say there is still value in including it in the box so you can set it up right away rather than making separate purchases and risk waiting for any product to come along. In addition, this included arm uses an easy locking system so that you can attach it to your monitor right away without any screws. Although this also means that it probably won't be compatible with other monitors since it's not a proper VESA mount.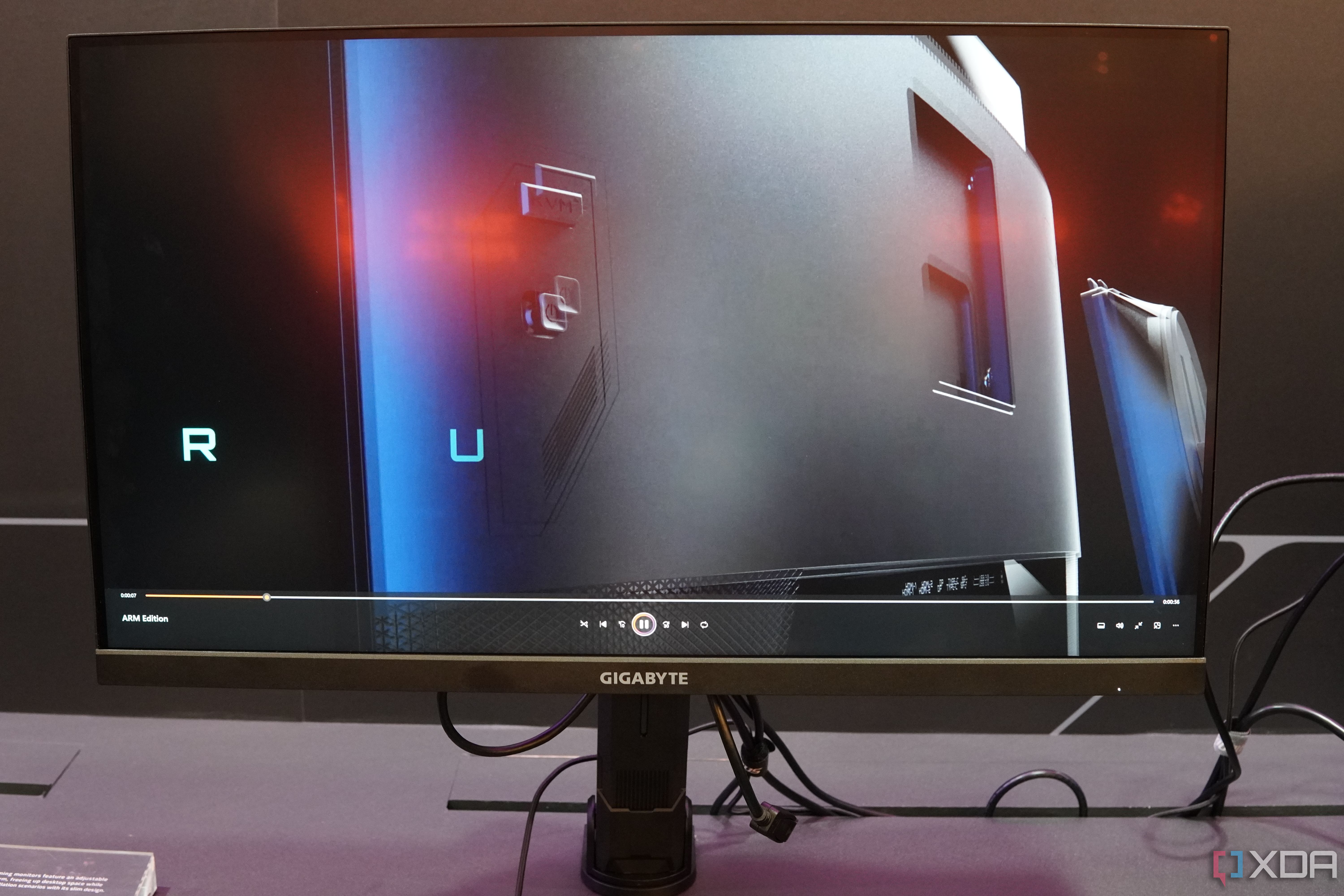 Called Arm Edition, these monitors are already available, and they're specifically only on the Gigabyte M32U and M28U models for now, though Gigabyte is considering bringing them to some Quad HD monitors as well. Another great thing about these M-series monitors is that they have a built-in KVM with a hot swap button on the back, so you can easily switch between devices and still use the same mouse, keyboard, and monitor.
Gigabyte was also showing off one of their large format OLED displays with a 48-inch unit attached to the PlayStation 5. Again, nothing really new, but getting such a large OLED screen for gaming is amazing. It comes with HDMI 2.1 support and 4K resolution as well as a 120Hz refresh rate to get the most out of the latest PlayStation and Xbox hardware.
This screen is already available for purchase, and other sizes are also available. This one specifically costs around $800.
(Visited 5 times, 1 visits today)