Google Bard is getting a significant upgrade today, conveniently just ahead of the big Microsoft September event where we expect to hear about new features for rival chatbot Bing with ChatGPT.
The most notable new feature is Bard Extensions, a new upgrade for Google Bard in English that lets you tell the AI-powered chatbot to do tasks involving other Google apps and services, like Gmail or Outlook.
Bard is also getting what could be a better fact-checking tool, in the form of an enhanced "Google it" button that tries to double-check answers using Google Search. 
The chatbot is also getting more useful in a collaborative sense (more on that shortly) and more accessible. While the new Bard Extensions are only available today on the English language version of Bard, the company is also updating Bard in over 40 other supported languages to have some of the latest features of the English version, including the big upgrades it got in July.
It's a significant expansion for the nascent chatbot, which came a bit late to the Bing with ChatGPT vs. Google Bard debate. While it will take a little while to see what the truly maniacal will do with the new Extensions, here's the three big ways Google Bard is getting better with today's upgrade.
Integration with Google services
The biggest new feature is really Bard Extensions, which let you tell the chatbot to answer questions using data from other Google apps. We're talking not just Google Docs or Drive but also services like Google Flights, Hotels and YouTube, and it can tap multiple services simultaneously in the same conversation. 
If you use more than one or two Google services you can immediately start to see how this could potentially impact the way you do everything from plan a presentation to a dinner date to a company off-site, though how effective Bard will be at parsing the data and serving up useful answers remains to be seen.
Improved 'Google It' feature

Bard is also getting what could be a better fact-checking tool, in the form of an enhanced "Google it" button that works to double-check an answer using Google Search to try and find substantiating evidence. 
When Google's tech decides such evidence exists, you'll be able to click on highlighted text to "learn more about supporting or contradicting information found by Search" online. Given the inaccuracy of many AIs, it could prove to be a helpful reality check.
Continue shared conversations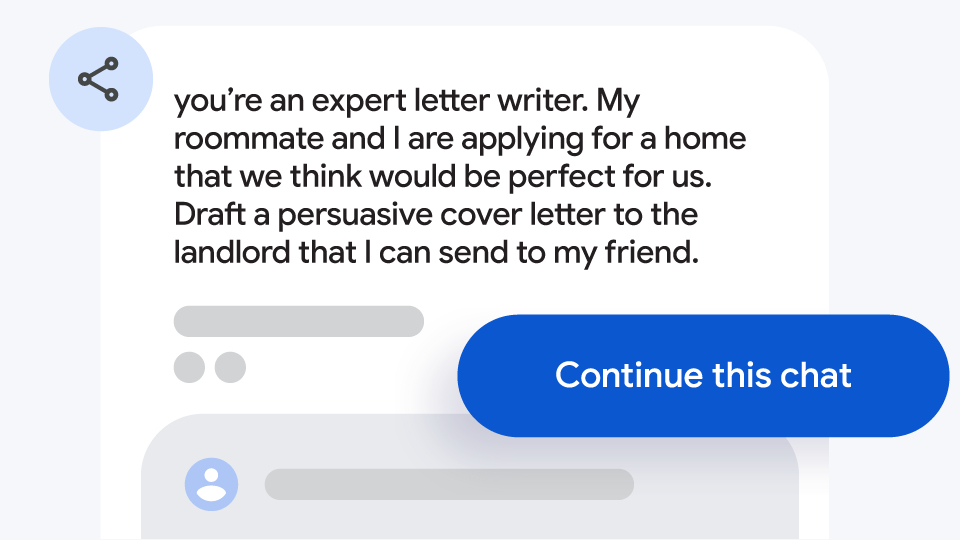 Finally, Google Bard is getting a bit easier to share with friends. Now, when you share a link to a Google Bard conversation (a button for which can be found under every response Bard gives) the recipient can continue the conversation on their own.
So while it's not as though you're both typing responses to Bard in the same shared conversation—that joy is still reserved for those brave enough to huddle around the same screen, typing silly answers to the machine—it should be a better way to collaborate on Bard chats. You could send pals a link to a restaurant Bard recommended to see if they want to go, for example, and they could pick up the conversation and ask Bard why it would ever dream of such a thing. The possibilities for collaborative creating, planning and goofing around boggle the mind.
Outlook
All together, these new features give Google Bard some substantial new depth and offer serious Google users a plethora of new ways to ask Google's chatbot for help with things. How they'll use it, and how helpful Bard will be, remains to be seen.
But what's really notable here is that Google is keeping pace with competitor Microsoft in integrating its AI-powered chatbot with its own suite of apps and services.
Microsoft has already laid out plans to effectively tie its own services (like Outlook, Word, Excel, Teams and the like) up with an AI-powered assistant in Microsoft 365 Copilot, and with Windows 11 Copilot it's experimenting with putting such a chatbot directly into Windows.
Will Google ever take the next step of integrating Bard directly with ChromeOS? Might we soon see other Google services, like the Google Assistant on your Google Pixel Tablet, speaking back to you with AI-powered answers? The mind reels at the thought.
More from Tom's Guide
(Visited 1 times, 1 visits today)