Apple iPhone 15 Pro


Best iPhone

The iPhone15 Pro features an impressively fast A17 Pro chip for speedy processing, and improved camera capabilities. The 48MP main camera lens takes crystal clear and detailed photos, but the camera's software utilizes advanced focus and depth control to provide you with more creativity with your photos. And you can take advantage of all these new features for up to 23 hours without a charge.

Pros

USB-C charging
Titanium build is stronger and lighter than stainless steel
Customizable action button

Cons

Expensive
Action button only does one function at a time




iPhone 13 Pro

Apple iPhone 13 Pro


Still great

The iPhone 13 Pro features a stainless steel design with a matte glass back that is available in five stunning colors. Aside from the impressive looking aesthetics, it also has a great 12MP main camera lens, an ultrawide lens, and telephoto lens to snap amazing looking pictures, even in low light. The Lightning charging port supports 20W of fast charging capabilities while the battery lasts 22 hours before it needs a recharge.

Pros

Several color options
Impressive camera
Great display

Cons

Lacks USB-C charging
Notch atop display is large
Now that the new iPhone 15, iPhone 15 Pro, and iPhone 15 Pro Max are here, you might be wondering if it's time to upgrade. But not every product upgrade is a revolution in the advancement of technology. Sometimes the latest and greatest simply isn't great enough to necessitate spending another $1,000 on the latest best phones. If you leapt on the opportunity to buy a new iPhone, such as the iPhone 15 Pro, make sure you protect your new investment with a iPhone 15 Pro case. But if you're wondering if upgrading from your older iPhone, like an iPhone 13 Pro, to the iPhone 15 Pro, is the best move for you, then you've come to the right place. We hash out all the details on whether you should upgrade from your older iPhone 13 Pro to the iPhone 15 Pro below.
iPhone 15 Pro vs iPhone 13 Pro: Price, availability, and specs

You can get the iPhone 15 Pro with 128GB of storage from Apple, Amazon, and Best Buy starting at $900. Although you can still buy the iPhone 13 from Apple and other retailers like Amazon and Best Buy, the iPhone 13 Pro was discontinued by Apple when the iPhone 14 Pro product line was released. You can still buy the iPhone 13 Pro from secondary retailers like Back Market, as well as find refurbished models for sale online.
| | Apple iPhone 15 Pro | Apple iPhone 13 Pro |
| --- | --- | --- |
| Display | 6.1-inch OLED Super Retina XDR | 6.1-inch OLED |
| RAM | 8GB | 6GB |
| Storage | 128GB, 256GB, 512GB, 1TB | 128GB, 256GB, 512GB, 1TB |
| Battery | 23 hours | 22 hours |
| Operating System | iOS 17 | iOS 17 |
| Colors | Natural Titanium, Blue Titanium, White Titanium, Black Titanium | Alpine Green, silver, gold, Graphite, Sierra Blue |
| Camera | Main, ultrawide, telephoto | 12MP main, ultrawide, telephoto |
| Weight | 6.60 ounces (187g) | 7.19 ounces (204g) |
| Release date | 2023-09-22 | 2021-09-24 |
| Main Camera | 48MP f/1.78 | 12MP, ƒ/1.5 aperture |
| Wide-Angle Camera | 12MP f/2.2 | 12MP, ƒ/1.8 aperture |
| Telephoto | 12MP f/2.8 | 12MP, ƒ/2.8 aperture |
| Processor | A17 Pro | A15 Bionic |
Design

With any upgrade, we want a faster, smarter, longer-lasting, and a better-looking design. Apple achieves the longer-lasting and better-looking design in the iPhone 15 Pro by swapping out the stainless steel design with an aerospace-grade titanium build. The titanium increases the iPhone 15 Pro's durability compared to the stainless steel design of the iPhone 13 Pro. Not only is it more durable, but it is also lighter. The iPhone 13 Pro weighs 7.19 ounces compared to the 6.6 ounces of the iPhone 15 Pro. The lighter phone feels better in your hand as well as in your pockets.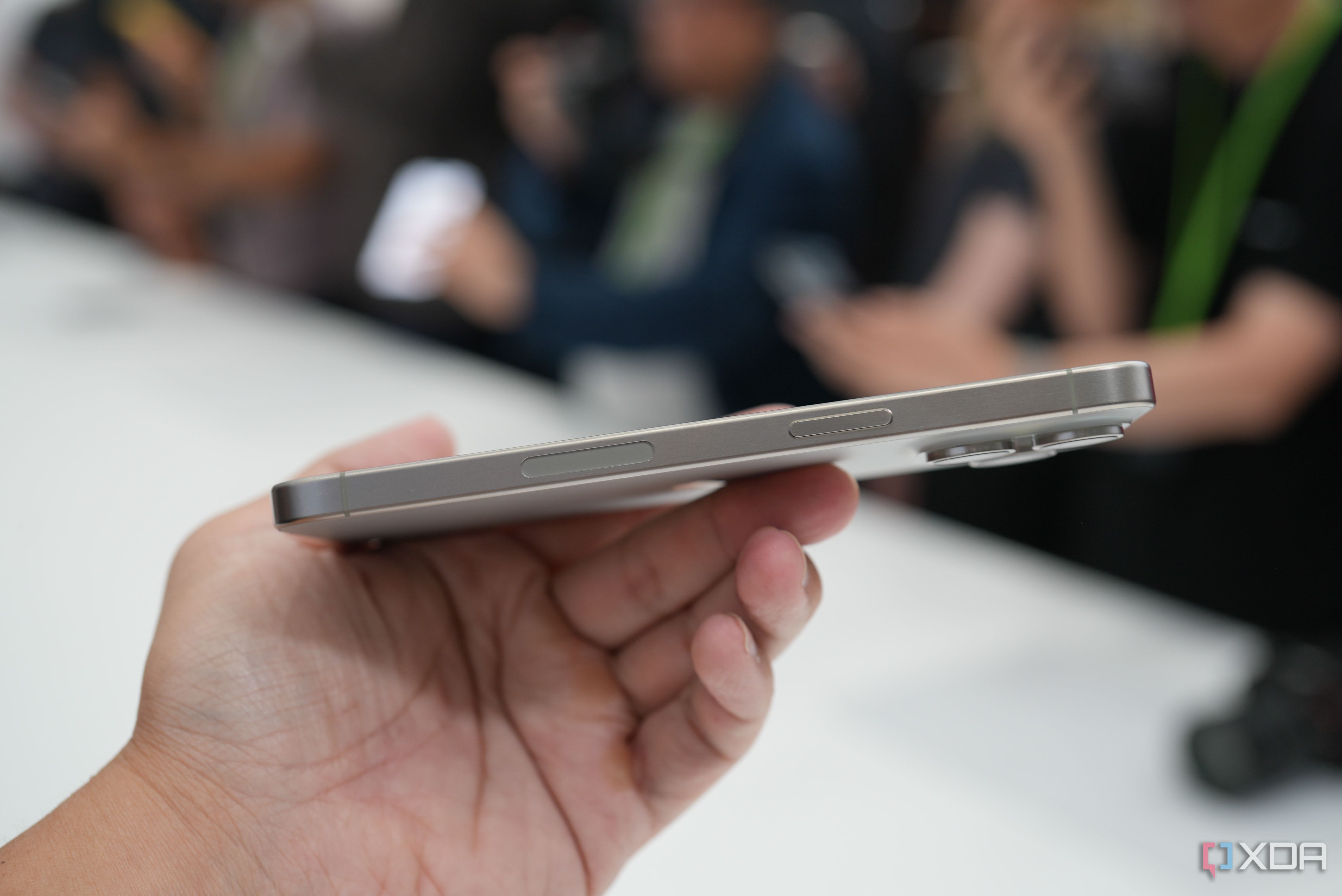 The iPhone 15 Pro took a page from the Apple Watch Ultra 2 and Apple Watch Ultra playbook and added an action button to the phone, replacing the sound on/off toggle that usually sits above the volume buttons. The action button is customizable and can be used to quickly activate specific features on your phone. For instance, you can set the action button to automatically open your camera, or turn on your flashlight with a long press. With the iPhone 13 Pro, you're left with the mute/unmute toggle.
The other major design upgrade is the shift from the Lighting port to a USB-C charging port. That is an upgrade that was a long time coming. The USB-C charging port is a common charging port among many tech devices. This opens up the possibility to charge your device with other device chargers, and not be bound to the Apple-specific Lightning cable.
Display

The 6.1-inch Super Retina XDR display remains the same from the iPhone 13 Pro to the iPhone 15 Pro. But if you don't like the fact that your iPhone 13 Pro display turns off after a period of time, the iPhone 15 Pro is equipped with an always-on display feature. This enables you to see your home screen, along with the time and any widgets you have on display without having to reach for your phone.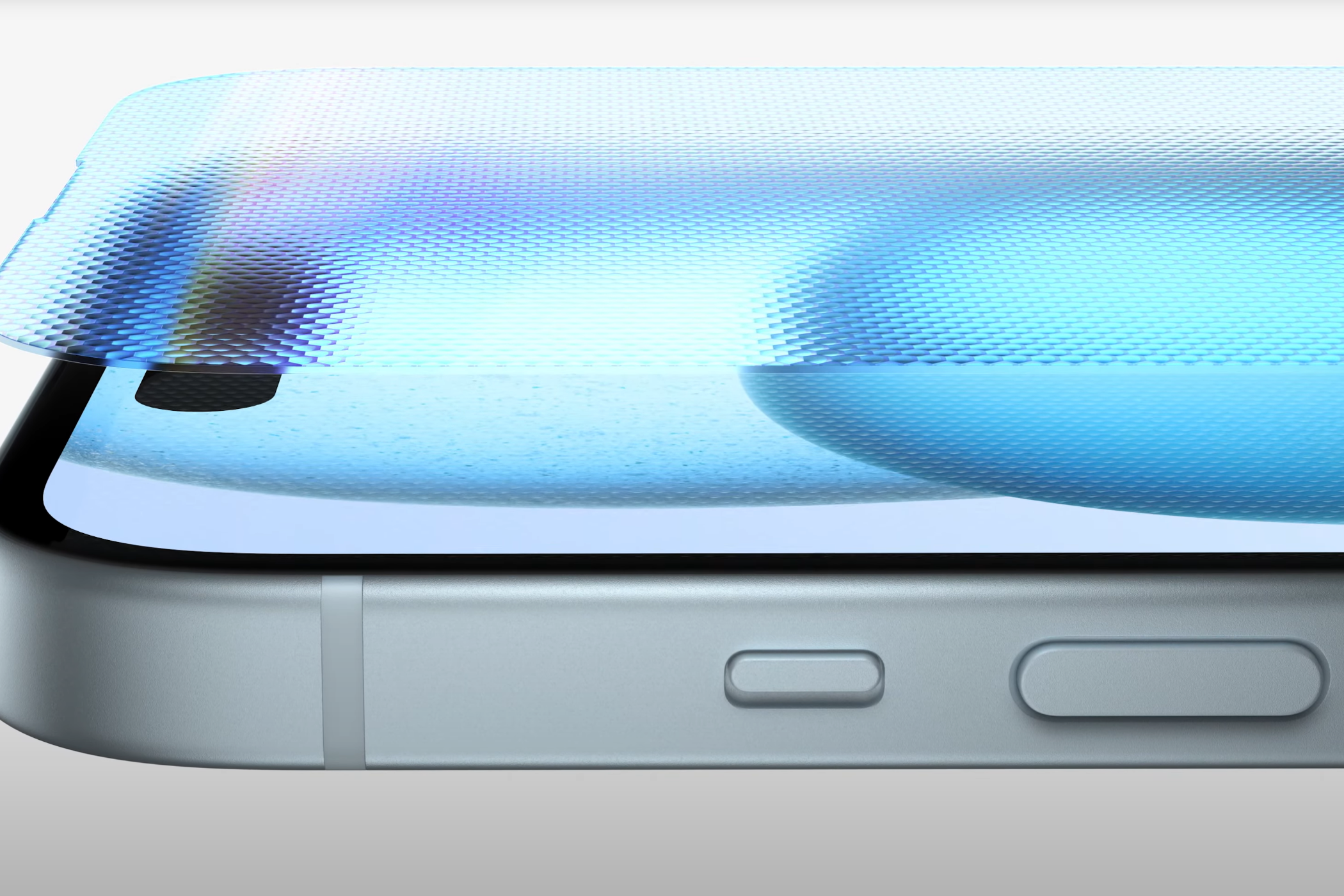 Source: Apple
The iPhone 13 Pro has a notch at the top of the display that holds the front speaker and the front-facing cameras. The iPhone 15 Pro makes better use of this space with the Dynamic Island. Instead of a seemingly dead space, black cutout at the top of your display, the Dynamic Island is essentially a built-in notification center that interacts with not only your phone's native applications, but also third-party apps. For example, you can get score updates from your favorite sports teams or have the Dynamic Island assist you with the next turn while you're driving.
The iPhone 15 Pro is a bit brighter, too, compared to the iPhone 13 Pro. The iPhone 15 Pro reaches a peak brightness of 2000 nits, compared to the 1200 nits of the iPhone 13 Pro. When faced with direct outside sunlight, the extra brightness from the iPhone 15 Pro display helps you see what's on your screen even in harsh lighting conditions.
Software

iOS 17 is compatible with both the iPhone 15 Pro and iPhone 13 Pro. One of the coolest features available on iOS 17 is the addition of StandBy mode. In StandBy mode, you can have your clock, widgets and even additional features, such as what song is playing, displayed on your screen without you having to manually wake up your phone. This is essentially Apple's answer in iOS form to the likes of the Google Nest Hub.
Neat organization and quick accessibility are central to iOS 17. For instance, when someone calls and you send them to voicemail, the live voicemail feature will display the transcript of the voicemail on your home lock screen for you to read without you having to enter your phone, open the phone app, and go to the voicemail tab.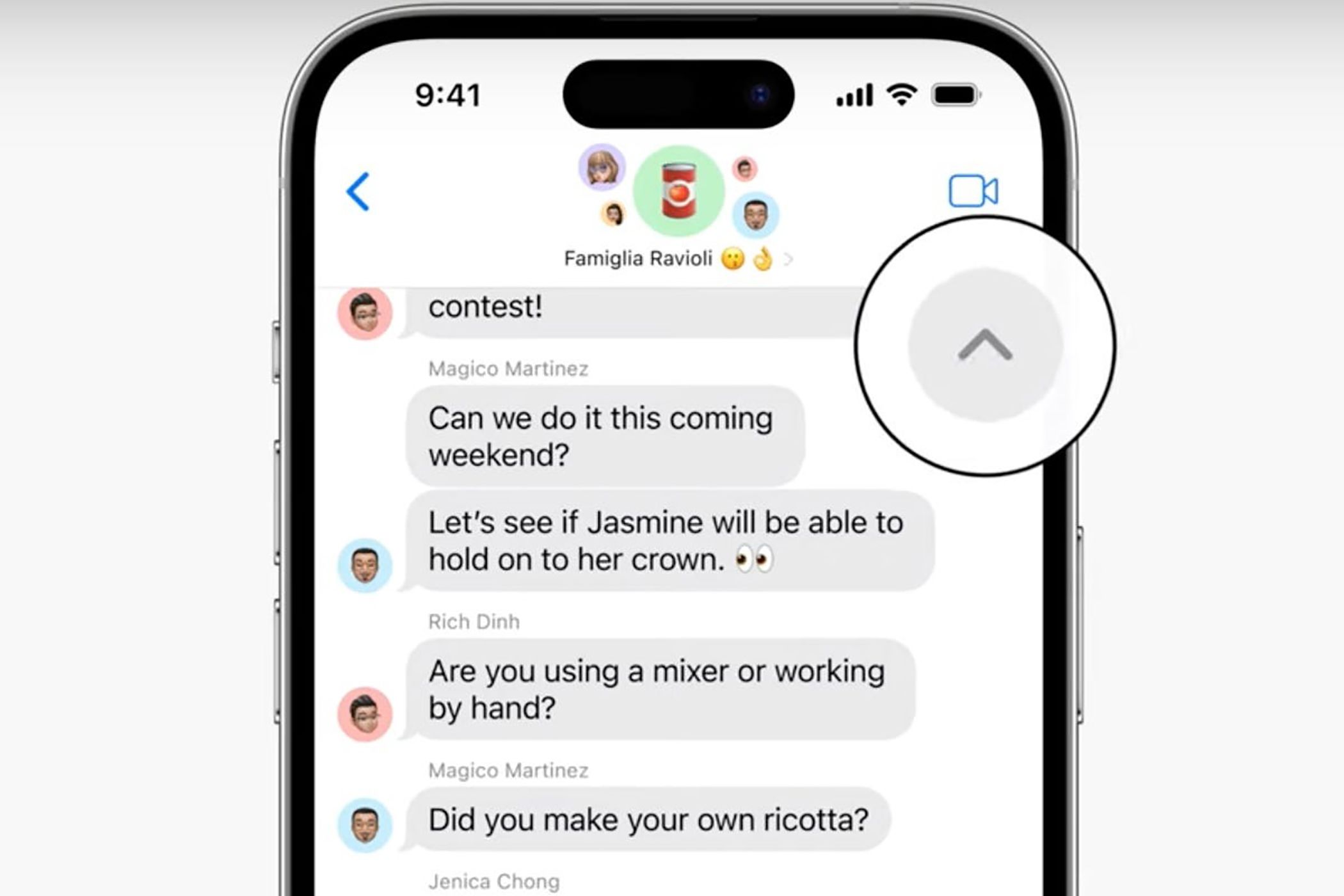 We've all been in a group message where you don't check your phone for a couple hours and suddenly you have 30 unread text messages. Instead of scrolling and trying to find where the messages began, there is now a helpful up arrow that will take you to the last message you saw in a thread.
Even FaceTime got an upgrade in the new iOS 17. You can now leave video voice messages when someone doesn't answer a FaceTime call. You can even use your phone as the camera for FaceTime, but then project the call on an AirPlay-enabled TV, so you can enjoy the caller on a larger display.
Performance and battery Life

One of the biggest upgrades from the iPhone 13 Pro to the iPhone 15 Pro is the processor. The iPhone 15 Pro is equipped with an A17 Pro chip with a 6-core CPU and 6-core GPU. Its predecessor operates using the A15 Bionic Chip with 6-core CPU and 5-core GPU. Mobile gamers will appreciate the additional graphic processing as it promotes smoothness and limits glitching and jitters during gameplay with the iPhone 15 Pro. And everyday users will notice the 40% performance and processing boost when compared to the A15 inside the iPhone 13 Pro.
The iPhone 15 Pro also sees a boost in RAM compared to the iPhone 13 Pro. Instead of 6GB of RAM, the iPhone 15 Pro boasts 8GB of RAM for better processing and smoother operation especially when you have multiple applications running.
Improving upon battery life is where the iPhone 15 Pro falls a bit short. Even having a generation between the two phones, the battery life improvements are miniscule by comparison.
The iPhone 15 Pro squeezes only an additional hour of battery life (23 hours) compared to the 22 hours of battery life from the iPhone 13 Pro.
Cameras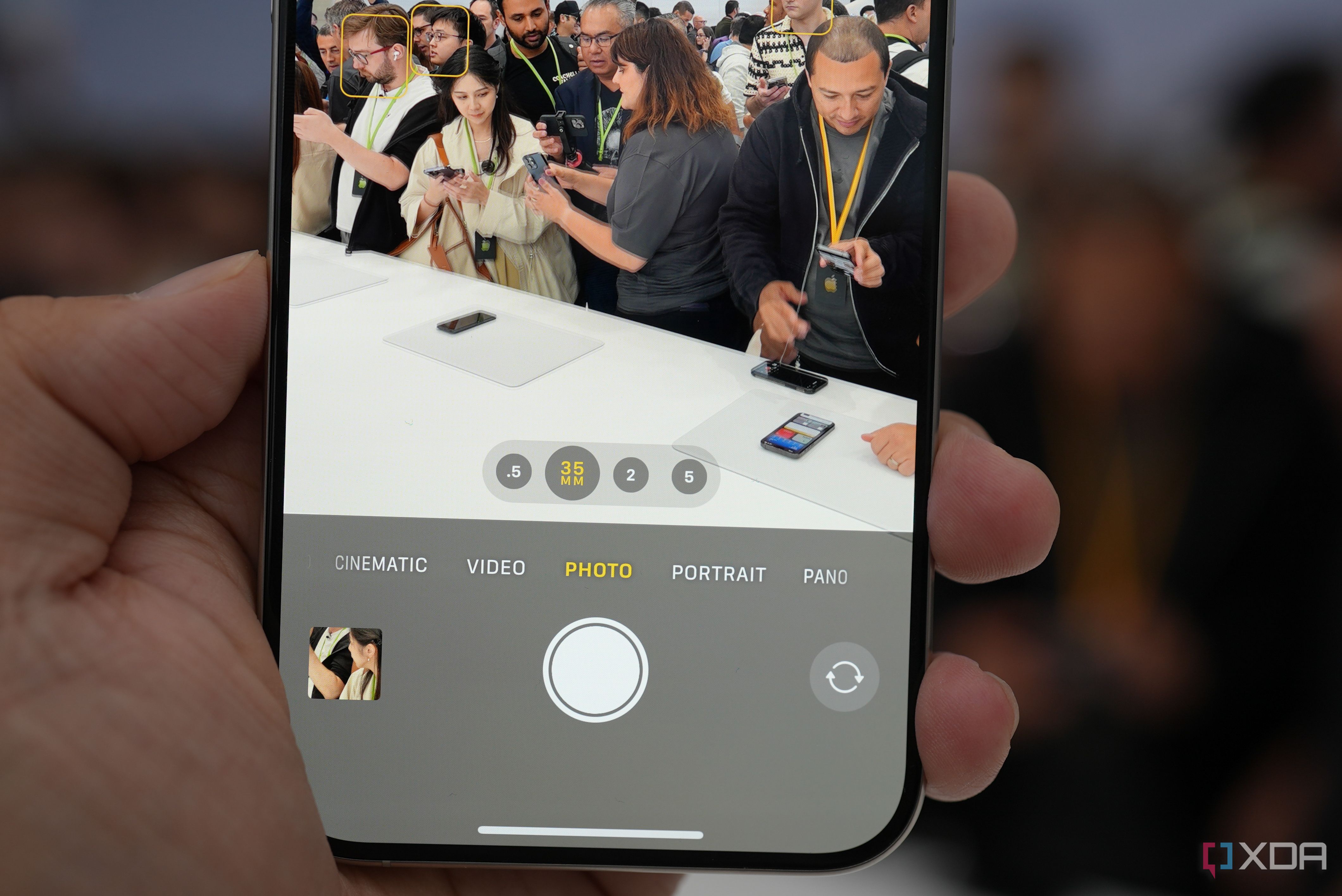 the iPhone 15 Pro Max camera shooting at 28mm and 35mm
One of, if not the main reason people upgrade their phones is for a better camera, and the upgraded camera system in the iPhone 15 Pro compared to the iPhone 13 Pro doesn't disappoint. The main camera lens sees a 36-megapixel upgrade from the iPhone 13 Pro, leaping to 48MP compared to 12MP. This leads to more depth, sharpness, and color saturation in iPhone 15 Pro photos. The new camera system also automatically captures depth information in each photo. So, instead of having to switch from regular picture mode to portrait mode when you're taking a picture of a person, or your pet dog or cat, you can take a normal picture and adjust the focus (blur) on the background later. This gives you more control over your photos and allows you to be more creative well after a photo was taken.
iPhone 15 Pro vs iPhone 13 Pro: Should you upgrade?

If you're still rocking an iPhone 13 Pro, don't worry; you still have a really great phone in your possession. But the iPhone 15 Pro is downright impressive. The titanium build is more durable and lighter, which ultimately just feels better in your hands. And after having a phone for three years, it's bound to slow down. The new A17 Pro processor is up to 40% faster while the iPhone 15 Pro also boasts more RAM for overall better computing and processing power. If you feel like your iPhone 13 is bogging down, then you'll be more than happy with upgrading.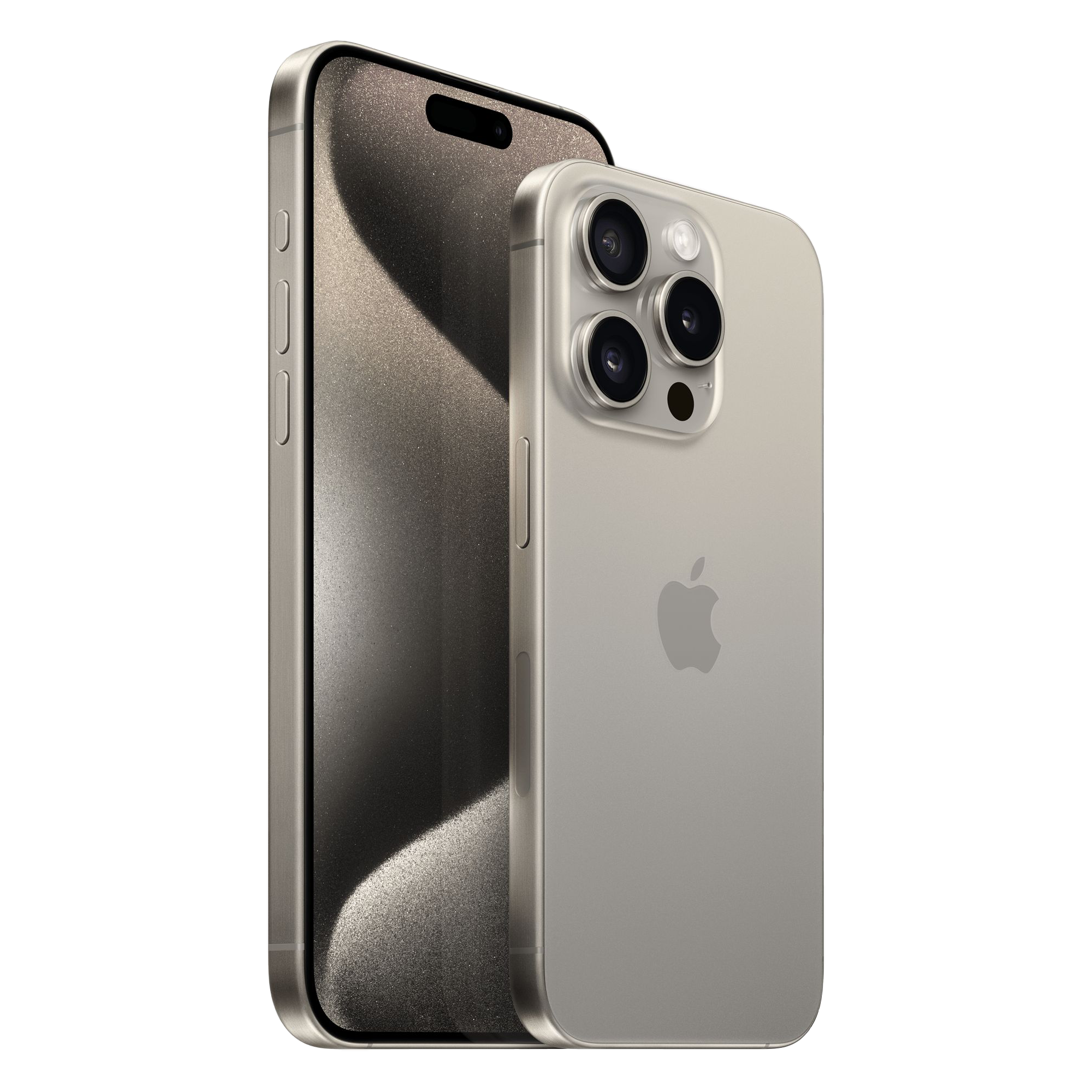 Apple iPhone 15 Pro

Best iPhone
The iPhone 15 Pro delivers upgraded performance with the Apple A17 Pro chip, plus a new camera system with enhanced stabilization and other improvements. It's also one of the first iPhones with a USB-C port.
On the other hand, $900 is a sizable investment, but beyond the design and processing, there are other improvements that make upgrading worth it. The camera system and its capabilities are fantastic in the iPhone 15 Pro, and improved mightily beyond the impressive iPhone 13 Pro camera set. Plus, the new action button adds another level of convenience for operating your phone. All of the design and performance improvements add up significantly in the end. We recommend upgrading from the iPhone 13 Pro to the iPhone 15 Pro. Full stop.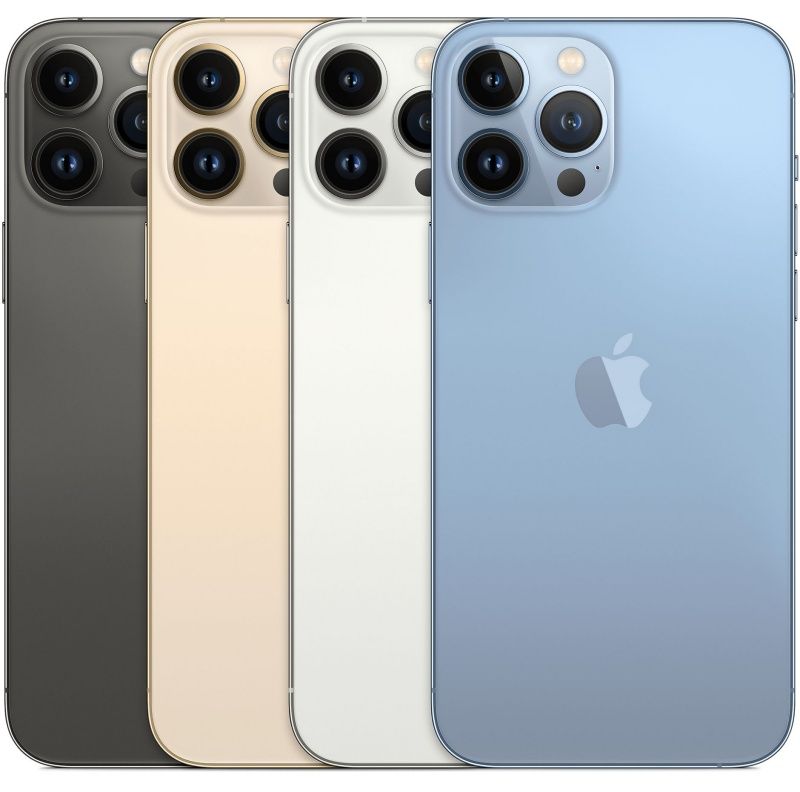 Apple iPhone 13 Pro

Time to upgrade
The iPhone 13 Pro is a part of Apple's 2021 iPhone lineup. It's powered by the A15 Bionic chip and has a great camera system and 22 hours of battery life.
(Visited 2 times, 1 visits today)