Introducing new plants into a space is a great way to add some life and color to your home, whether you live in a city apartment, a rural house or something in between. With so many varieties available and many ways to display them, it can feel a bit overwhelming to decide exactly which kind of plants to buy and where to place them. If you want to keep your plants happy for years to come, it's important to understand what kind of light there is in different areas of your home; what level of care you can give to your plants; and what might look good.
One growing trend for plants is to use hanging baskets, which can be strung up either indoors or outdoors. They can provide fresh ways to display greenery in your home or on your porch, creating a contrast to any planters on the shelf or ground. It's also a useful way to make the most of light in your home; many people like to string up their plants where there is more direct sunlight or to maximize their outdoor space. 
It's no surprise that both plant newcomers and veteran gardeners alike are drawn to this creative way to display plants, but not every plant will thrive in this environment. To help guide you in your plant selections, we've compiled a list of the seven top plants for hanging baskets, with each offering something a little different to suit different tastes.
Boston Fern
Ferns are well-suited to hanging baskets thanks to their environmental versatility and lush foliage. The Boston Fern is a particular favorite, with long feathered leaves that create a dramatic silhouette year-round – there's no need to wait for a flowering season. Their ability to thrive in both low- and moderate-light environments also makes them a great choice to hang indoors or on a partially covered porch or patios. 
To help them stay in their best condition, make sure to keep soil moist and even consider misting them during dry weather as these plants were designed for tropical rainforests and love humidity. You could even hang them in the bathroom!
Golden Pothos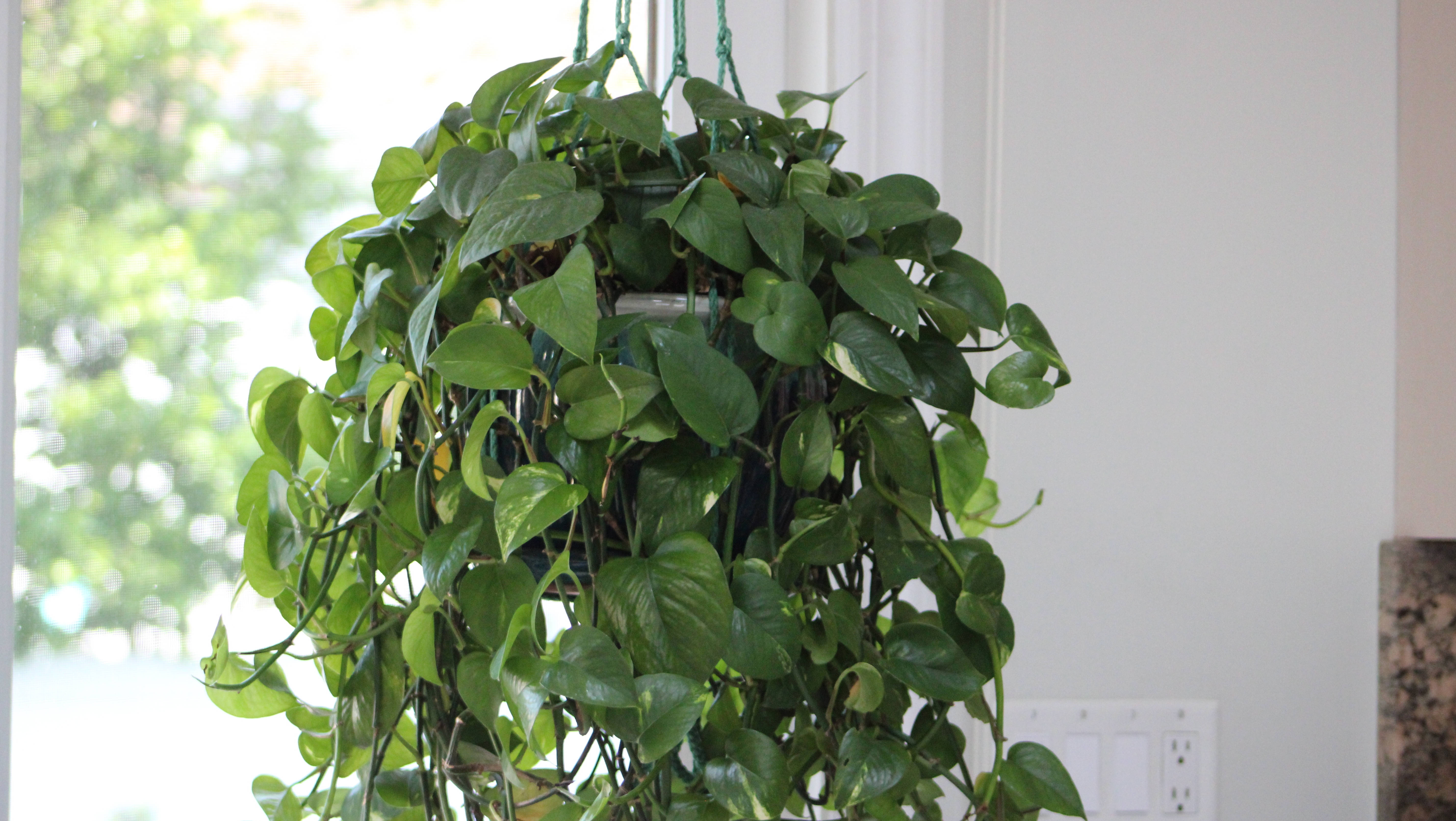 Another low-effort plant, pothos plants overdeliver in drama and elegance with their long, trailing vines that can grow as much as 12 inches in a month. Pothos plants thrive in low light, but it is not a problem if you put them in more direct sunlight. In fact, the more they are exposed to sunlight, the more dramatic the white swirls on their leaves will be. Using a hanging basket allows the pothos to take advantage of its height and stretch its leaves across the space, creating a visually exciting sight that is still easy to maintain. 
Notably hard to kill, a golden pothos is a great choice for someone newer to plant ownership. Just make sure not to overwater your pothos. Instead, wait for the plant to tell you when it's thirsty: The leaves will begin to droop when they want a drink.
String of Pearls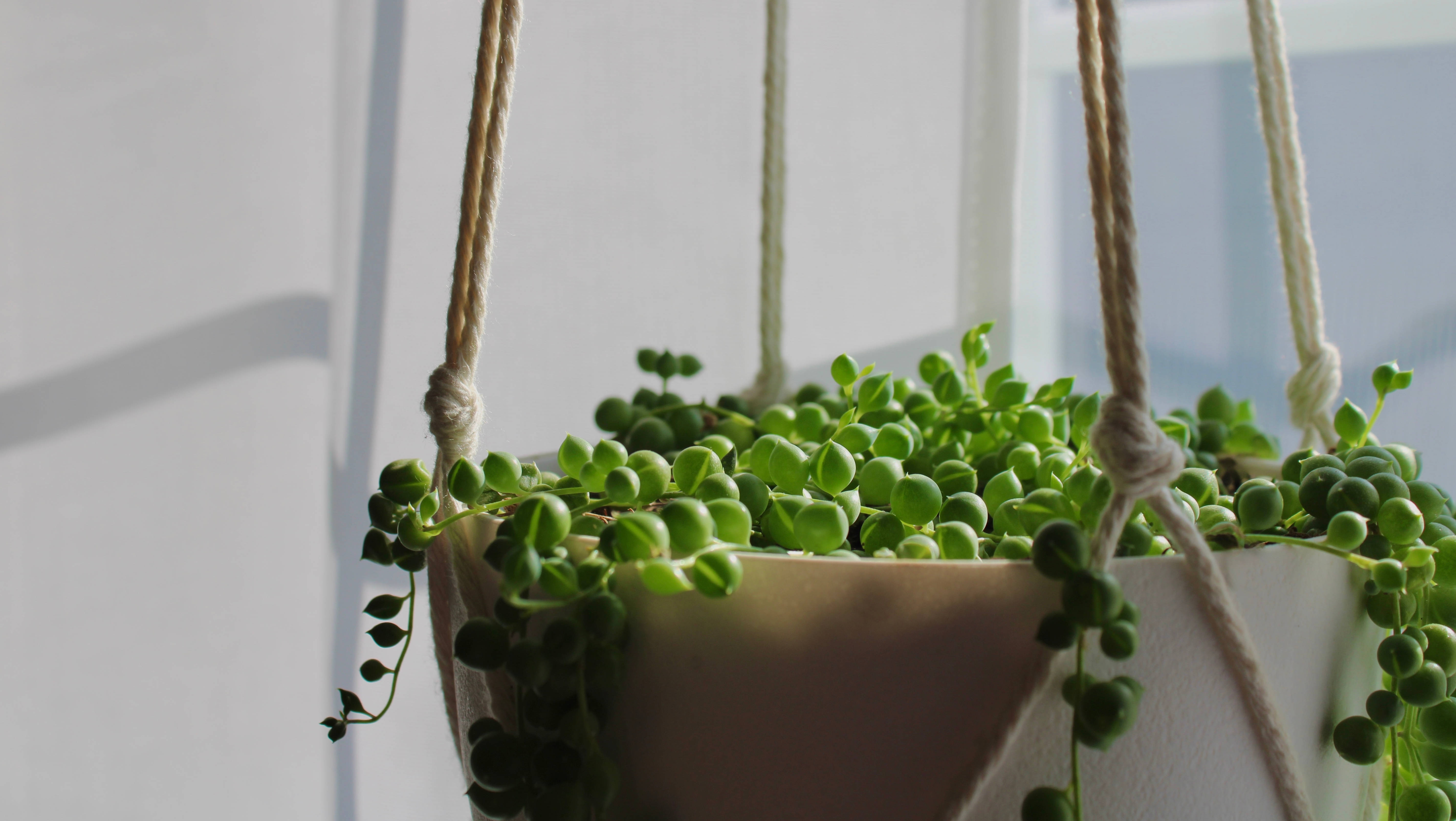 As the name suggests, string of pearls plants feature long strands of jewel-like green leaves that are reminiscent of a beaded curtain. These look very attractive simply dangling over the edges of a standing planter, but a hanging basket takes this aesthetic to the next level. A string of pearls is a great choice for an empty corner or an entranceway and it will also produce small white flowers in the late spring, which release a scent similar to cinnamon.
These plants require a lot of bright, direct light to thrive, but they don't require much watering. Once you find the right place to put them, maintenance is minimal! If you are determined to place them indoors in a less well-lit spot, consider investing in a grow light to ensure the plant stays healthy. 
Petunias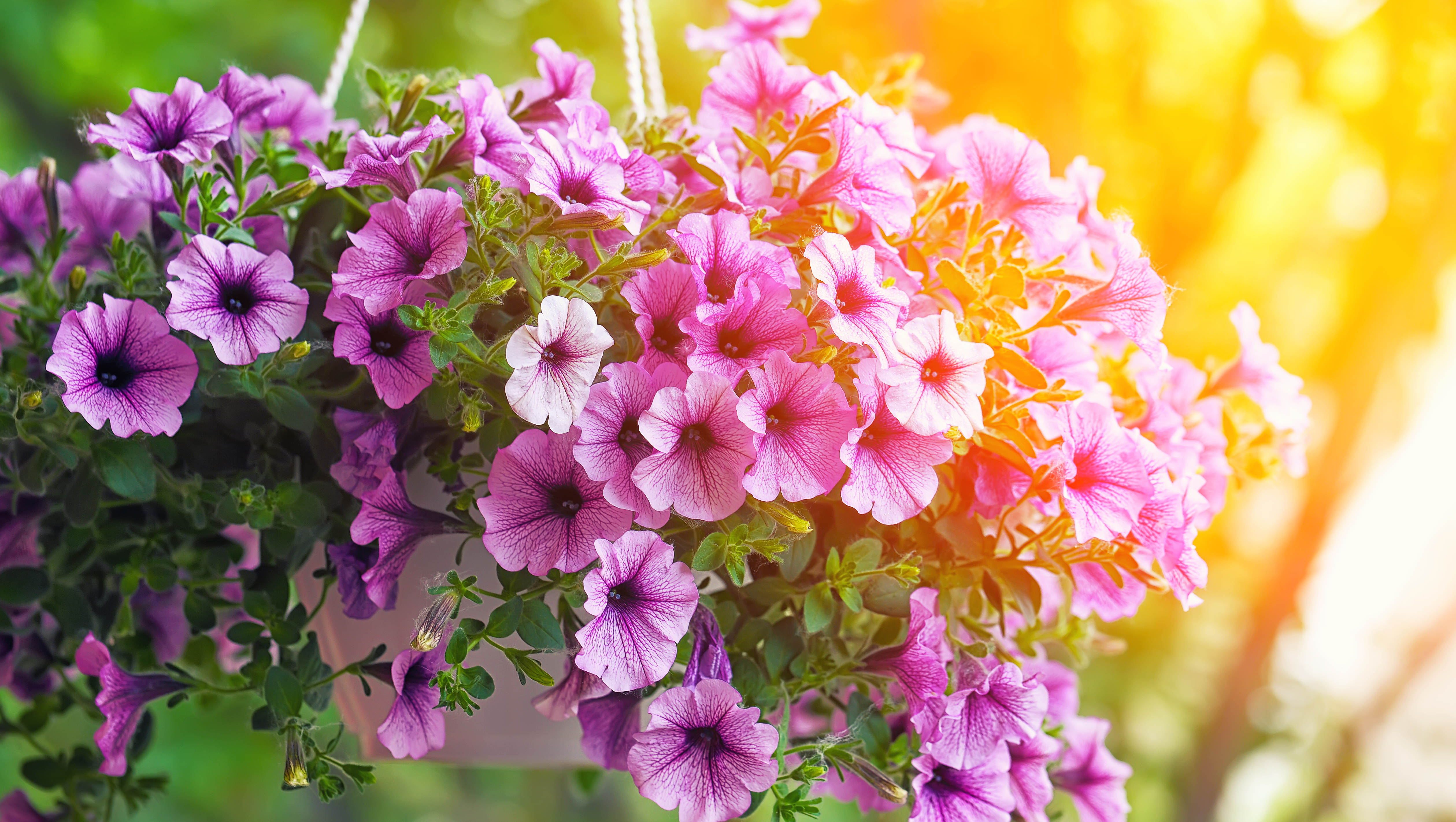 Moving to more colorful choices, petunias may be popular bedding plants but they are also a great flower for a hanging basket. These flowers come in a vibrant range of colors, so you're sure to find a variety that matches whatever color scheme you have in mind. Mostly monochromatic, they are a striking yet simple flower that will always have a lot of petals on display, thanks to the way the plant naturally grows. Lots of green foliage ensures that your basket will always look full and substantial.
Petunias are pretty easy-going plants, but need a lot of direct sun. Fortunately, they are able to handle periods of heat and drought, making them great choices for warmer climates. Petunias can also be pruned and tended in warmer climates so that they flower year after year; in colder climates, they are more likely to be an annual flower. 
Fuchsias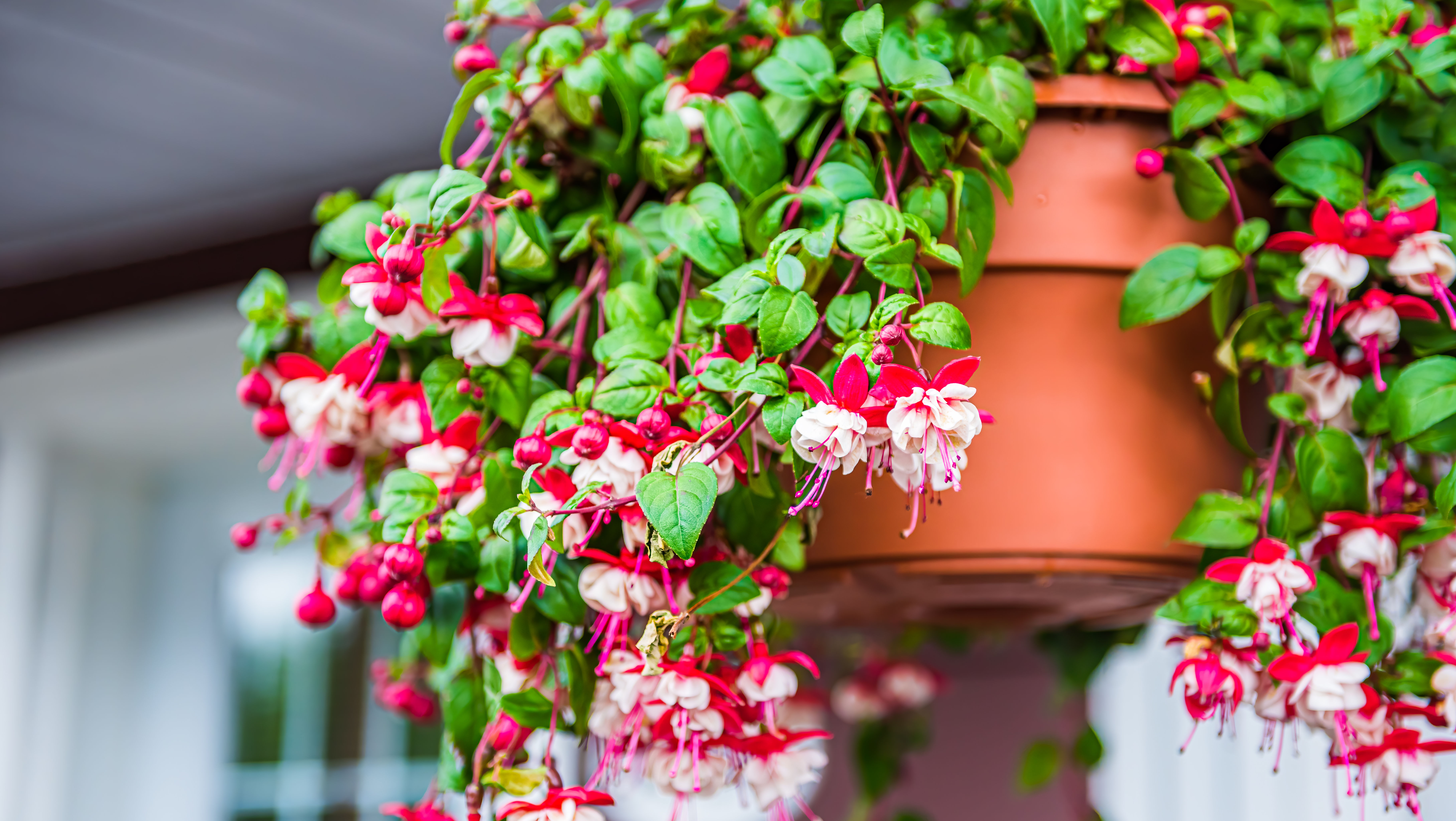 Fuchsias are a very distinctive flower, known for their dangling bell-shaped flowers and bright colors that commonly attract hummingbirds. The vibrant two-tone color combinations often feature pink and so they easily brighten up a more quiet corner. As they naturally trail and hang downwards, fuchsias are well-suited to hanging baskets, particularly when planted around the edge so that they can drape dramatically over the side. They are also perennials, so you can plant them once and enjoy them year after year!
Unlike many other flowering plants, fuchsias prefer partial shade and cooler temperatures, so they are a great choice if your space doesn't get a ton of bright light. They are also known for being hardy and low maintenance, so are ideal for busy or less experienced gardeners.
Geraniums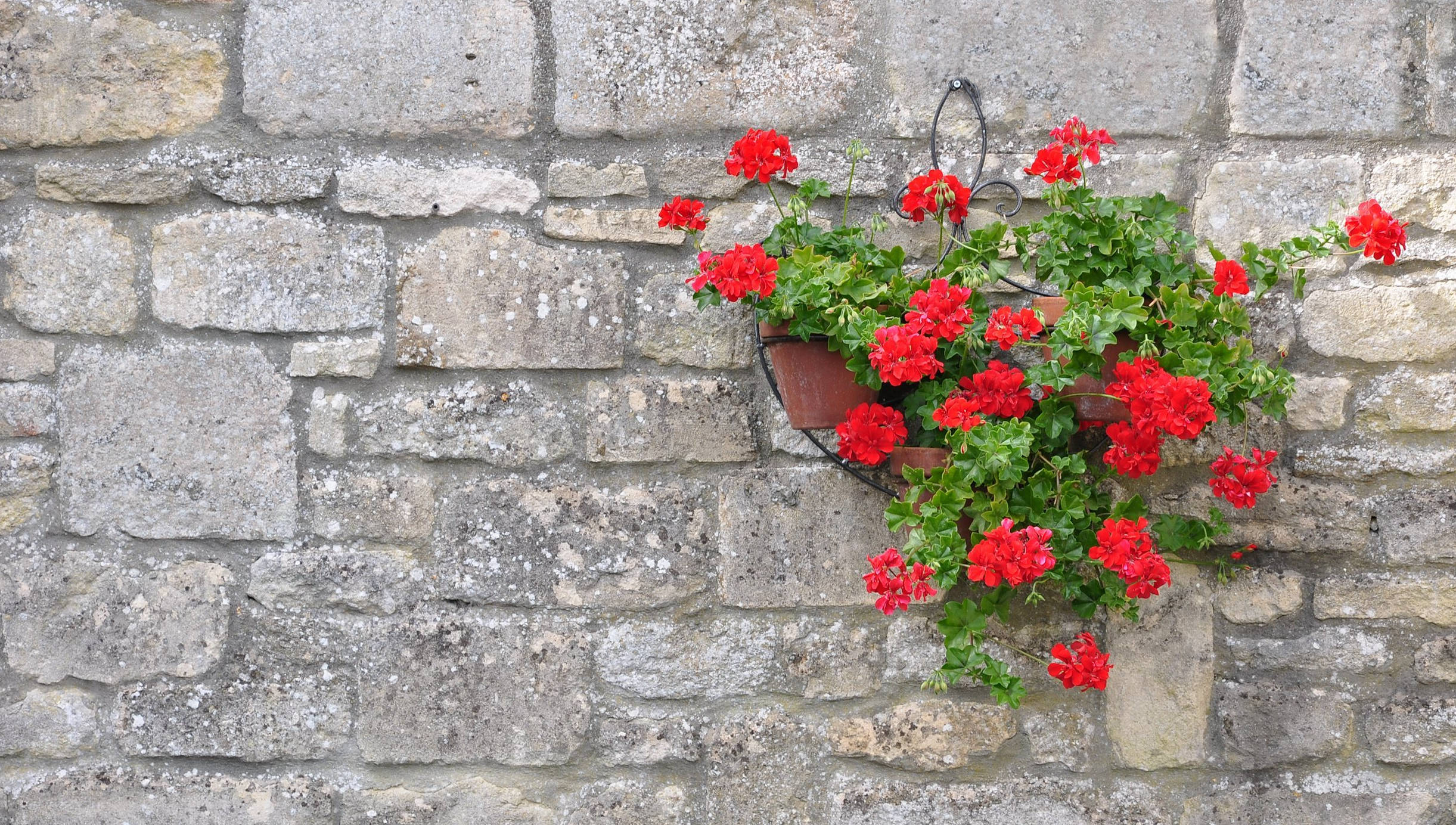 With over 250 species to choose from, you're sure to find a geranium that is just right for your hanging basket. These pretty flowers come in a wide color palette and each plant usually has an abundance of blooms, meaning they will take up sufficient space in your basket and fill it out nicely. Trailing varieties are a particularly great choice for a hanging basket, as they will naturally grow out into a more full and dramatic shape.   
Geraniums are naturally hardy plants but they are best suited to a moderate climate without extreme temperatures in either direction, which will allow them to thrive year after year. If possible, they should get at least six hours of bright sunlight a day; if you have a particularly sunny window, they can happily grow indoors.
Begonias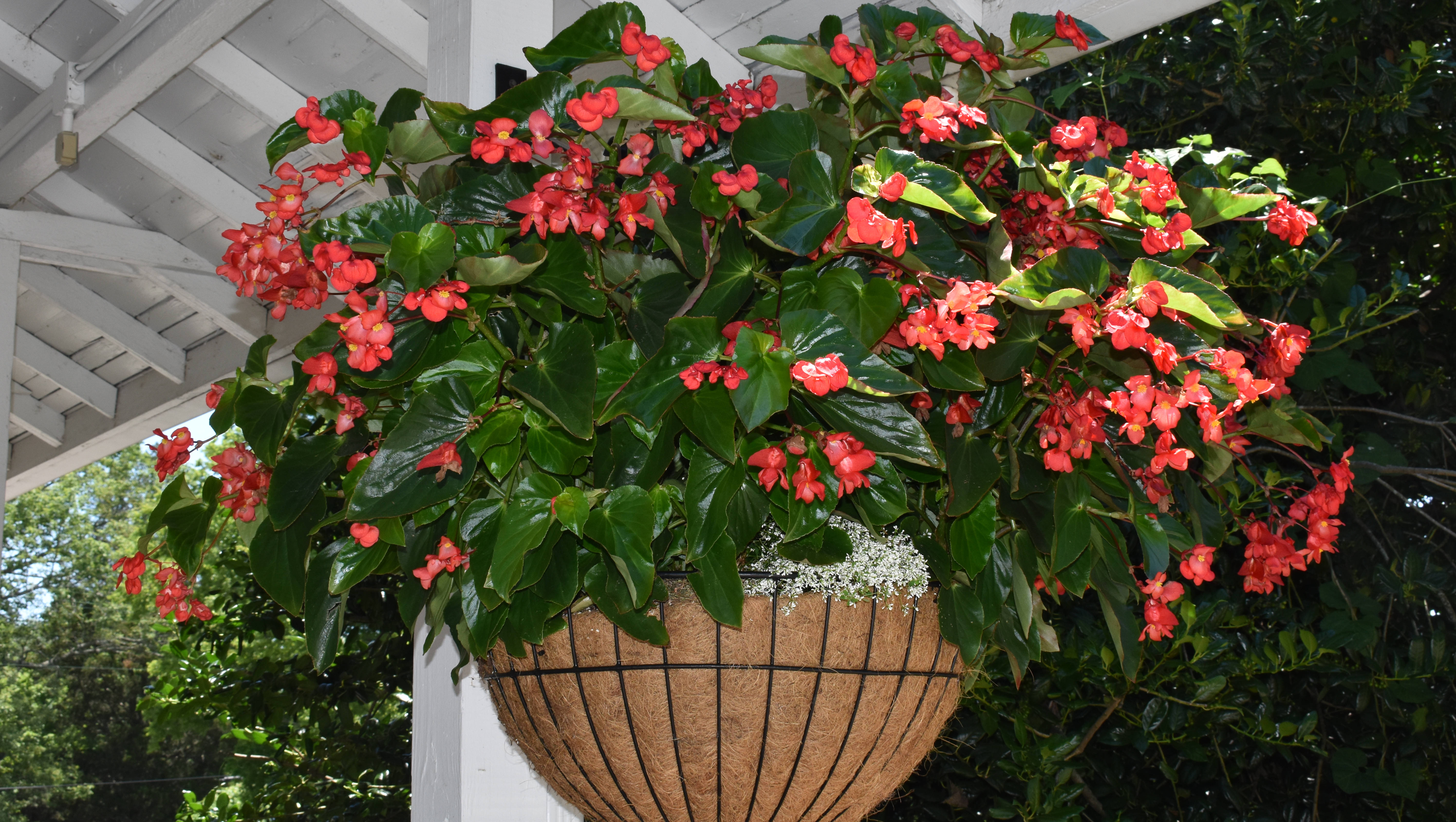 Turn to begonias if you're looking for a plant that will give you flowers all season long, for maximum impact in your hanging basket. Begonias flower quickly into blooms of orange, red, white and pink, filling up a basket and providing some fun trailing shapes as well. The leaves have an attractive tinge to them that makes them visually pleasing year round, not just during the flowering months. However, you will need to learn how to overwinter them if you want them to thrive again next year.
Begonias are able to withstand high temperatures, making them a great choice for warmer climates. While they love sunlight, they can also handle partial shade and are known to flower even in cloudy weather. This also makes them one of the best plants to grow on a balcony.
More from Tom's Guide
(Visited 2 times, 1 visits today)